2021.07.13
Interview with Kazumi Kushida, General Director of Matsumoto Civic Arts Museum-Collaboration between citizens and public halls through "Shinshu Matsumoto Daikabuki"
"Shinshu Matsumoto Daikabuki" is held every two years in Matsumoto City. This year, the 2th time, the "Natsu Matsuri Naniwakagami" came to an end in June with great success.The venue, "Matsumoto Civic Arts Museum," opened in 1, but with the opportunity of "Shinshu Matsumoto Daikabuki" in 7, it became a base for cultural arts familiar to citizens. , To the present.How did Kazuyoshi Kushida, the general director of the Matsumoto Civic Arts Museum, who directed all the performances of "Shinshu Matsumoto Daikabuki", nurture this big event in collaboration with the citizens? I asked.
The charm of "Shinshu Matsumoto Daikabuki" was built up with the citizens
First of all, I would like to introduce "Shinshu Matsumoto Daikabuki".In 8, when Mr. Kushida was the first artistic director of Tokyu Bunkamura Theater Cocoon, a private theater in Shibuya, Tokyo, the late Kabuki actor Kankuro Nakamura (Kanzaburo, then Kankuro) Takeshi And launched "Cocoon Kabuki".This series, which focuses on Kabuki performances as a modern drama rather than traditional performing arts, incorporates rock and rap into the drama, dynamic lighting, and bold use of real water and mud. Combined with the realistic emotional expressions of the characters, it also attracted the audience who had never seen Kabuki before.
"Shinshu-Matsumoto Daikabuki" is, so to speak, a moving performance, but from the first time, Matsumoto City's unique taste was elaborated.On the production side, the work has been scaled up to fit a large space, such as by appointing a large number of new citizen casts.Kabuki actors ride on a rickshaw on Honmachi-dori and Daimyomachi-dori to Matsumoto Castle, and the "Citizen's Fureai-za" gives a stage greeting at Matsumoto Castle. People who do not have tickets, such as "Fairy Yokocho", which sells specialty products and original goods, can enjoy the atmosphere of the event.Citizen supporters are in charge of customer hospitality, such as planning and managing events related to these performances, and guiding the audience.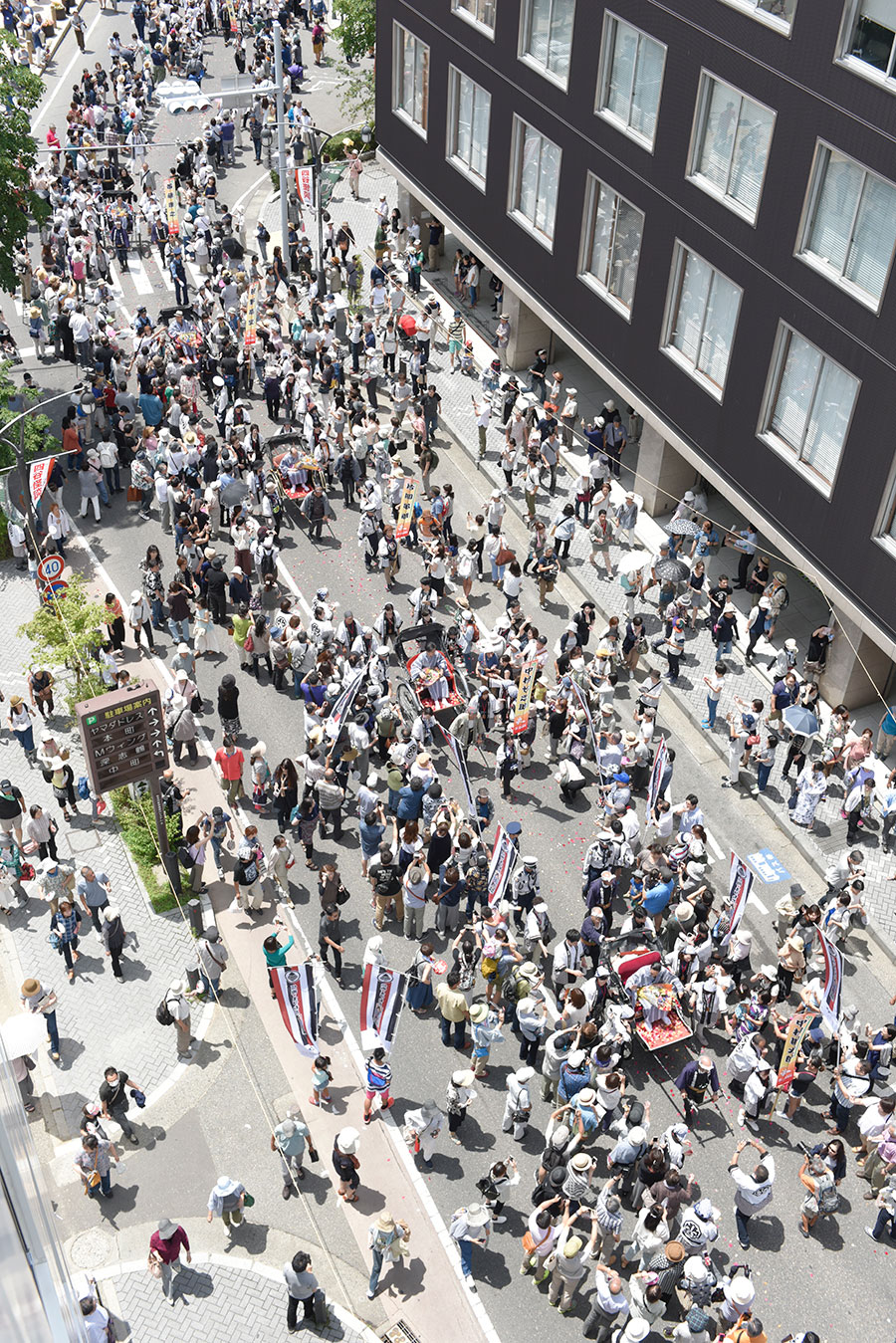 "Kabuki procession" in 28 "Yotsuya Kaidan" where Kabuki actors ride on a rickshaw and go through the city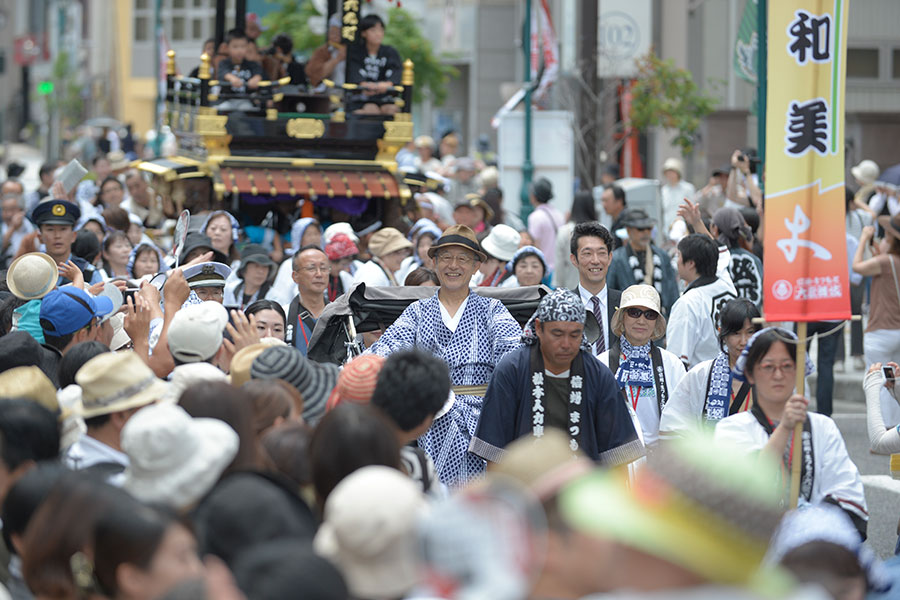 Mr. Kushida smiling at the "Tojo procession"
Mr. Kushida
"Kabuki was largely supported by Kansaburo-san. Because it was a project that started as a reform of Kabuki, Matsumoto City, which seems to be able to grow together with the citizens, not a big city. They chose it. And the citizens made great efforts toward the success of "Shinshu Matsumoto Daikabuki" and made various ingenuity. Of course, at the beginning, "Attracting more than 1 spectators in this city. There was a dissenting opinion, "I can't do it, I'm just ashamed of getting into a big deficit." But that was a warning that the executive committee members needed to unite. Matsumoto City Because of the experience of citizen volunteers cultivated at the music festival "Sage Ozawa Matsumoto Festival" that has continued for 30 years, we were able to lead an unknown event to success together with the citizens. Is. "
Volunteers of "Shinshu Matsumoto Daikabuki", who are called citizen supporters, are unique in that they pay the participation fee and are active, and I feel the strong feelings of everyone involved.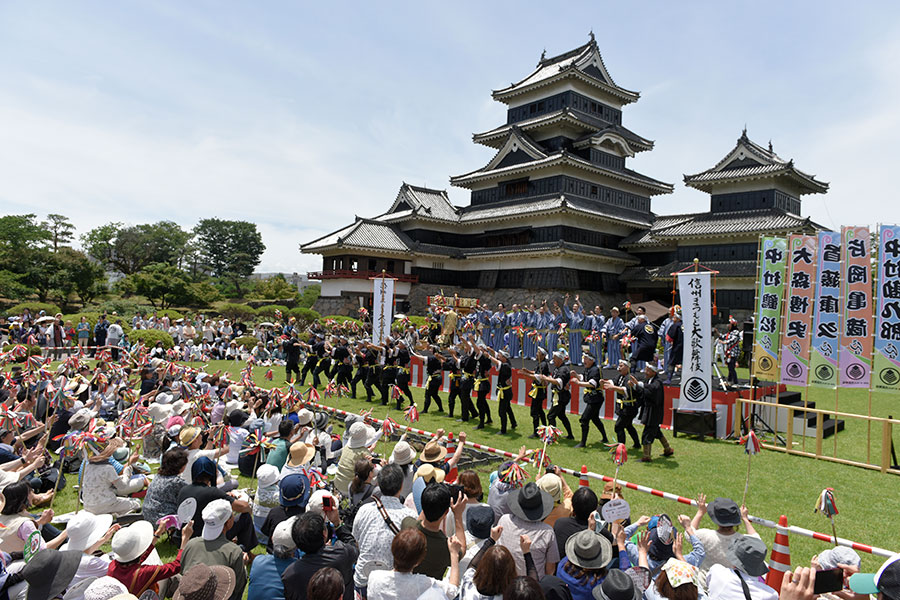 "Citizen Fureai-za" in "Yotsuya Kaidan".Kabuki actors and citizens rejoice in reunion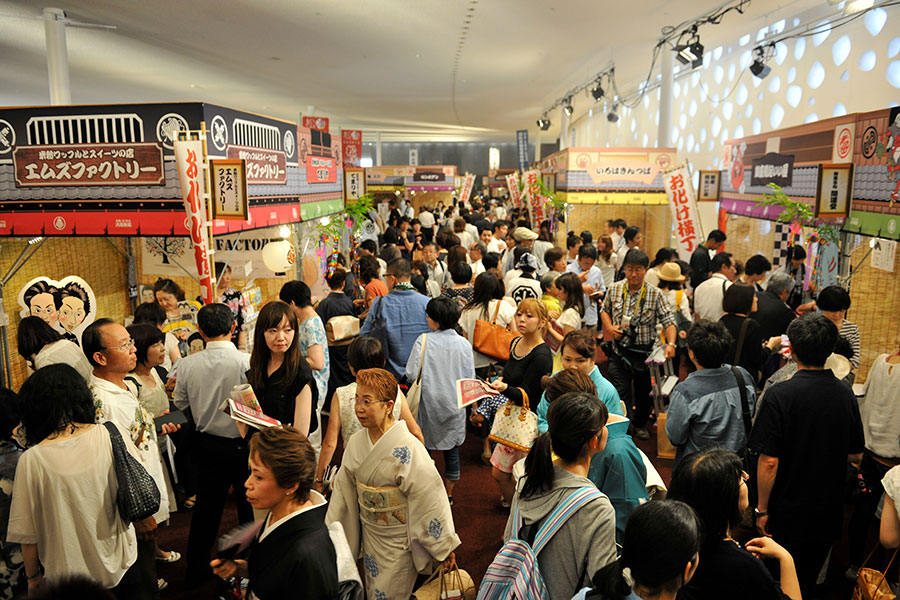 "Ennichi Yokocho" on the 2nd floor of Matsumoto Civic Arts Center. In "Yotsuya Kaidan", it became "Haunted Yokocho"
This year's "Natsu Matsuri Naniwakan" is the same program as when it was first held in 20.It was the first Kabuki production for Mr. Kushida, and he has performed it in Sibiu, Berlin and Romania, so I have a lot of feelings about it.
I was worried that the festival would be held due to the spread of COVID-19 nationwide, but Mr. Kushida said, "Festivals are not only held when it is fun. In the long history, there may be accidents or disasters. People tried to get rid of it at the festival when it was difficult. When it was hard, I tried to remember the essence of the festival. "In addition, he mentioned that more than 400 people gave their names to the citizen supporters who gather about 260 people every year, saying, "It is amazing that so many people gather. Experience of holding in Corona Should be inherited as a property of this city. "
Unfortunately, due to infection control, the event where citizens and Kabuki actors interacted with each other was canceled this year, and we could not welcome customers in a bright and loud voice.However, the matching persimmon-colored checkered pattern (the same pattern as the yukata worn by the main character of "Natsu Matsuri Naniwakan") worn by citizen supporters creates a lively atmosphere with happi coats and masks. Along with brewing and polite guidance to the audience, it played a role and two in the excitement of the "Matsumoto Summer Festival".
I want to bring charm to the majority of citizens who do not go to the event
"It was like going through a big tunnel. Starting with Kabuki, various things started to move." Mr. Kushida looks back on the changes in the "Matsumoto Civic Arts Center" at the time when the history of "Shinshu Matsumoto Daikabuki" began and was accepted by the citizens as a base for cultural arts.The plans that Mr. Kushida had set up when he took office were realized.The style of "Matsumoto Civic Arts Center", which has adopted the artistic director system from the beginning of the museum and has a mission to produce works locally and actively disseminate it, is "Shinshu Matsumoto Daikabuki". It may have been possible to get on track as one of the triggers.
Mr. Kushida
"'Shinshu-Matsumoto Daikabuki' was definitely brought up by the citizens. I learned that everything is a play, not only on stage, but also in involvement, learning and thinking together. In Tokyo, a trader If you ask, you can get everything you need, but in Matsumoto City, the citizens play that role. For example, if you want a rice bag to use in the play, it is old-fashioned to be taught by the elderly in the area. It will be made by the method. I did not realize it, but if I consult with him about how to put out a cow, he will think about what kind of method can be done. I am very grateful and happy to support the performance in that way. So don't put it away with the word ". I think it's a culture. When you hold a local festival, you all come to it as a matter of course. Somewhere similar to that feeling."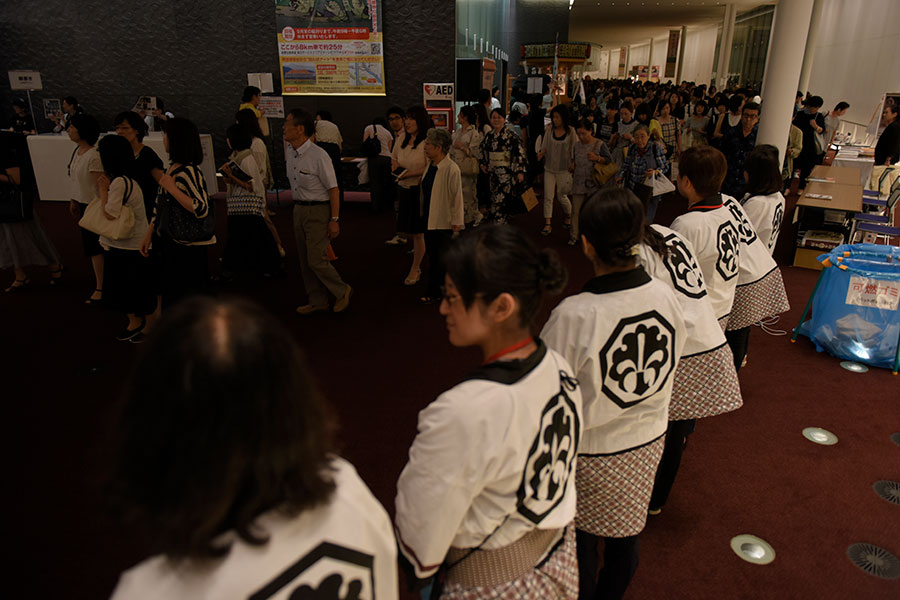 Citizen supporters who see off customers in matching happi coats (at the time of 28)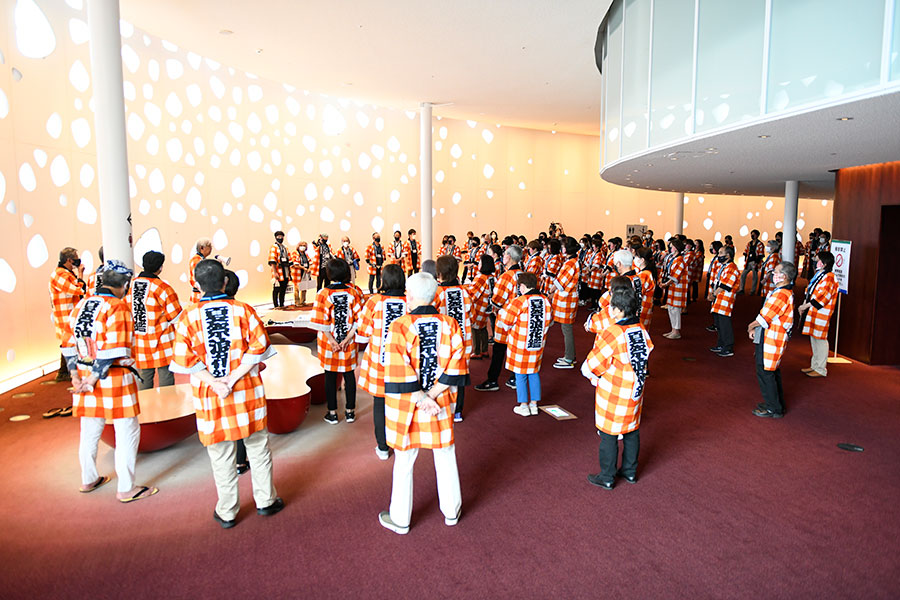 Kabuki in the 3rd year of Reiwa is also a corona disaster, and the meetings of citizen supporters will be even more powerful.
In addition, Kansaburo Takeshi, who actively interacted with the citizen cast, citizen supporters, and the people of the city, was also a major factor in the establishment of "Shinshu-Matsumoto Daikabuki".From that connection, the citizens pushed the back of Kansaburo Takeshi trying to overcome the illness.
Mr. Kushida
"After Kansaburo got sick, he made a surprise appearance in" Tennichibo "in 24 (the last day). I don't even know the performers. At that time, he told the crowded customers that he would definitely come back, but I think all the customers who gathered in that word felt the same. It also told the citizens, "Matsumoto. I think it was a moment when I was glad that there was a "Citizen's Art Museum". It is a miracle that many people shared this eternal moment, and all the citizens who told and heard the story. I'd be happy if you could tell the story that happened in the hall. "
Mr. Kushida, who says so, also plays a major role in making "Shinshu Matsumoto Daikabuki" an event loved by the citizens.Artistic director is an entity that guarantees artistic responsibility.In addition to working on his own works, he also has a mission to provide a variety of art by making full use of his network.A huge project like Kabuki is a difficult task just to invite, but it was not only the citizen's power that was able to dye it in Matsumoto color, but also Kabuki related people such as Shochiku Co., Ltd. for Director Kushida Only with trust.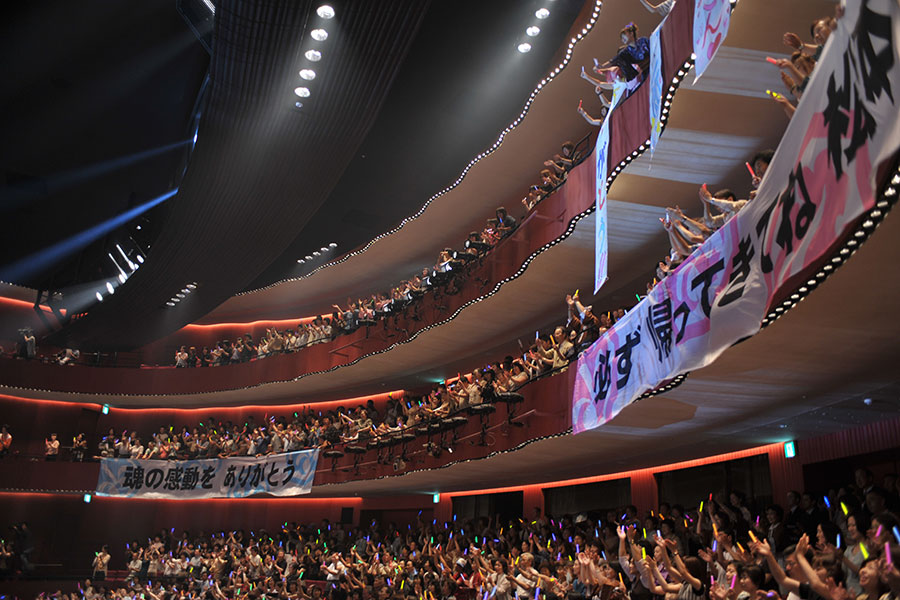 Every time Chiakiraku has banners and hanging curtains that are expected to be thankful and come back (when held in 20)
Mr. Kushida
"Public halls are supported by all citizens in the form of taxes, but the overwhelming majority of people do not go to the event, so I want these people to think" I'm glad there was a hall ". I'm always thinking about what to do. Even if there are 500 people who witnessed in a moment, I know that taxi drivers and shop staff will hold events, and the works This Kabuki experience may have been a big factor in making things more rumored in the city and thinking more about how to pass it on to future generations. "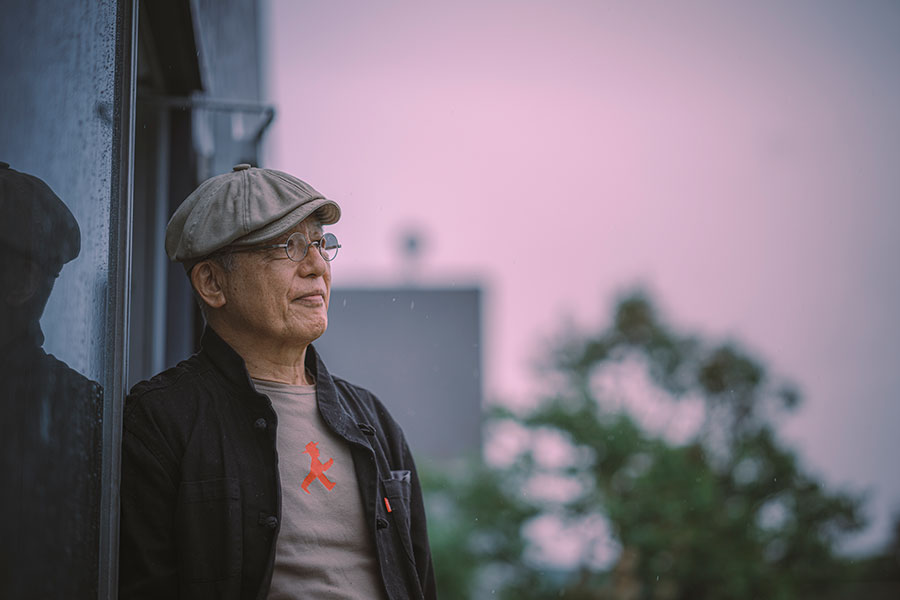 Mr. Kushida, who became the artistic director of the Matsumoto Civic Arts Center on April 3, 2021, became the general director at the end of the 4th term and 1 years at the end of Reiwa 4 (2022). It was announced.Even if you look around Japan, there are not many public theaters and halls with artistic directors, but through collaboration with the citizens at "Shinshu Matsumoto Daikabuki", the "Matsumoto Citizens' Art Museum" and the citizens spun. It can be said that the bond shows the relationship between the citizens of Matsumoto City and public theaters and halls.
The culture of volunteer activities cultivated at the "Seiji Ozawa Matsumoto Festival" is widely rooted in Matsumoto City. "Shinshu Matsumoto Daikabuki" has also been nurtured with the support of such citizens.Rather than just repeating the same role, it may be the secret that many people are involved with a fresh feeling every time the volunteer work is updated by incorporating new ideas of the citizens every time it is held. ..
There are various missions and management methods for public halls, but I think it is important for the local people to be proud of being a base for local culture and arts. "Matsumoto Civic Arts Museum" has achieved this with "Shinshu Matsumoto Daikabuki" and has come to this point.It is said that gathering the involvement and thoughts of not only facility users and related parties but also various people who seek opportunities for collaboration and exchange through cultural arts will be the power to polish and shine the facility. It seems that we can learn from the efforts of more than 10 years since the start of "Shinshu Matsumoto Daikabuki".
Interview / text: Koichi Imai
Photography: Takeshi Hirabayashi
Photo courtesy of Matsumoto Civic Arts Museum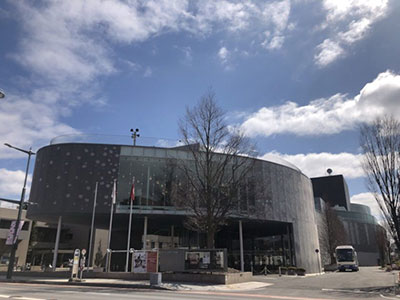 Matsumoto Performing Arts Centre
Matsumoto City Fukashi 3-10-1