2022.07.14
Koumi Town Kogen Museum 25th Anniversary "Treasure of the Town"
The Koumi Town Plateau Museum is located on the Matsubara Lake Plateau at the foot of Yatsugatake.Opened on July 9, 1997, it will celebrate its 7th anniversary this year.The building, which was designed to take advantage of the slopes of the plateau and harmonize with the surrounding nature, was designed by architect Tadao Ando.
In the first half of this feature article, we will ask Director Junichi Natori and curator Minoru Nakajima about their history and future.The second half is the same as the artist Hiroshi Isotani, who held the first of four exhibitions this year, "Find Your Verb" (April 25th ​​to June 4th) to commemorate the 1th anniversary of the museum's opening. Please look back on the exhibition.
An environment where you can get closer to art more freely
It seems that Mr. Nakajima has been here since the opening of the museum. Can you tell us about that time first?
Mr. Nakajima
Initially, there weren't many collections, so the two pillars were Suda Kokuta, a Western-style painter borrowed from a collector in Osaka, and Tatsuzo Shimaoka, a ceramist who still has a collection. It has started.The first exhibition we held was Picasso's print exhibition.I borrowed it from the Arai Memorial Museum in Iwanai Town, Hokkaido, and the curator of the museum taught me various things, which is a memorable experience for me.
Was the direction of the project decided from the time of opening?
Mr. Nakajima
The decision is made in line with the four principles of the museum. The first is to conduct research and exhibit local art and collections. The second is to provide an opportunity to think about modern time and human beings by introducing various artistic expressions in Japan and abroad. The third is to introduce familiar fields such as design and architecture in daily life and aim to become a familiar museum.And the fourth is to nurture the children who will bear the future and create a prosperous future through art.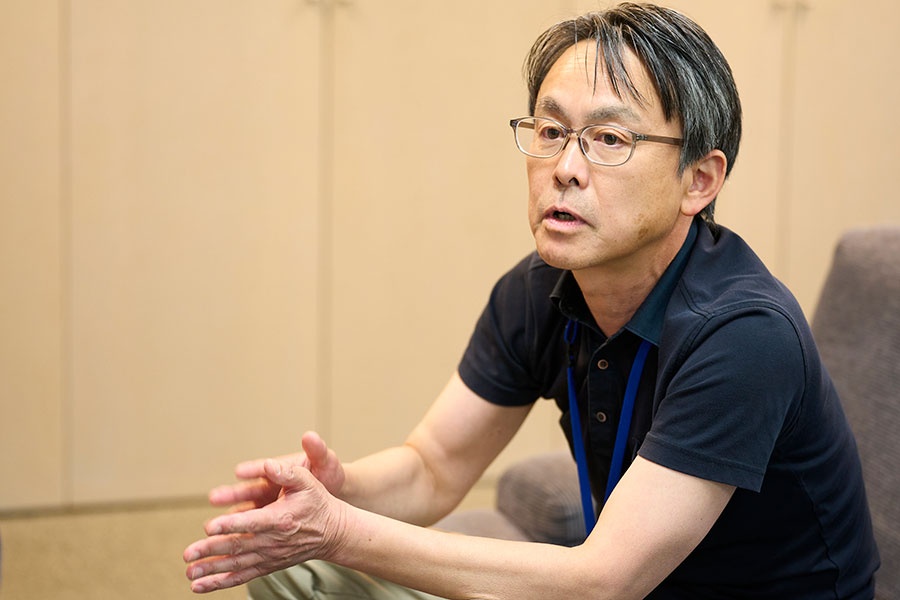 Minoru Nakajima, a curator who has been working since the opening of the museum
Director Natori
The museum has the characteristic elements of Mr. Ando's design, that is, the exposed concrete and the light coming in from the outside create a space.It's a distinctive building, but on the contrary it creates freedom that doesn't limit the genre of his work.In addition to paintings and sculptures, I have introduced a wide range of works.How does it resonate with the texture of the building by combining the work and breathing?Especially for artists who work on contemporary art, I think the key is how to make the best use of this building.
Mr. Nakajima
The first exhibition of contemporary art is in 17.Since the museum is large, I thought it would be difficult for a single artist to organize an exhibition, so I started with a group exhibition.It was held once every few years for a total of 2005 times, and after entering Reiwa, it was fully transformed into a solo exhibition.We ask them to carefully read the space inside the building, select or produce works, and display them.
If you are a contemporary artist, you can communicate directly with us, and you can also communicate with the space by thinking about the composition of the venue and arranging the works.I feel that Mr. Isotani's will is included in the entire space of this exhibition by Mr. Isotani.
We are also actively working on "Artist in Residence" (AIR), where artists stay for a certain period of time and engage in creative activities through interaction with the local community.
Director Natori
Since 19, it has been carried out a total of 2007 times.Depending on the individuality of the artist, there were some who casually invited me to the atelier, and some who usually shop at the supermarket and enjoy daily conversation.When I draw a picture on a large canvas outside, it seems that the locals who pass by may ask me, "What are you doing?" Even people who don't go to museums often ask, "If that person is exhibiting, why don't you go see it?"For us, it is also a new discovery as a way of being a cultural activity base in the region.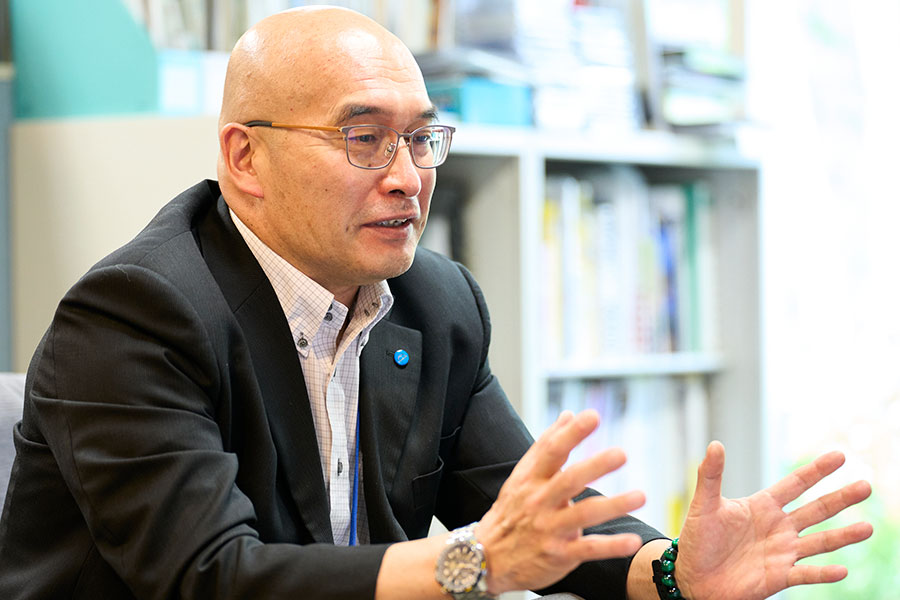 Director Junichi Natori.Serve the same position from 28
Mr. Nakajima
We are also focusing on educational activities, and we are conducting elementary and junior high school classes through an interactive appreciation method.Nagano Prefecture has been paying attention to interactive appreciation classes from a relatively early stage, and there are many study sessions and workshops.I also participated and learned, but the connection between the curators I met there"Symbism"It may be said that it is the predecessor of.
What is an interactive appreciation class?
Mr. Nakajima
To put it simply, it is a class that values ​​what you feel without teaching.Our role is facilitator, listening to each person's opinions and connecting them.Children honestly say what they feel, but in reality they are quite essential.
Prior to the Korona-ka, all grades of elementary and junior high schools, one in each town, visited the museum.For example, first grade elementary school students come as a social studies tour, so we will guide you through the backyard, which you normally cannot enter, and explain how to store your works, security cameras, motion sensors, and so on. I want you to know that "the museum's collection is a treasure of the town, so I'm trying my best to protect it."Then the children will go home and talk to their families.It is often the first time an adult knows about it.The feeling of cherishing the work also grows, and it leads to the visit asking "Let's go together next time".But above all, I want the children to think, "There is such a treasure in our town!"
Interactive appreciation class
Interactive appreciation class
Director Natori
I often give a closing greeting at the end of class, but I always say that "everything in real life is design and art."He says that he wants you to pay attention to tables, TVs, signboards, signs, etc. in your daily life.
Then, art and art will become more familiar.
Director Natori
It was Makoto Shinkai, a movie director from Koumi Town, who embodied this.Mr. Shinkai says that his five senses "sometimes I realize that I was brought up in Koumi Town."Even if it is not a direct drawing of Koumi Town, its base is in the scenery of Koumi Town.Not all children feel like Mr. Shinkai, but I hope that somewhere in that consciousness will be nurtured.
Mr. Nakajima
Educational dissemination is not limited to children, but to everyone. People in their 80s and 90s also visit as a group, but when they see the work, they talk a lot about their feelings and memories.For example, when I held an exhibition by Keisao Kuribayashi, a Western-style painter from Koumi Town, I saw a horse-themed work and said, "I used to keep a horse together in my house. From the memory of "I was cherishing it," the story spread to the situation at that time and during the war.Mr. Kuribayashi went on the path of painting when he saw French POWs singing and ensemble in a prisoner of war camp during World War II and felt that there were no borders in art. increase.When I talked about this, everyone was sympathetic.You have witnessed the history and way of thinking being conveyed from a single picture.
Director Natori
Many people feel "art loss" and "art loss" in the prolonged Korona-ka.Art is created only by humans, which is not found in other living things.I hope that you will be more instinctively and cherish what you feel.And I hope you enjoy the fact that the answers are not one, but different, such as I think this but another person thinks this way.Isn't there abundance there?
Mr. Nakajima
The artist creates works, starting with ideas, thinking about techniques, techniques, and how to perceive society.The process is like life.I often hear people say, "I don't understand contemporary art," but if you think that your life is full, it's not easy to understand.But even if you don't understand it, you should feel something.
Director Natori
You can think of it as "Let's find something interesting."Children find things that we don't notice. It makes me feel like, "It looks like that. Thank you for telling me."I want you to know more about what you felt and the fun of expressing yourself, rather than making judgments based only on numbers such as rankings, leaving it to other people's judgments, and searching for the correct answer.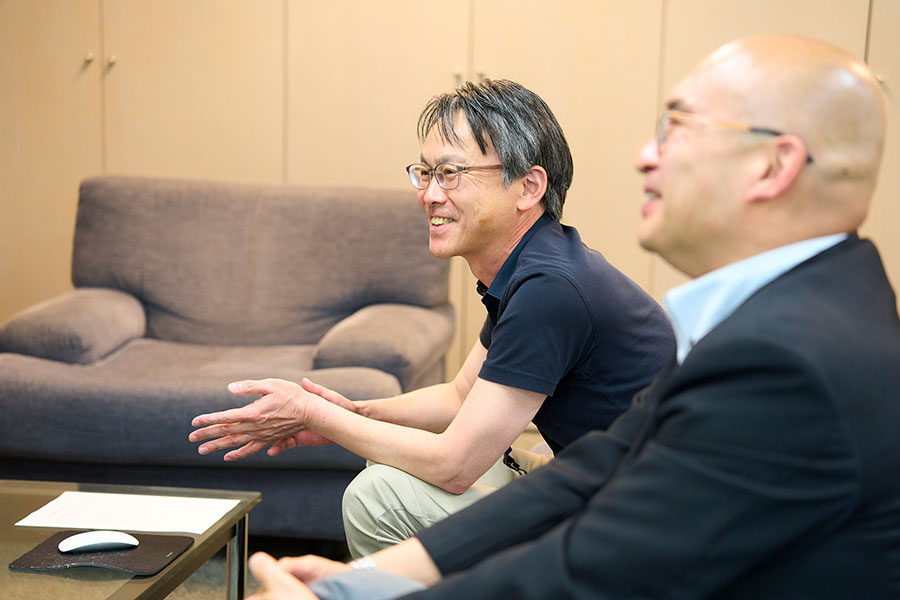 The balance between architecture and work. An exhibition realized because it is the Koumi Town Kogen Museum
From here, I would like to talk to Mr. Isoya.First of all, could you tell us the reason for this exhibition?
Mr. Isotani
I was studying architecture, but I was ashamed to know the Koumi Town Kogen Museum.The existence of this museum, or the quality of the space, motivated me.The first thing I saw was a collection of works by Eiji Uematsu, a ceramist living in Iga City, Mie Prefecture.It is a catalog of the exhibition held in 21, and I was interested in "Where is this museum?".The gallerist who introduced me to the collection of works knew Mr. Nakajima, and I was connected from there.
Mr. Nakajima
I also received and read Mr. Isotani's materials from the gallerist.Knowing the past works and ways of thinking, I would like to ask you to exhibit this at the museum.
Mr. Isotani
I first visited in November 2.I remember eating Hakureidake (white spirit mushroom) steak.I was thinking of trying to find out a little, but Mr. Nakajima confessed to me (laughs).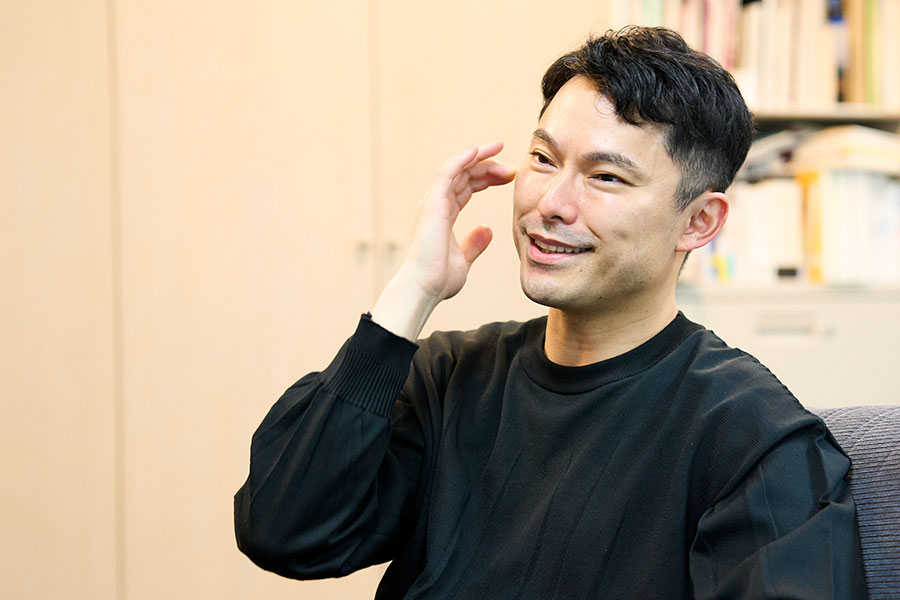 Hiroshi Isotani
As a result, even though Mr. Nakajima requested it, it's a mutual love.
Mr. Isotani
After it was decided to exhibit it, I first got a drawing. The Koumi Town Kogen Museum is in contrast to what is called a "white cube", where the light circulates evenly in the room and the work always looks stable everywhere.The skeleton is also solid and I feel the strength. The shapes of the three exhibition rooms are also different, and natural light enters each room.How should the element of exhibition space be positioned in my exhibition?It's a gentle way to say that this characteristic space is on your side, but to put it another way, I thought about how to assemble it while using it to some extent.
I always take the approach of taking advantage of the characteristics of the space, but I think that the more distinctive the characteristics of the exhibition place, the more important it becomes.In that sense as well, this solo exhibition was a work that had to face architecture quite a bit.
In this exhibition, the route was in the opposite direction.
Mr. Isotani
As a frank experience of mine, I thought that it would take longer to stay in the opposite direction.Originally there is a slow architectural slope, ending with a large curved main exhibition room, followed by a smaller exhibition room, and finally a space with a low ceiling and elevators and toilets.I felt that this was a spatial experience that had a climax in the first half and faded out.By reversing it, I wanted to create an image that gradually opens.The slope can be used as a place to leave the lingering sound of the exhibition at a time when you think back, and when you turn around, you can see the first exhibition room, so you can go back.
Exhibition room 1
Exhibition room 2
Mr. Isotani
In the second exhibition room, an outer garden is created to take in light, and the light entering the room changes dramatically over time, making it a space like a showcase for light and shadow.I bring that kind of production to my work by sticking a red film on the window.Instead of using artificial light to dye it red, I thought about changing the character and nature of architecture.
When I entered the 2rd exhibition room from the 3nd exhibition room, I got the impression that it opened all at once.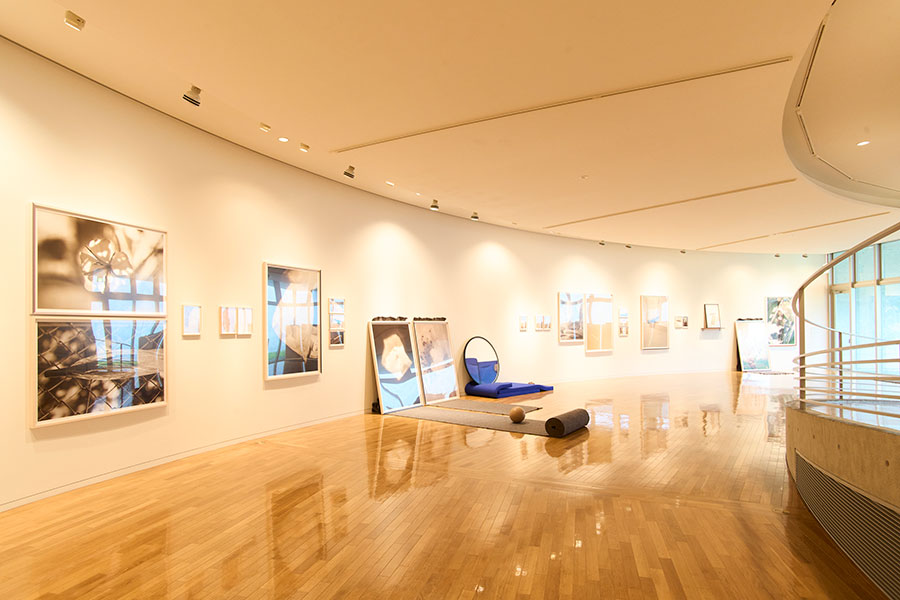 Exhibition room 3
Mr. Isotani
Most of the works receive light because the 3rd exhibition room has a window in the back.Usually, photographic works dislike reflection, so I think that there are many people who devise ways to block outside light.In my case, I use photographs, but I'm thinking about how to show them as one object and how they should be, so in the extreme, it doesn't matter if they are reflected.Therefore, I thought it would be an experience that even if you couldn't see it the moment you entered the exhibition room, it would become clear as you proceeded to the front of the work.
Of course, I am particular about the meaning and quality of one work during production, but when it comes to exhibitions, I give priority to what kind of experience I have in the exhibition space.The deciding factor is what kind of rhythm the viewer sees when walking.Emphasis is placed on physical sensations and body reactions.
For example, Japanese gardens are built with your eyes in mind.The pond in the back is invisible at first, and as you proceed, you can see the pond for the first time at the end of the bend, by placing small paving stones from the trees that line up. Like that. When you say "guidance", you get a coercive force, so it's like "choreography".
This time, you stayed in Koumi Town as AIR. How did you spend your time during that time?
Mr. Isotani
I usually work in my own studio, so I'm not a very residence-friendly writer.That's why I think about what to do when I come to such a place.This time, I tried to make a ceramic sphere by reduction firing (a firing method in which combustion proceeds in a state where oxygen is insufficient).Since reduction firing produces a lot of smoke, choose a location.I think it was possible because this time I tried something that I couldn't usually do.
Also, the content of the exhibition was adjusted just before, so it might not have been like this without a period of stay.There is a feeling that the exhibition itself was created in the residence.During the exhibition, Shuta Hasunuma, a musician who visited and performed, also came and was able to deepen exchanges.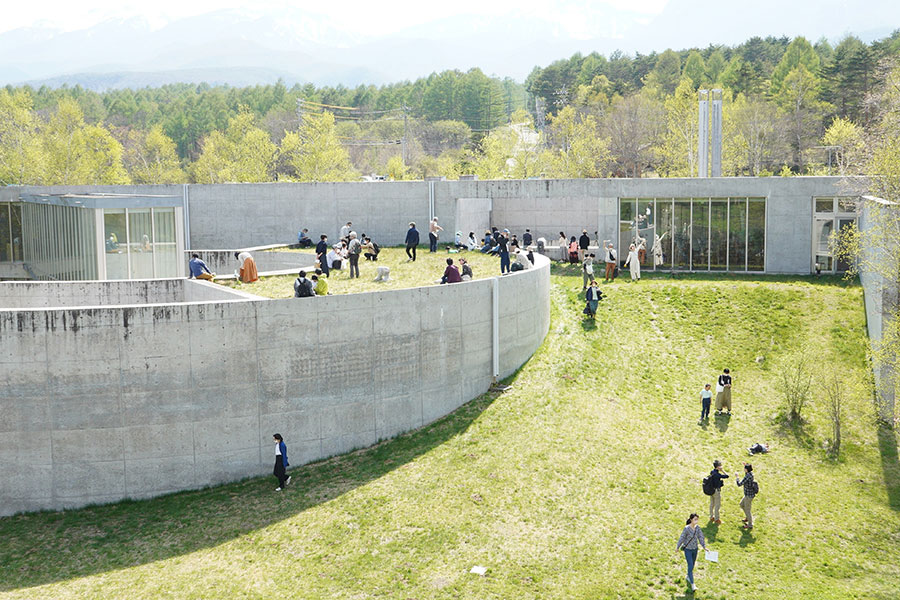 At the performance held on May 5, a huge speaker was installed in the exhibition room, and the sound from ultra-high to ultra-low was played at a loud volume.
Mr. Hasunuma is involved in a wide range of activities such as solo, group activities, and art works."NAGANO ORGANIC AIR 2022"Then, the Koumi Town Kogen Museum is the host, and you are doing your stay production.
Mr. Isotani
Regarding AIR, I think it will be even more interesting if we can find meaning and value not only in production but also in dialogue and getting people to see the work.It is valuable for the artist not only to send from the artist side, but also to get feedback from the people who see the work.
How do you feel about having an exhibition in Koumi Town?
Mr. Isotani
I think it's best to build a museum in a remote location, partly because it's an experience that includes the time it takes to come and go and the various landscapes along the way.Don't you forget once you come?
Living in Tokyo now, I feel that the word art is popular, or that going to a museum itself is becoming a piece of content.On the other hand, I wonder if so many people need to get closer to art, and since art is not entertainment, I think it is different to use numbers as a standard, such as increasing the number of visitors.Of course, I'm glad that a lot of people come, but sometimes I think that it may be difficult to understand.This time, I was able to do an essential exhibition as myself without putting such a load.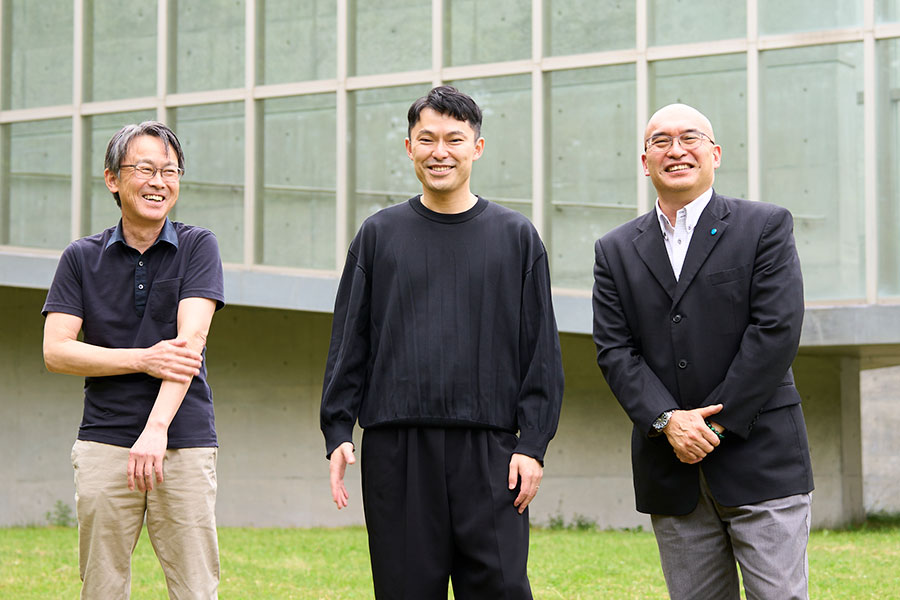 At the Koumi Town Kogen Museum, four exhibitions are planned to commemorate the 25th anniversary, starting with Mr. Isotani's exhibition.Next is Akihiro Sugiyama's "Akihiro Sugiyama: A Toolbox for the World Exhibition of Modeling and Design" (July 4nd), which focuses on design and has tried various modeling using wood. September 7).In the fall, the exhibition "Yozo Ukita and the World of" Kirin "" by Yozo Ukita, who has been involved in the production and editing of the children's poetry magazine "Kirin" (September 2th to November 9th) ).Finally, "Koumi's Culture Rediscovery (Tentative)" (November 4th to December 9th), which attempts to rediscover the culture of Koumi Town through art, folk tales, animation, and children's expressions. The exhibition will be held exactly along the four pillars.
Mr. Nakajima, who has been involved in the planning of the 10th and 20th anniversary, reaffirmed that "the museum is a place where communication with artists can be established through works. As the number of museums increases, the museum is a place where you can face both the artist and yourself. I think it is a place where you can still communicate with the corona. "
A new logo has also been created to coincide with the 25th anniversary.Mr. Isotani's wife and graphic designer Seri Tanaka worked on it.The arc that characterizes the building and the name of the town, "the small sea," are expressed, "representing eternity, sustainability, and the harmony of the world, and art is necessary to realize it." Contains a message.
The museum is not only a place where you can experience not only various works of art, but also the history and culture behind them, and the thoughts of many people.It may be said that the existence of the museum itself is a "treasure" as well as the precious collection of works.
Interview / text: Editorial department
Photo: Shunsuke Kawatani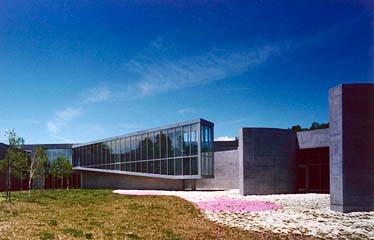 Koumi Town Kogen Museum
5918-2 Toyosato Ikenosawa, Koumi Town, Minamisaku-gun