2022.03.28
Nagano Artistic Director Business Closing Symposium [Part XNUMX] Looking back on the business and moving to a new stage
In December 3, the "Nagano Artistic Directors Business Closing Symposium" was held.As a culmination of the projects that have been developed throughout the prefecture since 2021 by the artistic directors in the fields of theater, music, art, and production, the artistic directors in each field, Governor Shuichi Abe, and books Many people involved in the business gathered together and looked back on their progress.In addition, it was a symposium that discussed how to pass on the various achievements of the past 12 years and connect the accumulated legacy batons to the next runner and develop them for a new stage.I will report on the situation.
■ What is the Nagano Artistic Director Project?
In Nagano Prefecture, 27 (2015) is positioned as the "first year of cultural promotion", and in order to promote cultural promotion efforts, in April 28, directed by Kazuyoshi Kushida (drama), General "Nagano Artistic Directors" with director Kenichiro Kobayashi (music), director Kunio Motoe (art / deceased), and director Taku Tsumura (produced) Established in Nagano Prefecture Culture Promotion Corporation.Until the 2016rd year of Reiwa (4), we carried out projects planned by each artistic director to raise the level of the entire cultural business in the prefecture and to develop human resources who will be responsible for cultural arts.
https://www.geijyutsukantokudan.jp/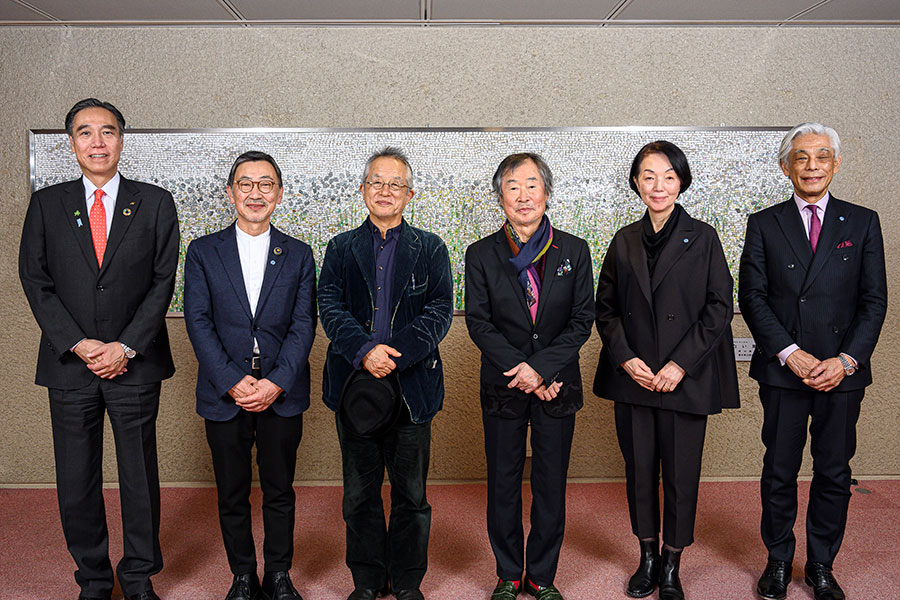 From left: Governor Shuichi Abe, Taku Tsumura (produced), Kazuyoshi Kushida (drama), Kenichiro Kobayashi (music) artistic director, Rie Ishikawa Symbism Management Advisor (art), Seiichi Kondo (one asset) Nagano Prefecture Cultural Promotion Corporation Chairman
Session I "Looking Back"
The performers, writers, and management staff who have been involved in the artistic director business looked back on the achievements and issues of the business so far in each field of theater, music, art, and production, and talked about their expectations for the future.
theater
The executive committee of Iizuna Town will perform the puppet opera "Faust" before the performance of "Faust of the Moonlit Night".

"Moon Night Faust"
■ Panelist
Soichiro Furuki [Iizuna Town Trunk Theater Executive Committee Chairman]
Ito Brown [Rhinoceros Weapon]
Taku Takei [TC Alp]
■ Progress
Takayoshi Yamada [Arts and Culture Promotion Office, Nagano Prefecture Culture Promotion Corporation]
In the theater, local people form an executive committee and carry out a trunk theater project to experience planning and operation, and in 30, 2018 regions of "or Tennessee Waltz", Reiwa Gen (7) In the year, "Moon Night Faust" was performed in 2019 regions.
Soichiro Furuki, who invited two performances as the executive committee chairman of Iizuna Town, said, "Shinshu is rich in nature. By incorporating art and culture there, the sensitivity became richer, and the power to think and feel was opened. I think, "he said, and he said that he would continue to work on theater in the region.
In addition, Mr. Ito Brown, who was involved in "Moon Night Faust" and "Breeze, Witches and Macbeth" in Reiwa 2 (2020) as a staff member, said, "Through this experience, it is necessary to increase the number of staff members who face the work thoroughly. I felt that. "Taku Takei, an actor who appeared in all the works, said, "The audience naturally accepted what was happening in front of me and watched it. I watched the play as an extension of my daily life and with my neighbors. We are laughing at each other. Great things have happened. I thought it was the origin of the theater. "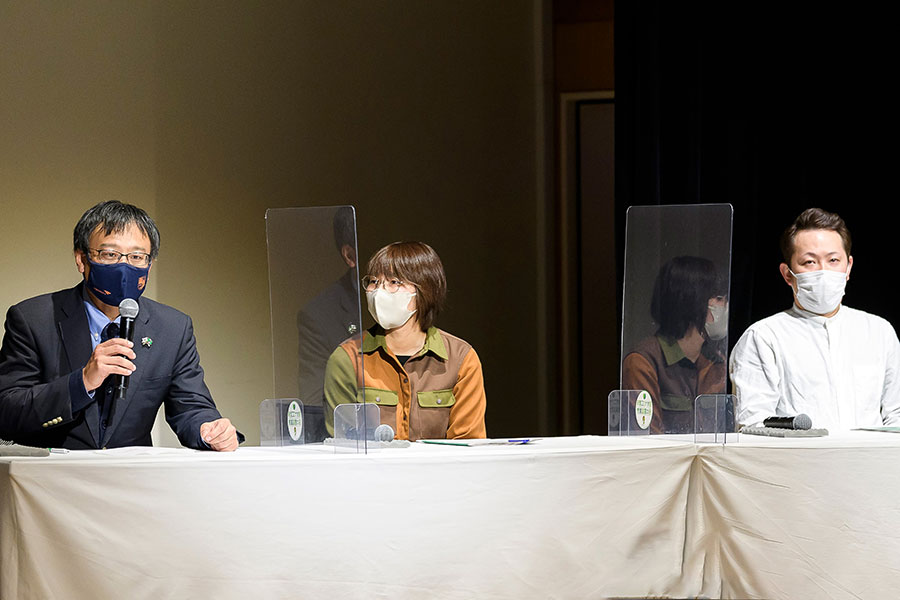 From the left, Soichiro Furuki, Brown Ito, Taku Takei
Music
Delivery class in Suzaka

Satoshi Ishii (center) at "Nagano Special Concert 2021"
■ Panelist
Masahiko Kobayashi [Suzaka City Superintendent of Education]
Satoshi Ishii [Nagano Special Concert 2021 Performer, Nagano Prefecture Young Artist Support Project "next" Registered Artist]
■ Progress
Hiroyuki Machida [Arts and Culture Promotion Office, Nagano Prefecture Culture Promotion Corporation]
In music, we aim to share the charm of music with the citizens of the prefecture and improve the skills of performers who are active in the prefecture. We held a home-visit class for children. Masahiko Kobayashi, the superintendent of education at Suzaka City, who invited the concert to Suzaka City, said, "Professionals, amateurs, and players with disabilities are playing together in the" Kobaken and his friends orchestra. " When I heard the meeting, there was a lump of sound that jumped directly into my chest, a mysterious numbness that I had never heard in an orchestra before, and I wanted to know why this kind of thing was born. I wanted to do it, "he said, and introduced a number of responses he received during his on-site lessons and concerts.
In 3, as the end of the project, we recruited amateur musicians from the prefecture and held "Nagano Special Concert 2021" to co-star with fellow orchestras.Satoshi Ishii, an oboe player who participated in the event, said, "After the entire orchestra rehearsal, I had time to practice independently for each instrument. I exchanged opinions with my friends and made music together in detail. I remember the experience I had. I thought I would bring it back to each orchestra and make use of it. "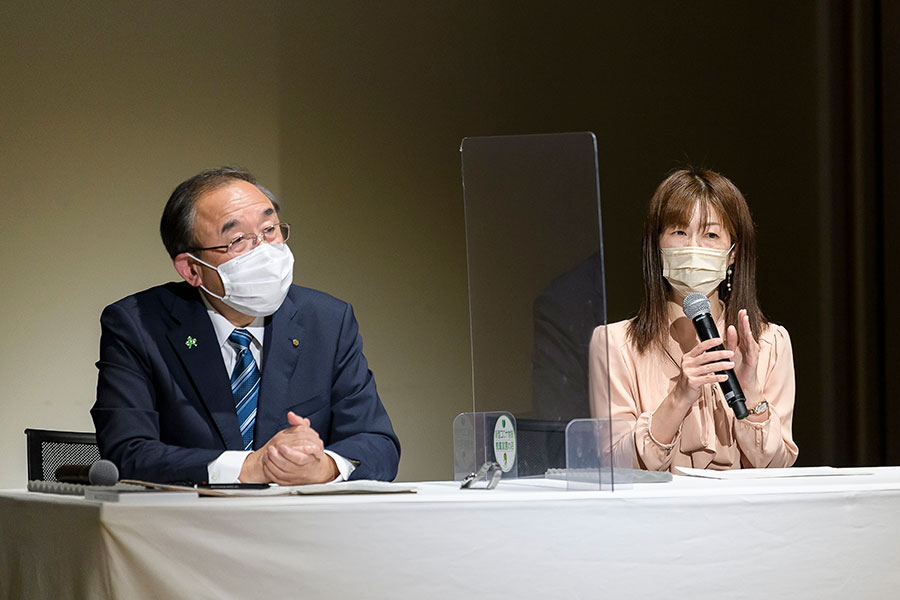 From the left, Masahiko Kobayashi and Satoshi Ishii
Art
From the "Symbism 3" exhibition (Photo: Shigebei Oikawa)

From the "Symbism 3" exhibition (Photo: Shigebei Oikawa)
■ Panelist
Nagaaki Otake [Chairman of Symbism Working Group, Director of Tomi City Umeno Memorial Painting Museum]
Rieko Koyama [Painter]
■ Progress
Yoko Ito [Nagano Prefectural Culture Promotion Corporation, Arts and Culture Promotion Office]
For art, curators from different careers and affiliations formed a network across cities, towns and villages, enhanced each other through discussions, collaborated, and planned and implemented the "Symbism" exhibition that introduces the art scene in Shinshu four times. ..Mr. Nagaaki Otake, who was the chairman of the working group, said, "When Mr. Motoe took office, he said," I want a team because I am a director, "and curators from the prefecture gathered to form a working group. I think there were two aims. One is to introduce artists who are related to Shinshu in order to inform the rich art of Nagano prefecture both inside and outside. The other is to encourage curators in the prefecture. It is to create a system that meets and stimulates each other. We would like to continue this cooperation by inheriting Mr. Motoe's wishes. "
Rieko Koyama, who is also the bereaved family of the 2nd artist selection committee, the 4th exhibiting artist, and the exhibiting artist Yoshikazu Komatsu, said, "The curator is a star scattered throughout the prefecture, and it becomes a constellation called symbism to illuminate the artist. I think he put it out. I sincerely hope that the constellation of symbism, which was born through the efforts of many people, will grow into a larger nebula. "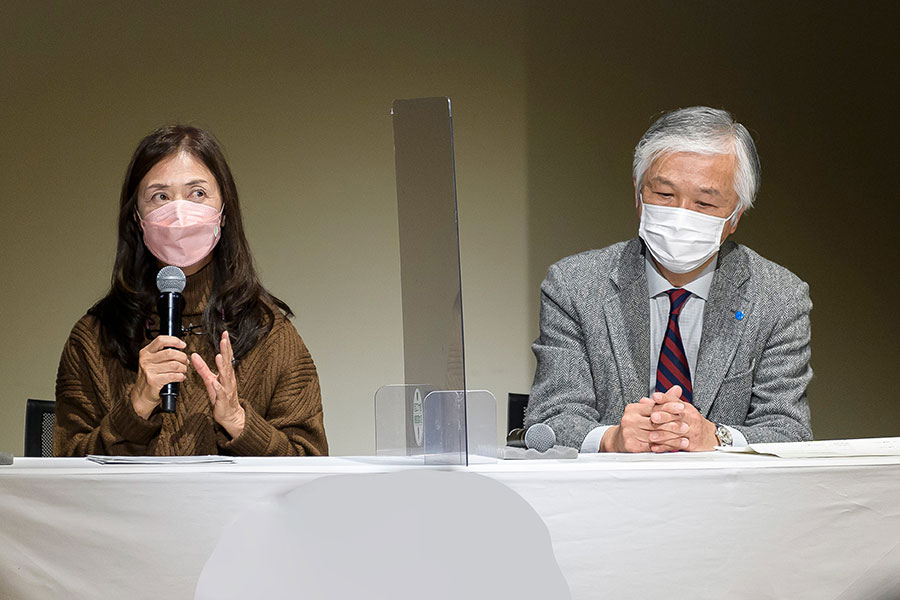 From the left, Ms. Rieko Koyama and Ms. Nagaaki Otake
Produce
From the fruit farm shop direct sales theater "Hakai"

From the fruit farm shop direct sales theater "Hakai"
■ Panelist
Rikiya Kuroiwa [Wakachiza, NOA Host]
Shiromi Tsukasa [Wakachiza, NOA Host]
Koichi Ishii [Kamagaya Alto Guild, NOA Stay Artist]
■ Progress
Tomonori Fujisawa [Arts and Culture Promotion Office, Nagano Prefecture Culture Promotion Corporation]
Produced by Reiwa 3 (2021), "NAGANO ORGANIC AIR" (NOA) was held. An artist-in-residence business in which artists and hosts collaborate in the region with the keyword "ORGANIC = organic" to discover and develop the possibilities and charms of "art" and "Nagano Prefecture" respectively. am.In Komoro, the theater company Wakachiza was the host, and the theater "Hakai" was produced and performed at the fruit tree farm direct sales office.Guest director Koichi Ishii said, "In the process of turning" Hakai "into a play, I should have used a blueberry field and a direct sales office to make a play, but I had the experience that a theater would be completed. "It was very difficult because I had never done it," said Rikiya Kuroiwa, who was in charge of the script. "The hero breaks the commandments, but Mr. Ishii's stimulus. In response, I feel like I've broken those commandments little by little. "
In addition, Mr. Wakachiza, who was in charge of the production, said, "In order for the artist to exert his power and the citizens to be absorbed in the creation, we need a place where we can enjoy it with peace of mind. We will continue to create while maintaining a connection with the community. I want to carry out activities to foster a unique environment. "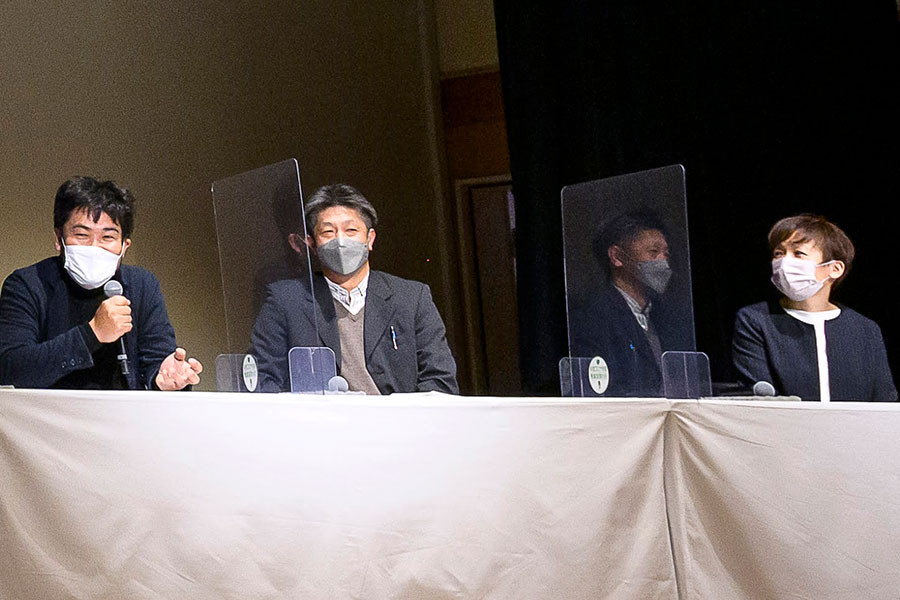 From the left, Koichi Ishii, Rikiya Kuroiwa, and Shiromi Tsukasa
In Session II, the second part, based on the activity report, we will discuss with Governor Abe and the artistic directors about the future shape that should be advanced in the future.
→ "Nagano Artistic Director Business Closing Symposium [Part XNUMX] Bringing the baton of cultural arts to the next runner"followed by