2021.12.06
creative.nagano-People who create places for art 3rd Hirofumi Arai (Rhinoceros corner)
"Creative.nagano" focuses on people who are creating creative places in Nagano prefecture that create new encounters through art and culture.Through this series, we will bring out the creative places and networks of people in Nagano Prefecture on the "CULTURE.NAGANO" site.The third is Hirofumi Arai, who runs Sainotsuno in Ueda City.Sainotsuno is a small theater with a guesthouse that opened in 3 in the Unnomachi shopping district in the center of Ueda City.At that time, there was no small theater in Ueda City, and some guest houses were opened in the prefecture, which was a hot topic.That's why Mr. Arai thought, "Is it possible to make a breeze?"Now, five years after it opened, Mr. Arai himself was surprised that "it has expanded beyond imagination because many people have known it," and he is unraveling the expansion of "new" activities based on the corner of the rhinoceros. increase.
In Ueda, which was once a bustling silk moth city, a theater "hut" was set up.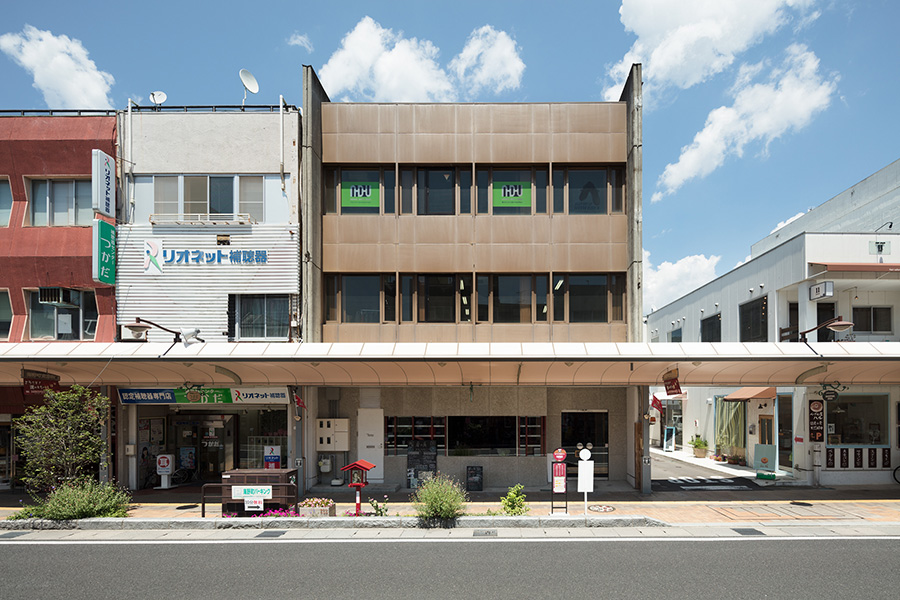 In the corner of Ueda City's Ueda-cho shopping district, there is a corner of Sainotsuno with a guest house.
Mr. Arai is from Ueda City.I moved to Kyoto alone from high school and met theater when I was in college when I was aspiring to be a journalist.After many twists and turns in his twenties, Tadashi Suzuki, who was hired by the staff of the Shizuoka Performing Arts Center (SPAC) in 20, was a world-famous director and intendant. Underneath, I was completely immersed in "a miracle-like environment where you can eat while playing" (according to Mr. Arai).
SPAC quit at the turning point of working for 10 years, returned to Ueda with his partner Mai who was already married at that time, and now he wants to make his own play.Then you will reach the building at the corner of the rhinoceros.
The customary "New Year!Rhinoceros Yose "

The stage of GOKU, a poet and reader based in Rhinoceros

"Before the Dawn Before the Dawn Part 2021" produced by Toson Shimazaki's "Before the Dawn" as an underlay (from Ueda Street Theater Festival XNUMX)

Yumi Hirota + Futakuchi University "Reception" (from Ueda Street Theater Festival 2021)
Mr. Arai
"It was a former bank building in a shopping district, and it was a vacant store at that time. The owner sometimes held a town development workshop by citizens saying" it's a waste ", and I also participated in it. I thought that I could make a nice theater here, so I made a business plan in a month and the owner agreed. "
It seems that the establishment of the guest house is a keen eye in the sense that it stabilizes the management base.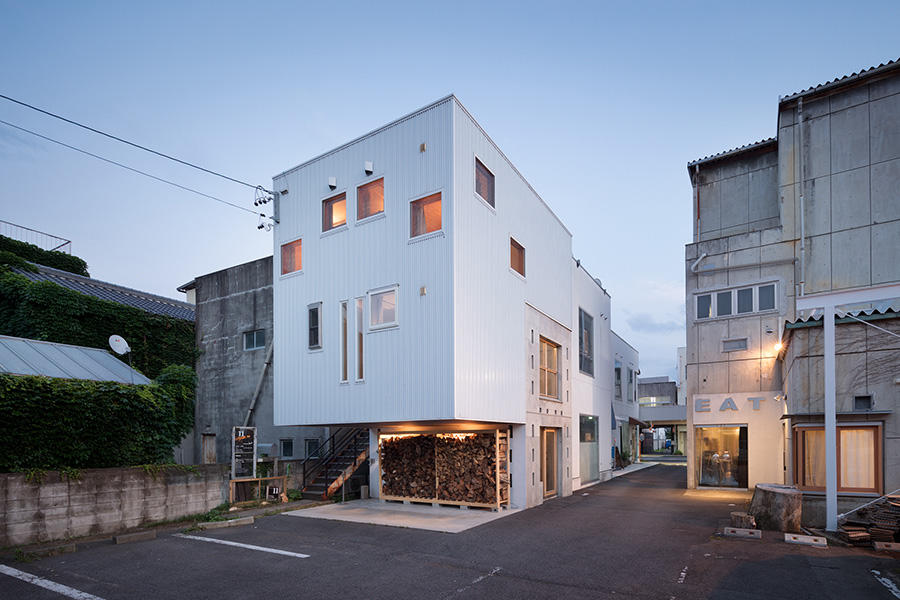 Not only tourists but also artists stay in the guesthouse
Mr. Arai
"Since theater takes time to create works, it is an ideal production environment to have an accommodation facility. There is also an accommodation facility in SPAC, and I also did bed make-up. For stable management, we built a guest house in a separate building and set up a rental space on the 3rd floor of the main building. "
The corner of Sainotsuno, where the guest house is located, is inevitably visited by tourists who have nothing to do with theater.
Mr. Arai
"(Sainotsuno) feels like a private tourist information center. The artists staying here will tell you the line of sight to research Ueda, so we have a unique perspective that is different from the tourist perspective. I think that the view of the city is accumulating and can be shared with tourists. "
Attempt to create a place with local facilities for people with disabilities at the corner of the rhinoceros in the daytime
From 30, collaboration with Liberte, an NPO that operates facilities for people with disabilities in Ueda City, will also be born.Mr. Kazutaka Musha, the representative of Liberte, has a history of entering the welfare field because of his interest in outsider art (art created by people who do not have formal education in art), and Liberte's activities are impaired. As a member, I had the ambition to create a place to work on art in the city.
In 27, when I met Mr. Arai at the "Regional Strategy Professional Seminar" at Shinshu University, Sainotsuno and Liberte exhibited the works of Liberte members (users) and the venue for the lecture. We will gradually increase the number of contacts, such as using it as a.On the other hand, the issue of using the rhinoceros horn, which was mainly open at night, is to utilize it during the day.Mr. Arai asks Mr. Takeru, "Why don't you try a coffee shop?"
Mr. Takeru
"We have the theme of how to work in the city and how the members can be in the city in a natural way. When Mr. Arai made a suggestion, we were a coffee shop. I thought it was an opportunity to "mimic" a coffee shop and create a place for people with disabilities in the city, not for the purpose of doing it. "
Lecture by Hiroaki Nakatsugawa, an artist sponsored by NPO Liberte, held at the corner of the rhinoceros

Workshop by Keisuke Kanai, a circus artist sponsored by NPO Liberte, held at the corner of the rhinoceros
The result was a coffee shop called "Liberte no Kado" where Liberte members became clerk.
Mr. Takeru
"It's only been a year since I started to see something like this. If I could see the shape in about five years by increasing contact with local people through atelier classrooms with members as instructors and poem reading. I had a good idea. "
Just before that, COVID-19 began to become popular, and "Liberte no Kado" was forced to stop its activities.
The know-how cultivated by the members of Liberte at the coffee shop was transformed into a kitchen car and utilized, and Mr. Takeru created a group of loose ties called "Rhinoceros Sutra" as a daytime circle activity at the corner of the rhinoceros. Talk video distribution "1135 (good postpartum) radio" with the theme of postpartum from there, "Ueda, municipal administration and coffee", a project for adults to freely study Ueda City administration, "Children's club Shimauma" to play with parents and children once a week ] And other activities are born.
In Corona, there were no people in the theater, and some people were in trouble in the city.
On the other hand, even at the corner of Sainotsuno, it became impossible to hold theaters and other events due to the corona, and the number of guests staying at the guesthouse was cut off.From this time, "new" exchanges and initiatives set in the corner of the rhinoceros will begin.
Mr. Arai
"In Corona, there are no more people in the theater, and there are" people in need "in the city. A half-homeless uncle eats morning at home and sleeps in his seat until noon. A woman with a disability who works in the neighborhood came in and hit the stove all the time, revealing a situation that was not visible until then. However, I originally operated it in the style that anyone can come (even if I don't use the cafe), and I didn't feel any particular trouble if he / she was just here. "
And the activity that started up is "Nokishita".We interviewed Mr. Sho Motoshima, a deputy director of "NPO corporation place making net" which is one of the start-up parties.
Pamphlet of NPO corporation place making net

Meeting of "Nokita"

State of past "behavior"

State of "Ueda Iloilo Club"
The place-building net operates a consultation support window for people who have difficulty living, and responds to about 8000 consultations annually.Immediately after the corona sickness, the welfare industry foresaw women in dire straits.In fact, as the number of female consultations such as child-rearing deadlocks, worsening marital relationships, and poor living conditions increased, volunteers from Motoshima and others who had a sense of crisis began to say, "Let's get together and talk first." It was a surprise. "
Motoshima
"I had the intuition that I could do something with the corner of the rhinoceros. I thought it was necessary to have a" feeling "that survived the rain and wind in the city, so I got this name. From here, I can stay at the guesthouse as an emergency evacuation. "Yadokari House", "Behavior" where everyone cooks and eats rice, and "Ueda Iloilo Club", a comprehensive culture department for children and young people, have started. "
"Yadokari House" is an initiative that allows women and mothers and children to stay in the women-only room of the guest house in Rhinoceros Susumu for up to 1 days for 500 yen per night.If necessary, we will connect to various kinds of support.
Mr. Arai
"Some people who come to'Hermit Crab House'have big troubles that they can't easily speak to, but they seem to enjoy talking, singing, and sometimes dancing together. It's the same as other guests. As a guesthouse in Sainotsuno, it's the same guest. "
"Behavior" is the true value of making a theater a common space
"Behavior" is held about once every two months, and although many participants come, it is characteristic that about 2 volunteers gather each time and many people are involved. I took a peek at the "Behavior" held on October 1th (Sun).
Meeting of all staff that started slowly from 10 o'clock

"Time Bank" is a mechanism to provide to those who want to do what they can.

Many donated potatoes were also wrapped in newspaper and served.

Preparations such as posters were also divided and done smoothly.
On a sunny Sunday, volunteer staff gathered in a large circle at the corner of the rhinoceros at 10 am.The number is about 40 people.Not only adults but also college students, high school students, families with children, etc. are all different generations and genders.
At the meeting, everyone will introduce themselves, albeit for a short time, and the place will warm up with a premonition of a fun time to share in the future.Receptionist, parking clerk, Thai curry behavior, recycling of children's clothes and household goods "Kurukuru City", "Time Bank" to exchange skills and labor instead of money, calligraphy workshop, craft workshop, etc. Was decided immediately.
When you receive a potato donation, the people on the spot will hand it out, wrap it in newspaper, and tag it with "Please feel free to bring it with you."At noon, the smell of Thai curry drifts, and you can see various people chatting while eating curry around the wood-burning stove placed in the parking lot.From the afternoon, there will be a mini parade of drums and dances, and some people will stand on the blue sky stage with an open mic.The staff does not attach a staff ID, so it is visually indistinguishable from the participants.Participants also do not know if they have any problems or worries in appearance.However, a common space has emerged where there are people who enjoy the place and the time.
At 12 o'clock, a delicious smell drifts around and the behavior starts.

"Information" can also be created on the spot

Donations of ingredients such as 30 kg of rice were donated for this day

Don't forget to consider allergies
Motoshima
"The homeless uncle noticed that he had changed to a" uncle of a hard worker "after eating and talking with him in" Behavior ", and I thought that this was a re-encounter. I think there are many ways to interact with people who may be in trouble, but I wonder how to meet again as a person rather than labeling or categorizing. "
For Mr. Motoshima, the corner of the rhinoceros, which exerts an inclusive (social inclusion) function as a cultural facility, seems to be "there is room and a gap, and Mr. Arai himself has the feeling of enjoying such things." ..
Consultation support can also be provided with "Obehavior"

"Ueda Iloilo Club" is held in a nearby park, where you can dance and sing.

Recycling of children's clothes and household items "Kurukuru City"

Calligraphy workshop with excellent books

The afternoon session started with a parade

Mr. Arai and Mr. Motoshima also sang on the blue sky stage
The fact that there is a "gap" at the corner of the rhinoceros seems to be influenced by the specifications that deviate from the theater.It is not a well-equipped space surrounded by black walls, so-called black box, but there are large windows facing the street and even a cafe counter.It wasn't once or twice that the theater people who visited the corner of the rhinoceros for the first time were struck by the question, "Can you play here !?"
Mr. Arai
"I've been wondering what a theater is. That's why I've been stuck in theater ... Sometimes the corner of the rhinoceros isn't like a theater, but it's a theater that you can stand up anywhere, and where you need it. I think that I have a kind of "de-theater" intention that a theater will appear in the theater. I don't think it's okay to continue the corner of the rhinoceros. "That's why it feels like it's gone."
By cherishing things that can only be born in that place, we should become a local culture.
Mr. Arai says, "Sainotsuno does not have to last forever in the future," but it is certain that it has already taken root in Ueda City as a cultural base.What are your thoughts on the future just beyond the corner of the rhinoceros and the future of the region?
Mr. Arai
"Now, with the Corona sword, there are more theater packages that you can take anywhere. It's very efficient and convenient, but it's stripped away to enable mobile. On the contrary, I want to value expressions that can only be made by those people at that place. Because I can't carry it, there is no "flying distance" to deliver the expressions, which is complicated and difficult. But I hope it becomes a local culture. "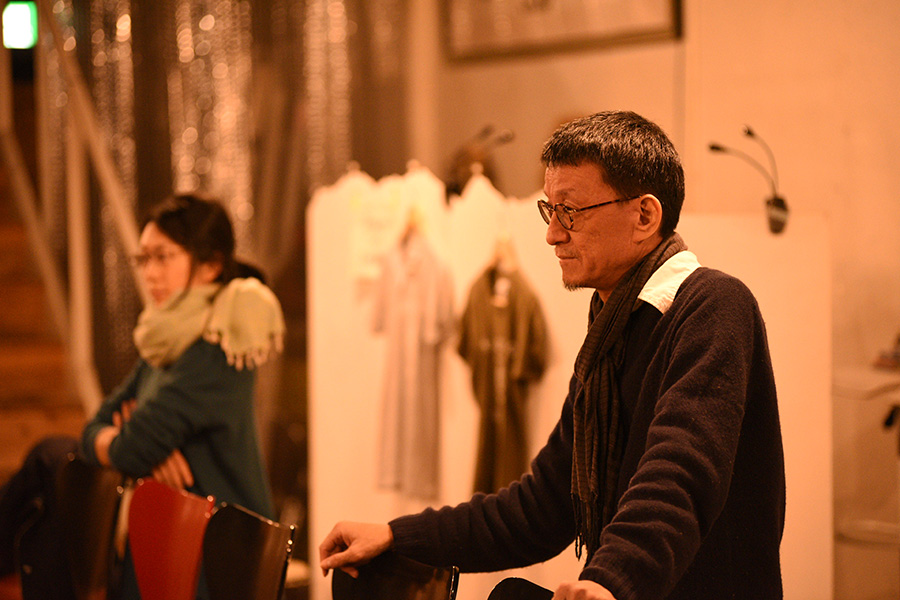 The eyes of Mr. Arai, who directs, make us feel a strong feeling for theater.
After the corona wreck, the rhinoceros horn began to expand beyond the theater as a "theater as a point of contact and contact with society."For Mr. Arai, who defines himself as a "priest" rather than a theater manager, the corner of the rhinoceros is a common space where anyone can come, such as a former temple or shrine. It's like a place.
When Mr. Arai quit SPAC, he was given the words "You are going on a voyage. Congratulations on your departure" from Intendant Satoshi Miyagi.The words are very nice to Mr. Arai, and in fact, it feels like "where the rhinoceros corner goes is decided each time, on the way of the voyage."What will sneak into the gaps in the corners of the rhinoceros and who will bring about change? The "nothing place" in the city is standing in the city of Ueda, looking forward to the next change.
Interview / text: Kurimo Tokiko
Photo: Naomi Nonomura
Top image: Yasuhiko Naoi
Facility photography: Takumi Ota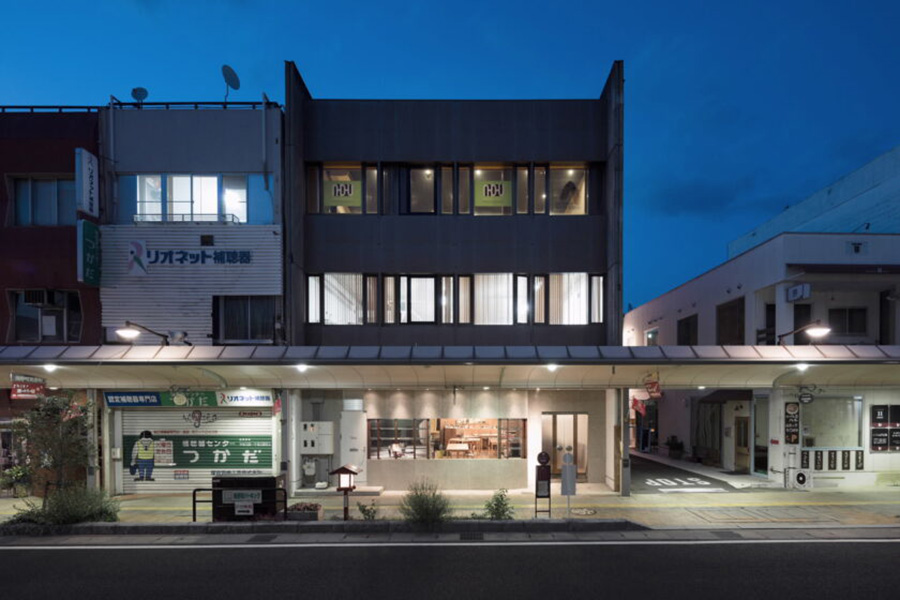 Rhinoceros horn
Ueda City Central 2-11-20