2022.11.22
creative.nagano-People who create art spaces Vol.4 Kota Akahane (〇 and editorial company)
"Creative.nagano" focuses on people who are creating creative places in Nagano prefecture that create new encounters through art and culture.Through this series, we will bring out the creative places and networks of people in Nagano Prefecture on the "CULTURE.NAGANO" site.
The fourth is Mr. Kota Akahane, representative director of the general incorporated association "◯ (Maru) and editorial company", which is involved in community development at Tatsuno Village.There are various things that go into the company name, such as region names, companies, individuals, and so on. Mr. Akabane is involved in so many different things that it is impossible to express it in one word, "town development."I would like to hear a part of this, mainly at the Tobichi Museum of Art, which is being held this fall.
Exhibiting works that use the "success of empty houses" in empty houses and shops
Mr. Akabane was born and raised in Tatsuno Village, moved to Tokyo for college, and worked at a design office. In 2013 (Heisei 25), he participated in the establishment of the Tatsuno Village Migration and Settlement Promotion Council, and became independent the following year so that it would be easier to participate in weekday meetings. In 2016, I became a Tatsuno Village community supporter and moved my base to Tatsuno Village.Since then, I have been living in two bases, one in the Tokyo metropolitan area.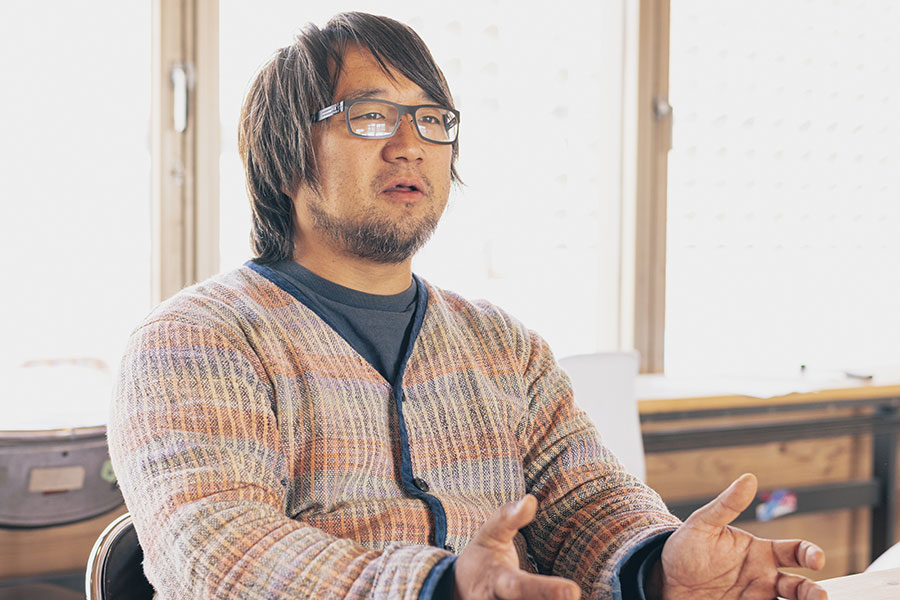 Mr. Kota Akahane
The goal is to create a sustainable, kind city where all kinds of people can live comfortably.Its banner is a shopping street that stretches for about 800 meters from JR Tatsuno Station.As the number of passengers at the station decreased, the shutters of the shops were closed one after another.Instead of opening it and reviving the old shopping street, we will connect the scattered shops and redefine it as a community space for the town.Mr. Akabane and his colleagues named the shopping street created with such new values ​​"Tobichi Shopping Street."
From October 2022th to November 4th, 10 (Reiwa 15), "If there is a god to throw away, there is a god to pick up" will be held at Tobichi Museum 11 at seven venues such as vacant stores and spaces around the shopping district. .The works were created by 27 artists using the "happiness of vacant houses" such as discarded fittings and old tools found in vacant houses in the area.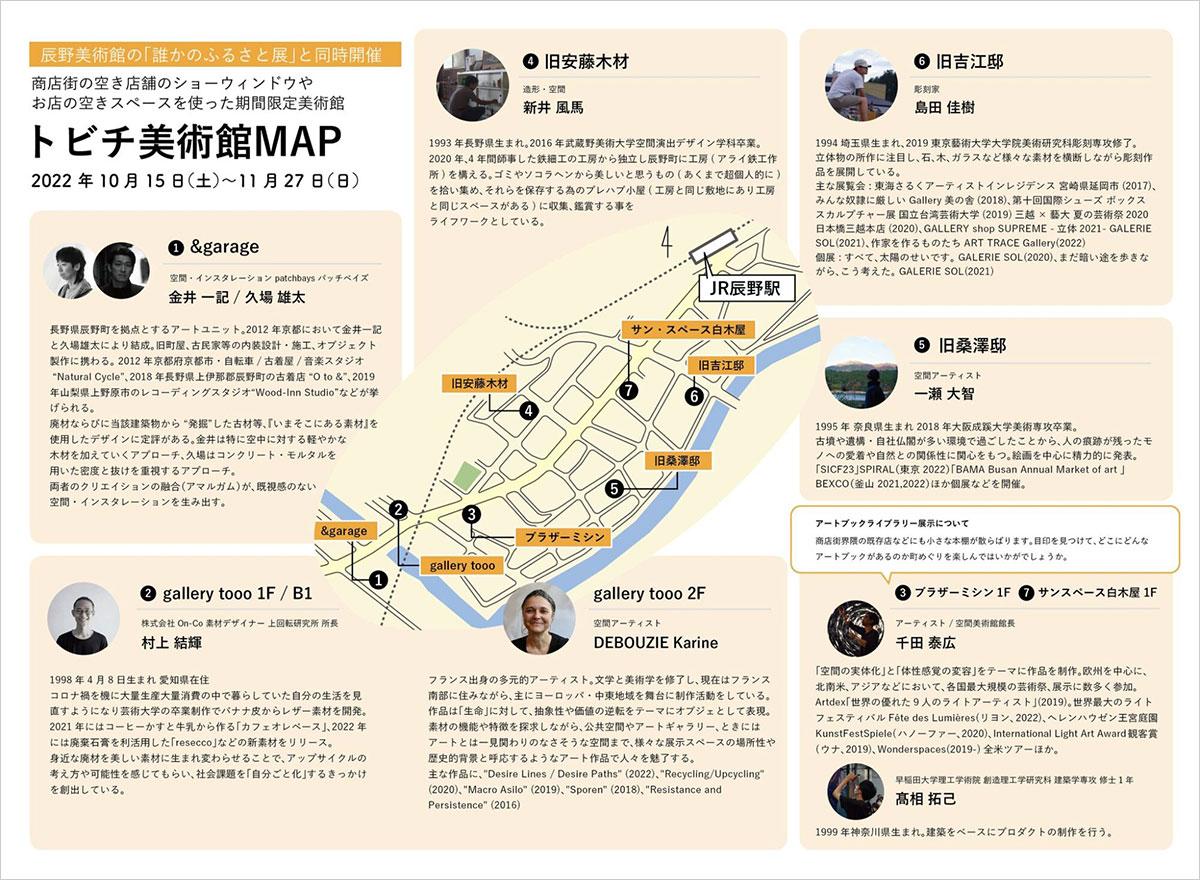 Tobichi MuseumMAP
The basement of the gallery "gallery tooo", which was renovated from "Keirindo", which used to sell stationery, is a product made by material designer Yuki Murakami using new materials such as waste gypsum board and coffee grounds and milk. A space centered onThe coffee grounds are collected from Mr. Akabane's office and cafes in and outside the town. On the 1st floor, there is waste material before it becomes a work, and you can feel the concept and possibilities of upcycling.
On the 2nd floor, works created during the residency by France-based artist DEBOUZIE Karine are exhibited. Ms. Karine came to Japan for the first time after being invited to participate as a resident artist.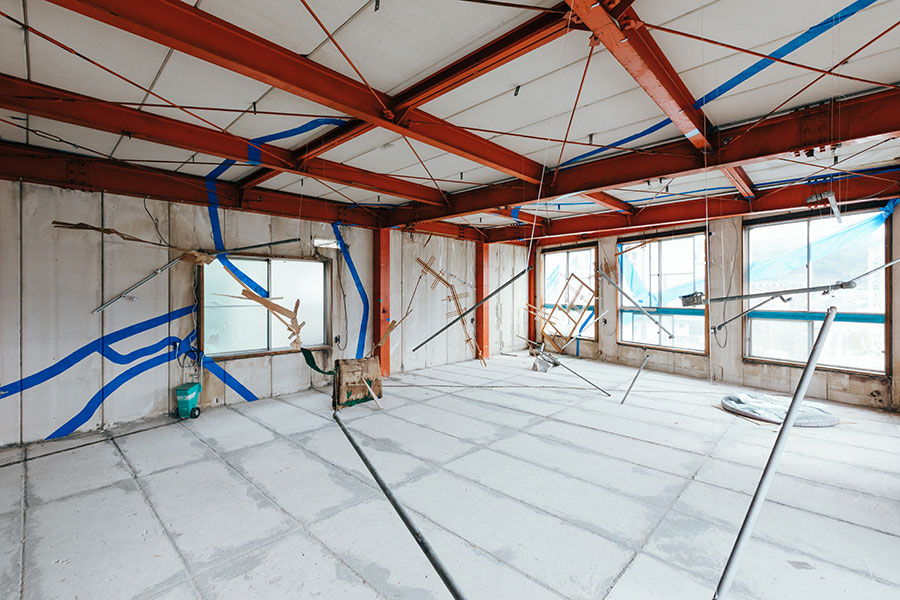 Sculptor Yoshiki Shimada, who was also selected through an open call for participants, is trying to exhibit at the former Yoshie residence, which is nicknamed "Getaya" in the shopping district.Works that use geta (wooden clogs), old utensils, and other things that came out of the storehouse were born precisely because of this location.
In addition, the art unit "patchbays" by Kazunori Kanai and Yuta Kuba is developing a space installation using old materials in "&garage", which is located in the renovated space of the former Ina Bus Tatsuno office.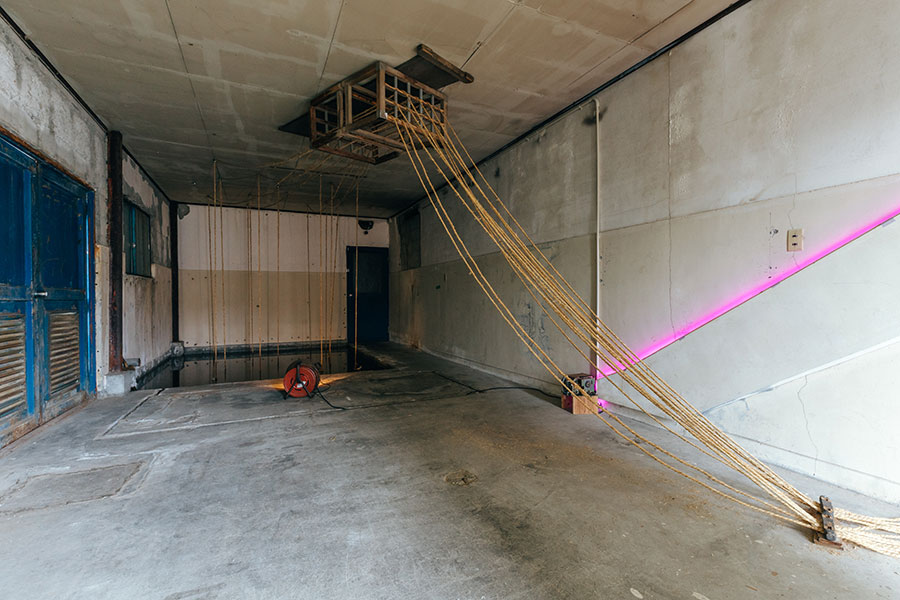 It should be noted that almost all works can be viewed for free 24 hours a day.You can stop by on your way to take a walk at 5 in the morning, or just stare at it at 2 in the middle of the night when you return from a drinking party. "If you can see it at any time, you can visit it again and again, and the view will change each time. That's what makes it interesting," says Akahane.
If there are few places where you can come into contact with art and culture, let's create one.
Why did the "shopping street" develop into a place called "art museum"?Yasuhiro Senda, one of the exhibiting artists and one of the world's top 1 light artists, and Yuuhiro Suzuki, a dancer and member of the Tatsuno Village Regional Revitalization Volunteer. I would also like to hear from you.
Mr. Senda is currently renovating the former Tatsuno Village Chamber of Commerce and Industry into a space museum that will serve as both an art museum and a creative space open to residents.Mr. Suzuki also manages "& garage" where street dancers gather from inside and outside the area.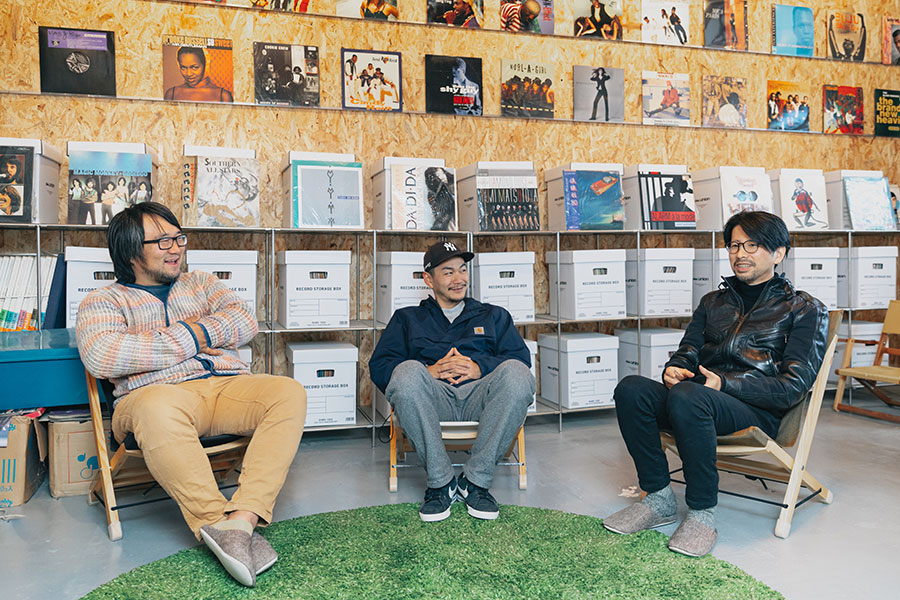 (From left) Mr. Akabane, Mr. Suzuki, Mr. Senda
First of all, can I ask how you started the Tobichi Museum?
Akabane
I'm in the field of architecture, so I don't have much knowledge about art.I just like it, or rather, I simply think it's "rich".When I returned to Tatsuno, I felt that there were far fewer opportunities to come into contact with culture and art than in the city.But, as always, I think it's good to make something that doesn't exist.Then, when I thought about making it, the starting point was what to do with the vacant houses and stores.
In 2020, we started jointly planning an exhibition with the Tatsuno Museum of Art, which led to the Tobichi Museum of Art.The area around Mt. Kojin, where the museum is located, is also home to the town's sports and hot spring facilities.In 2 (Reiwa 2021), the "Tobichi Museum" will be held for the first time during the same period as the "Children of Time Exhibition" at the Tatsuno Museum of Art to try to make a tour of the shopping district.At that time, I had my hands full with displaying existing works in the shopping district to make it look like an art museum, but this year, artists are creating works from the spaces of vacant houses and stores.Meeting with Mr. Senda,Shinshu Arts CouncilWe were able to openly recruit artists who would stay in Tatsuno and create works.
Mr. Senda
Ms. Karine, one of the open invitation slots, is from the town of Avignon in France, where a theater festival is held every July. There are about 7 programs and people gather, so street performers also come and there are people doing something every 1000 meters.I heard that there are about 10 vacant houses in Tatsuno now, so it would be interesting if all of them could be exhibited.
Some people have the impression that museums are hard to visit in Japan, but overseas, many people stop by while jogging.The Tobichi Museum is a global standard in the sense that locals stop by during a walk. Open 24 hours is too novel.Art is particularly disliked in rural areas, and people sometimes say, "It's a waste of money to spend money on things that don't make sense."However, 24 hours is something that can only be done with the cooperation of the residents, so I think that Mr. Akabane and his colleagues, who have built relationships that make this possible, are truly amazing.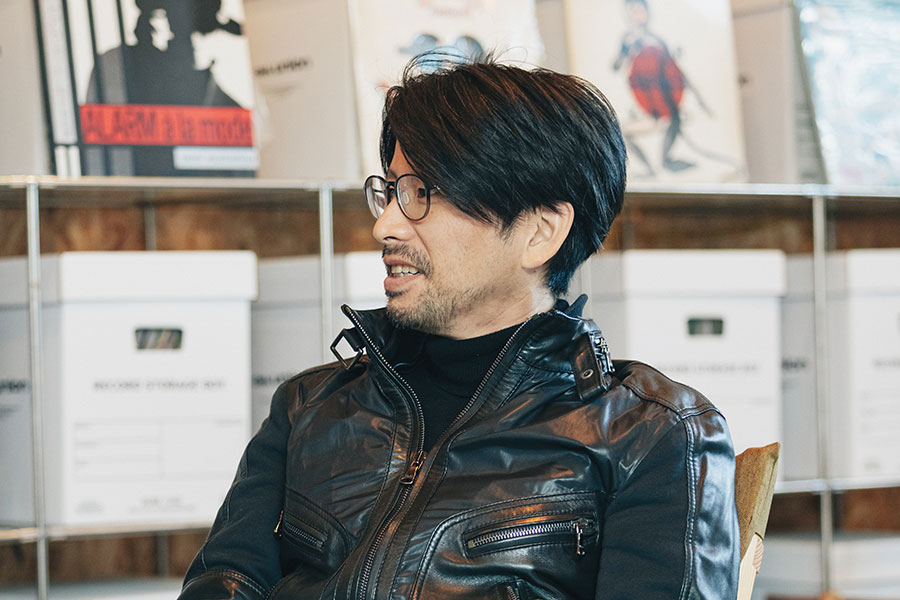 Mr. Senda
Tolerance, coexistence, and sharing create diversity in the town and make it interesting
It seems that Mr. Suzuki and Mr. Senda had no particular connection with Tatsuno.
Ms. SUZUKI
I am from Chiba Prefecture, and after graduating from university, I worked for a major real estate developer for 6 years.After joining the company, I was assigned to Kansai, and after that I returned to Tokyo, but my QOL (quality of life) was completely different.When I lived in Osaka, there were studios and clubs near my house, and there were many dancers around.There are places to play in Tokyo, but if you play the same way, you won't be able to afford it financially.There was no difference in quality when it came to what I wanted, so I felt that Osaka was more "rich".As for work, I started thinking about how it would be to continue building new buildings even though the population is declining in the future.
It was December 1 when I came to Tatsuno for the first time as one of several candidates, thinking that it would be possible to go on a day trip from Tokyo.When I arrived at the station after 2019:12 in the afternoon, there was no one walking around, and I thought, "Huh?" (laughs).It was Mr. Akabane's office "STUDIO River" that was open there.So, I decided to live here relatively intuitively, and in April of the following year, I was appointed as the person in charge of migration and settlement of the town's regional revitalization cooperation team.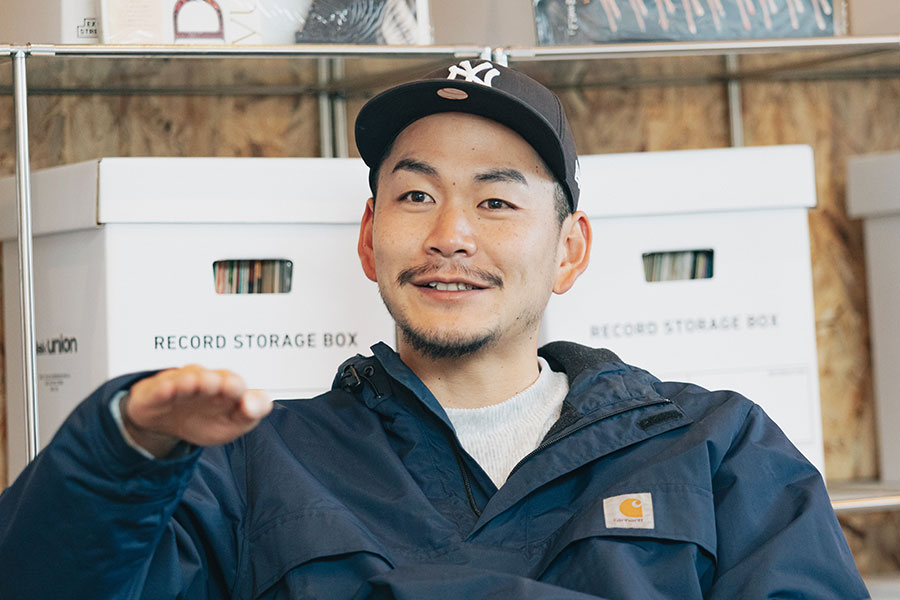 Ms. SUZUKI
Mr. Senda
The first time I came was early spring 2021.Since my main activity is overseas exhibitions, I was thinking of moving to Europe to make my work easier, but due to the coronavirus pandemic, I came back to Japan.I wondered what to do, so I consulted Mr. Masayuki Nomura (General Coordinator, Shinshu Arts Council), who introduced me to Tatsuno Village. I only knew that it was famous for its fireflies, but from the moment I got out of the car and walked through the town, I got a very good impression.Things in town are well designed.And the presence of Mr. Akabane, who I met for the first time that day, was very important.
So we emigrated, and now both of us have our own place.
Akabane
Having a place creates value and possibilities just by itself.I can't create a place like "&garage" or "Space Museum".Because he is that person, there are things he can do. I think it's a big strength that both of them are players and have a place.
Ms. SUZUKI
But when I first moved here, I had no intention of doing so.Some time after I came to Tatsuno, I rented a facility in the town and danced by myself. appears.Then, Mr. Akabane asked me, "Would you like to make a studio using an empty store?"There were people, there was a place, and the situation of just connecting was created on its own.
"&garage" contains all four elements of hip hop culture: DJ, rap, dance and graffiti.There are four spaces in this building, originally a bus wash.When it opened in September last year, nothing was decided about the other spaces.But if the flow of people can be established, a business targeting it will be born.The stores that target the people who come here are probably the ones I like, so it would be nice to increase the number of people who like them.When I drew my fantasies on the flyer announcing the opening, "I wish it would be like this," this spring, a second-hand clothing store really opened (laughs).
Mr. Senda
I want the Kukan Art Museum to have four functions.A workshop that can be freely used by anyone who wants to share my machine tools and create something.A library for obtaining the knowledge necessary for making things.A residence where artists can stay and work.And the exhibition room where my works are permanently installed.I don't feel like I'm contributing to society, but I think it would be fun if someone came and did something.
It may be due to the influence of the times, but I feel that what used to be valuable in exclusive ownership is no longer so.Previously, I was staying in a rented house for an exhibition in Tanegashima, but when I was told that a typhoon was coming, I evacuated to a hotel room that had been prepared for me.The rest of the staff gathered in a place where they could sleep, and everyone there brought out the items in the refrigerator, and the feast began naturally.I'm alone in my room, eating cup ramen... isn't it lonely?Even if you spend hundreds of thousands of yen per night in a resort area and have a private beach, it's not fun for one person.Will spending money to create a space that can be monopolized lead to richness?Well, I'm not very good at it when a lot of people come, so I get tired.
Akabane
Don't try to run it alone, everyone likes it, so each one is doing it on their own.We share our daily life.It may be a sustainable form that can be continued without overdoing it.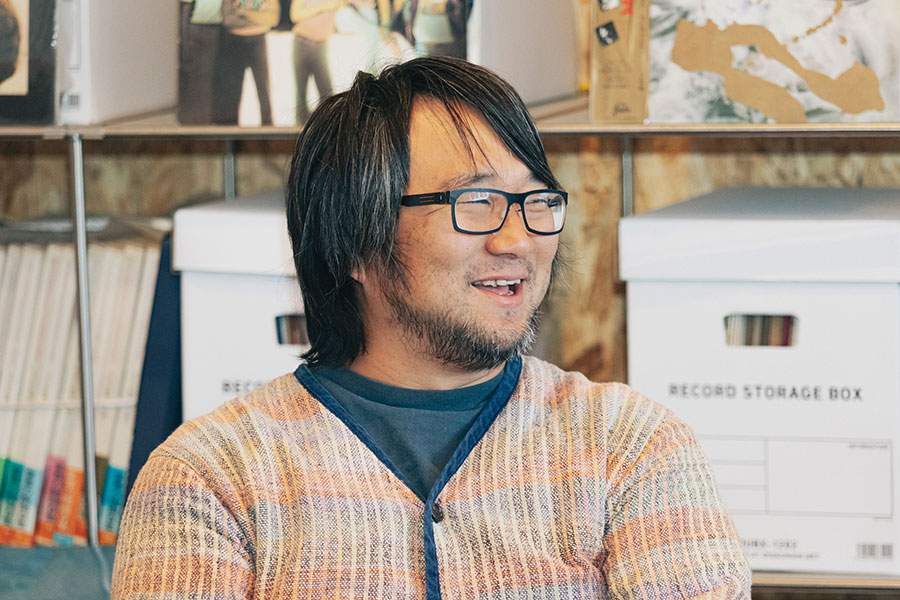 Mr. Senda
In the future, we plan to open the completed space, but I don't really understand it myself.In terms of art, there is no point in doing it in Japan, and it may even be a negative.I'm doing it without knowing why I'm doing it in such a way.
Ms. SUZUKI
I don't know, so you're doing it, aren't you?Dance is also a "swamp".I don't have a clear goal of what I want to be, so I can't stop.I may be continuing because I can't grasp it.
Mr. Senda
I'm glad that Akabane-san and the others were the first ones I met.It's not easy to get directly involved with the local community all of a sudden.
Ms. SUZUKI
When I was practicing here, Mr. Senda came by to take a peek, and the old man who was "waiting for drying" at the coin laundry next door suddenly appeared.It's a place like no other, and it's interesting.
Akabane
There is a lot of white space in this town.It's all you want to choose with Sukasuka.I think it's the same in any region, but it's important to be able to tolerate people from outside, coexist, and share in that state.Diversity and tolerance are easy words to put into words, but in reality, that's all there is to it.Tatsuno has long been said to be "a town that doesn't come together as one," but now it's a town full of diversity and tolerance.Let's just say that the times have caught up with Tatsuno.
At the Tatsuno Museum of Art, "What you can see from that one night. Someone's hometown exhibition" will be held at the same time
During the same period as the Tobichi Museum, the Tatsuno Museum of Art is holding the third co-sponsored project, "What you can see from that one night. Someone's hometown exhibition".We also interviewed Mr. Shu Kawashima, curator of the museum.
I was the only curator at the Tatsuno Museum of Art, so I was worried that the project might be biased.So when Mr. Akabane and his colleagues asked me to come up with a plan for the museum together, I thought it would be interesting to come up with new perspectives.
In the first exhibition, "Travel Without Aim" (2020), we introduced photographs and words of 13 people who traveled the world by bicycle.While it was difficult to travel due to the corona crisis, many people came to see it, probably because they felt like traveling around the world, and the number of visitors exceeded the previous year.

Shu Kawashima

This exhibition was planned last year after the town concluded a partnership with Airbnb Japan Co., Ltd. for the purpose of promoting migration and settlement, attracting companies, and promoting the creation of related populations. Introducing 7 guesthouses with photos and text.Rather than focusing on the facilities themselves, the stories of the hosts and guests are spotlighted, making it possible to see the relationship with the local community.

I was born and raised in Tatsuno Village.I've also seen how the shopping district is gradually getting lonely.But in the last few years, shops have opened, and even if you drive by, you can see the lights on and people walking. When I look at the Tobichi Museum, I feel that art and culture are spreading in the everyday life of the shopping street.I think museums are spaces that are a little removed from everyday life, so I hope to continue making use of the good points of each and creating synergistic effects.
When I see people doing what they love, I naturally think they look happy.And people naturally gather around people who seem to be having fun, creating a place.
Mr. Akabane says, "The more you open up, the more free and fun you will have." "Tobichi Shopping Street" has created a new place called "art museum" in the last three years.The world that spreads ahead as it opens more and more.I'm really looking forward to what kind of place I can do next.
Interview and text: Atsuko Yamaguchi (Tanakara)
Photo: Shiho Kobo
Tobichi Museum
2022 year 10 month 15 day (Saturday) to 11 month 27 day (day)
Tobichi Shopping Street (Shimotatsuno Shopping Street)
What you can see from that night.Somebody's Hometown Exhibition
2022 year 10 month 15 day (Saturday) to 11 month 27 day (day)
Tatsuno Art Museum
Opening hours: 9:00-17:00 (Admission until 16:30)
Closed: Monday
Admission fee: 500 yen for adults, 300 yen for students, free for elementary school students and younger