2022.03.10
Frozen food culture to taste the cold of the Suwa area
The Suwa area is located in the center of Nagano prefecture, and is famous for Yatsugatake, Lake Suwa, and Suwa Taisha Shrine, which has a company across Lake Suwa.Speaking of winter concerns here, Lake Suwa's "Miwatari" * (Omiwatari) is created by the cold winter that is peculiar to the Suwa area.Due to the high sunny weather and dry air, radiative cooling at night lowers the temperature.The tingling cold like in a freezer is called "freezing".In this area, where we have lived with the freezing cold, "freezing" has been used in various ways since ancient times.In this special feature, we will introduce the food culture of "freezing".
* About the notation of migration
Generally, it is written as "Mikami Watari", but at the Yatsurugi Shrine, which is in charge of judgment and Shinto ritual, "Mikami Watari" is the official notation.
Spend the winter with preserved foods that are frozen, dried and drained.
First of all, I visited Mr. and Mrs. Kasuke Koumi and Eiko, who live near the front shrine of Suwa Taisha Kamisha.You may have been involved in various cultures such as local festivals for a long time, and you may have told the history of it. At your home, along with items related to Suwa Taisha Shrine and Onbashira Festival, local children's messages were also displayed.With a gentle sounding Suwa dialect, he talked about the history of the area where agar production was flourishing.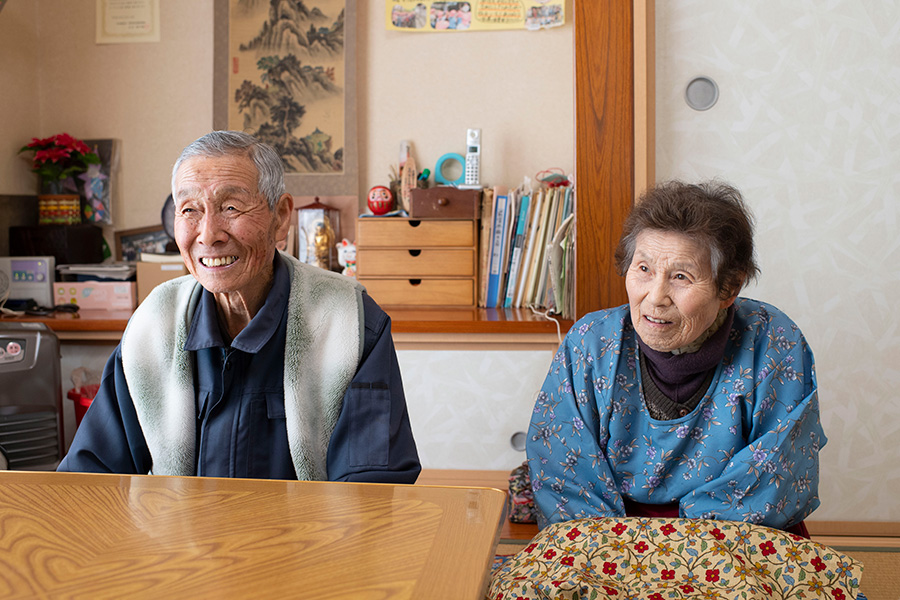 Mr. and Mrs. Koumi, who used to make kori-mochi, and Mr. and Mrs. Eiko
Kasuke
"This area is said to be a" half-day village, "and the sun goes down before 3:XNUMX pm. There were a lot of heavens (agar manufacturers) because it suits the conditions for making good agar."
Eiko
"It was lively. When we were in school, agar was dried in all the rice fields until we arrived at school in winter. Only then did people from Iiyama City and Ina City work. You were here. Now, a male hand is coming to work from Hokkaido. "
After the war, about 300 agar shops used a lot of people to make agar all at once during the winter season.Especially in Chino City, which prospered in the agar manufacturing industry, there used to be hundreds of geisha, who were called "agar geisha" and could see the scenery of dancing and parading along the way.It is said that agar manufacturing has spread as a side business of farmers by bringing back technology from Kyoto.The agar in the Suwa area has a rod shape like a square pillar, and is called a rod agar (Kaku agar) as opposed to the thread agar and powder agar that are famous in Gifu prefecture.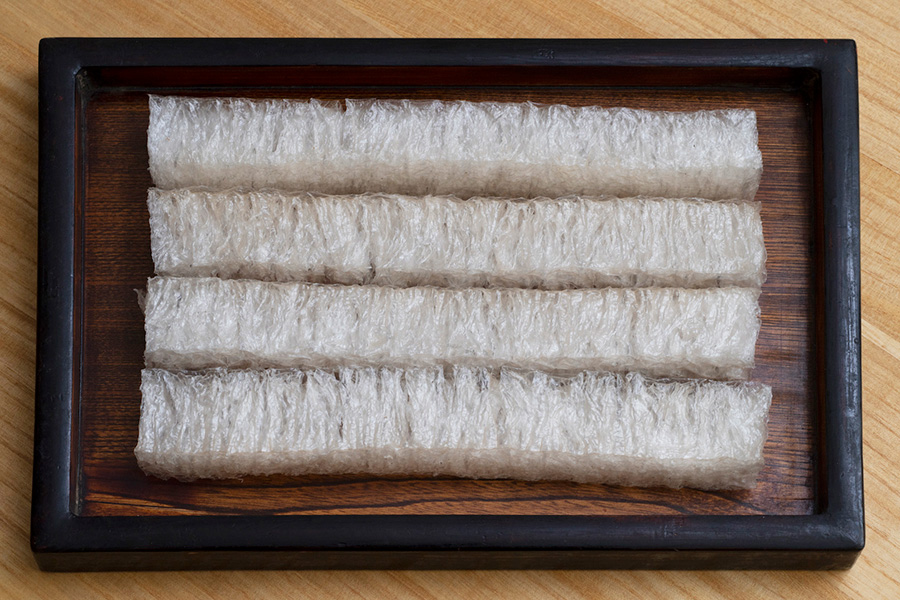 This is common stick agar in the Suwa area
While listening to the story, I showed you the sparkling white powder.This was powdered ice cake (koori mochi).You can sprinkle it on the finish of Japanese sweets to decorate it, or dissolve it in hot water with sugar to make it look like arrowroot tea.Kori-mochi was made exclusively at Takashima Castle as a gift of the Suwa Domain during the Edo period.Kori-mochi in the Suwa area is made by pouring boiled and melted glutinous rice flour into a mold and repeatedly freezing and drying it.Mr. Koumi's family business was an ice cake shop that lasted for 100 years.What was made there 10 years ago was still preserved in a usable state.It's interesting that the stick agar and the kori-mochi are made in the same way, even though they came into the Suwa area separately.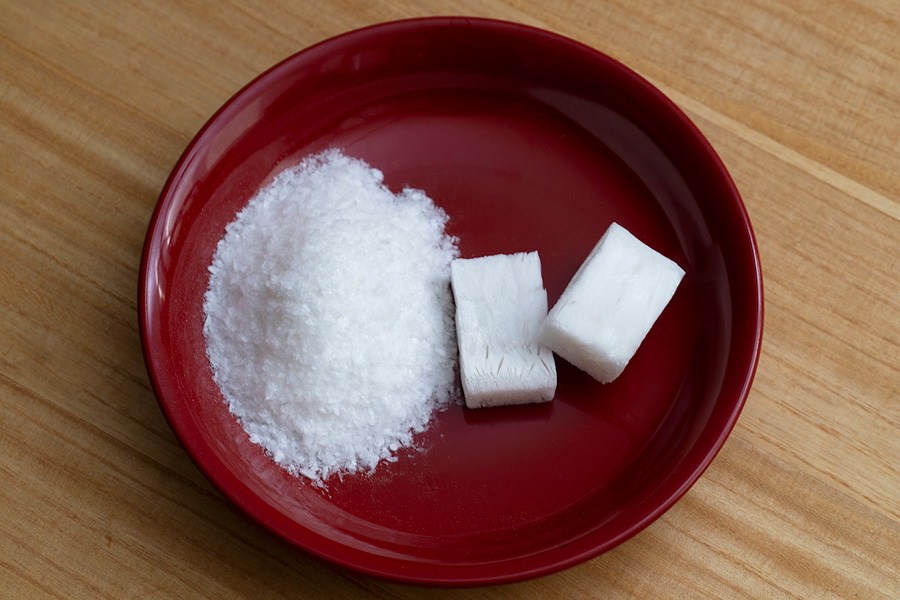 Kori-mochi made from sticky rice
Kasuke
"Everyone has the same theory. If you dry it after freezing it, it will last a long time. Since it is dried using freezing, there is no expiration date. It does not get worse. Because the purpose was to preserve it. prize"
In the Suwa area, other foods such as frozen radish and frozen tofu are also made at home as a winter work for farmers and eaten as preserved foods.According to Eiko, there was a figure in which frozen tofu hung from knitted straw was put in a basket as it was and carried on the back for sale in the streets.
Kasuke
"This is a very old food called ice tofu. There is a record of the Onbashira festival 210 years ago in the district. At the time of the Onbashira festival held every 7th year, all over Shinshu It has become a place to stay for the angels of the castle owner who gathered from Japan. The menu of dishes served by the landlord and Shoya says that it is dried tofu. "
When you dry the kori-mochi, you wrap it in newspaper, but when you ship it, you remove all of it.

Eiko pouring boiled and melted glutinous rice flour into the frame, which is the source of kori-mochi (landscape about 10 years ago)
The heavenly gathering using agar is lined up colorfully
It is a frozen ingredient with a long history, but unfortunately, the scenery of drying frozen radish and frozen tofu at the eaves is becoming rare.Due to changes in our lives, we no longer have to rely on preserved foods.Even now, the typical local cuisine that makes use of frozen ingredients, which are often made, is Tenjiri.Tenyose is not only a behavior at the Onbashira festival, but also a bring-your-own dish at a small gathering.Various ideas have been made in each home.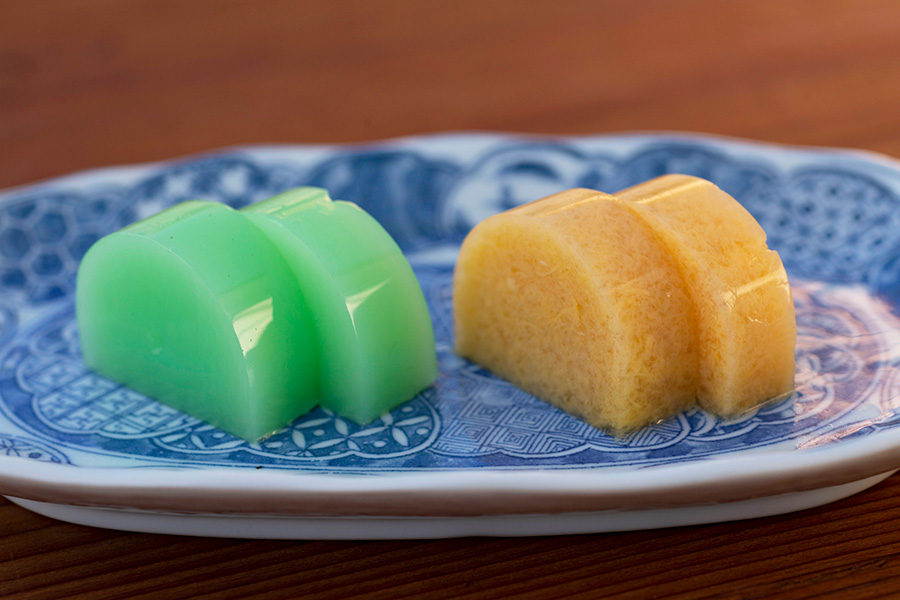 Green food coloring (left) and eggs (right)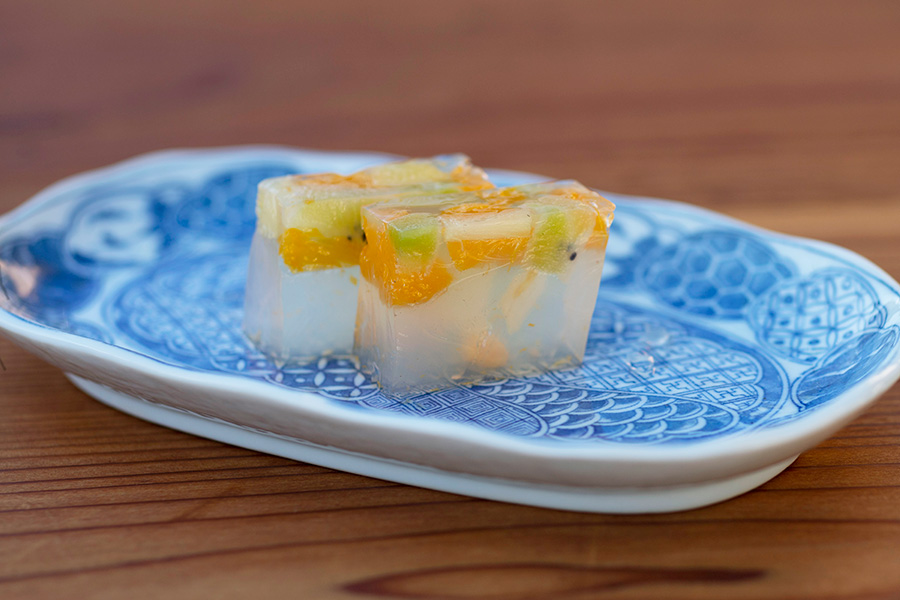 Tenjiri using seasonal fruits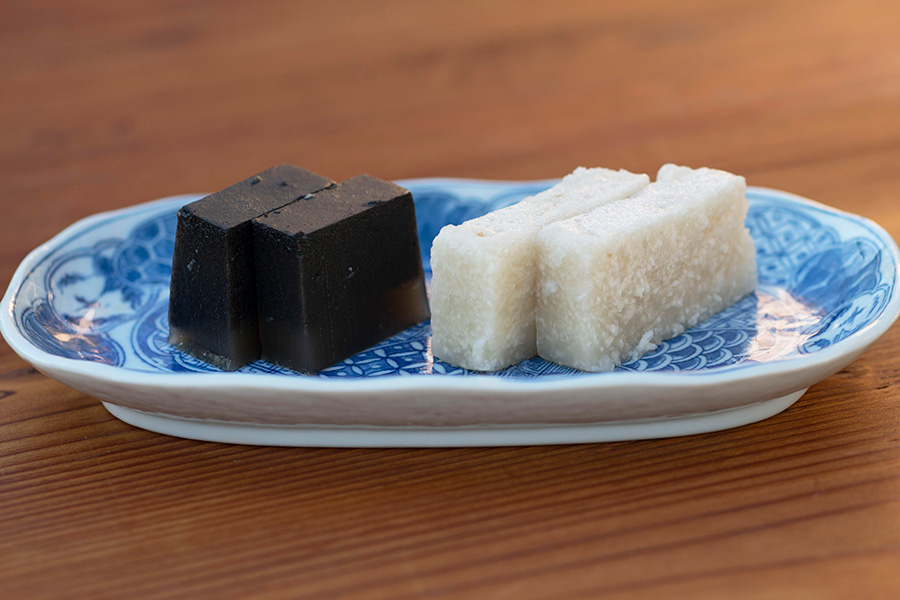 Sesame seeds (left) and yam (right)
Eiko
"At funerals, don't just use sesame seeds or tofu. It's customary to color milk agar with red food coloring for celebrations and green food coloring for funerals. If there is a gathering, I will make each one and bring it with me. "
Eggs with a gentle sweetness are made by pouring raw eggs into the simmered agar.In the olden days, sesame seeds were used to make sesame seeds, so it was a kind of hospitality.There is also a side dish that serves as a side dish of diced shiitake mushrooms with walnuts and seasoned tofu, but it is basically served as a sweet or dessert.Even so, I didn't know that it looks like jelly, but it can be lifted with chopsticks like Kamaboko.
Eiko
"I think it's not stick agar to make a heavenly agar. I feel like it's watery otherwise."
Making ingredients that use the power of nature is not the same as it used to be due to climate change and changes in consumption.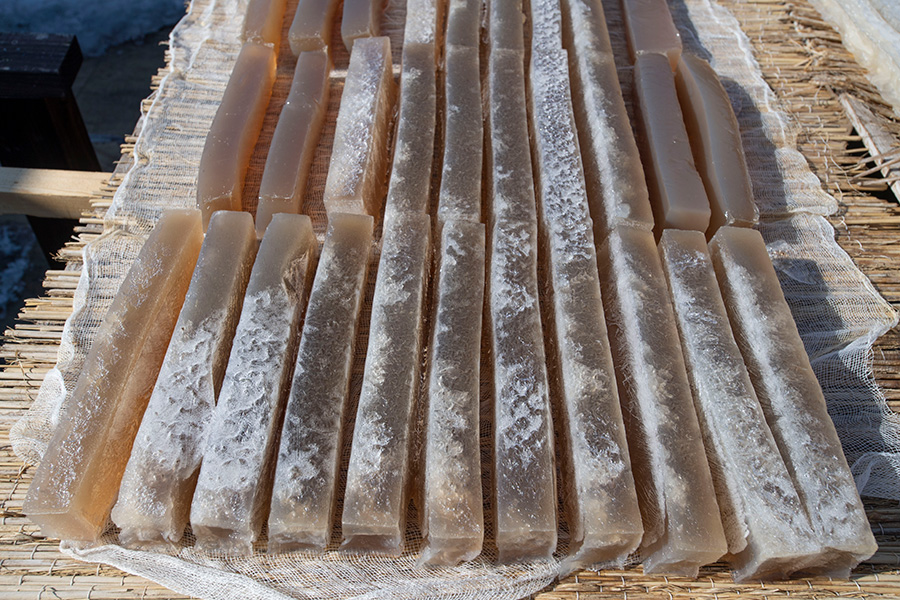 When I started to dry the raw sky, it still contained plenty of water.
Freeze and thaw repeatedly to become agar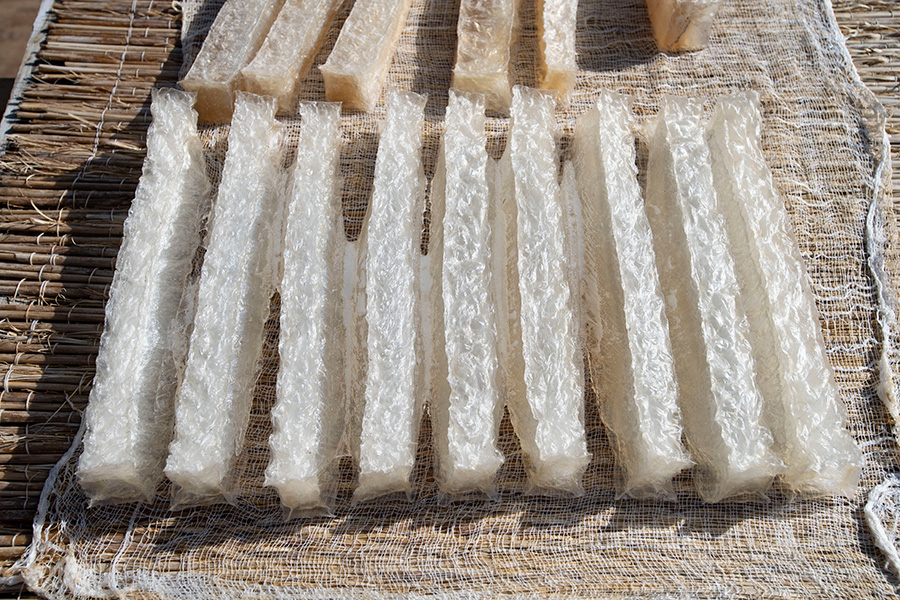 Near completion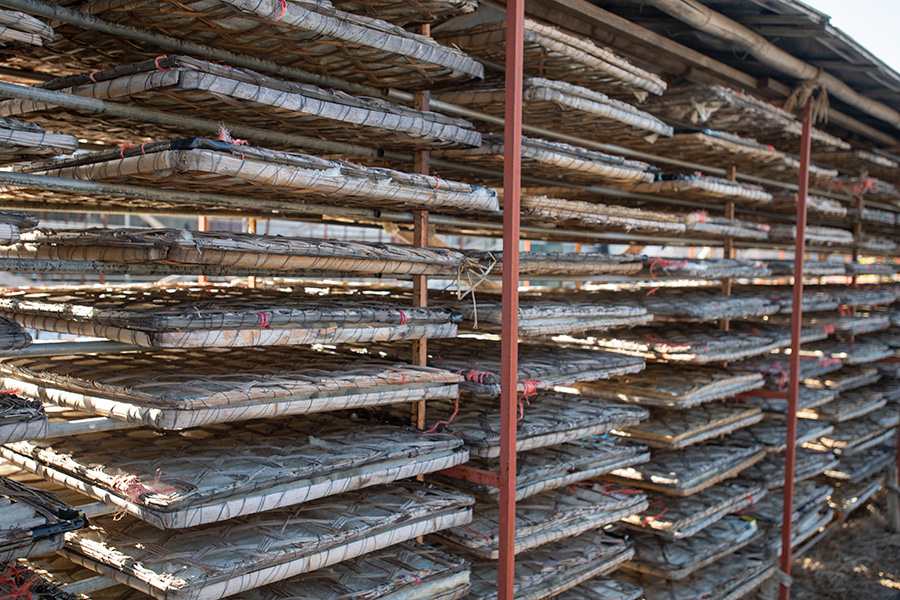 The finished agar waits for shipment in this way
Unfortunately, the number of companies that manufacture frozen foods is decreasing year by year.It seems that the situation is the same for both agar and kori-mochi, and according to Kasuke, there are only two kori-mochi shops left in Suwa City.
What is the situation at the modern agar manufacturing site?I visited Mr. Chino Fuminori, the representative of Irisen Co., Ltd., who has started his own efforts for the future for several years.
Irisen opened as a private store in 17 and has been a manufacturer of agar for about 80 years. It has a workshop in the northernmost part of the Yatsugatake mountain range, near Mt. Tateshina, in Chino City.A big washing machine like the drum of a mixer truck welcomed us.After washing Amakusa, which is the material of agar, for two days, it is boiled in a cauldron that looks like it is surrounded by a large wooden tub.It seems that this tub-shaped kettle has been carefully inherited because there is no one who can make it now.
Washing machine to wash Amakusa

A cauldron that simmers Amakusa

Squeeze the boiled Amakusa with a thick stick and strain it.

Tokoroten is the raw heaven before cutting, which is thinned through an instrument.
Mr. Chino
"As the environment of the city changes, we are fortunate to have the environment at the time of our founding. The inherited equipment, the delicious groundwater of Mt. Tateshina, and the climate that is dry due to the difference in temperature are good. Make agar. Square sticks To make agar, it is necessary to gradually thaw the frozen agar. If it thawed all at once, it will collapse. The soft finish is minus 2 even during the day. Because there are characteristics of this area that are only moderate. "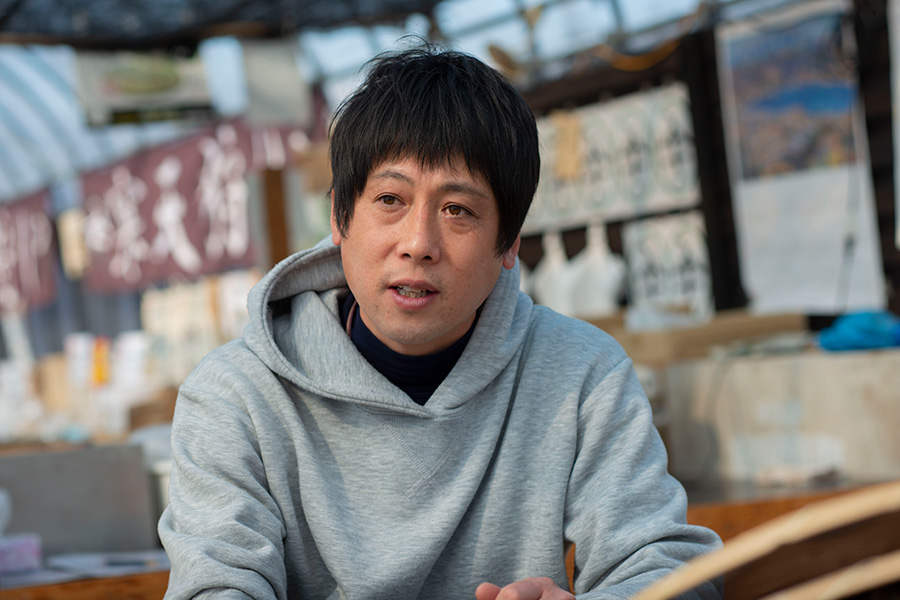 Chino Grammar, the 4th generation of Irisen
Mr. Chino says that agar manufacturing is a "problem-prone industry". Ten years ago, it was possible to make agar until March if the conditions were good, but nowadays, the daytime temperature often rises in February, probably because of global warming. The production period has shrunk by a month.The material Amakusa is also affected by environmental changes and is now becoming more expensive.
Amakusa, the material for agar

The agar element left in the cauldron, which is often thrown away elsewhere, is also an inexpensive product.

We are also implementing new initiatives such as selling at direct sales offices and experiencing agar manufacturing.

Ask customers who have experienced agar manufacturing to make handwritten packages
The measures Irisen took were to create products that adapt to the changing climate.Stick agar manufactured in the coldest season requires both labor and manpower.Therefore, I decided to make a small size agar when the freezing was loosened.If the size of the agar is small, even weak women can work.You can also finish the work in a short time.On the contrary, it also protects the stick agar, which is often attached to the angular shape.
Mr. Chino
"It is said that stick agar can only be produced in the Suwa area. Customers who have been using stick agar for a long time say," The heavenly gathering made with stick agar is effective. " I want to keep making it because there are people who need it. On the other hand, young people will choose powdered agar that is easy to handle. It is becoming difficult to keep making only stick agar. There are situations. "
Formed a "project to connect with freezing" with local people who are responsible for frozen food culture

Frozen tofu is also dried at the direct sales office

Frozen radish that is boiled and then dried

Started working on dried apples in cooperation with local apple farmers
We have also launched a new project to "connect by freezing" with producers of frozen ingredients, such as tofu shops that inherit and protect the manufacturing method of frozen tofu.Taking advantage of the large work space, Irisen has been handling frozen tofu and frozen radish for two years.It is nostalgic for local people and is popular with customers coming from outside the prefecture.When you listen to the story, you can see that you still feel the potential for frozen ingredients such as agar.Irisen's struggle continues, saying that even with traditional methods, there are still some things that can be changed.
It was found that the tense winter air and the bleak cold in the Suwa area have had various effects on people's lives.I was impressed by how Kasuke Koumi said with a smile, "I was able to realize this technology in Shinshu for cup ramen."I am amazed at how Mr. Chino reviews traditional methods and continues to take a new approach, and the strength of his feelings.What they have in common is the wisdom and technology of their ancestors who have taken advantage of the harsh climate and living environment, and their respect for the history we have spun so far.I finished the interview with the expectation that the traditional scenery of the area will be preserved, making good use of the "freezing" of the Suwa area.
Interview / text: Nahoko Ishida
Photo: Hiroko Momose