2022.01.25
Get close to the growth of the child through the interaction of physical expressions-The body of the father "Oyako de Biyoyon Beyond"-
This year, Nagano Prefecture is conducting a project to support efforts that will lead to the sustainable development of activities and the response to regional issues by utilizing the creativity of culture and art (*).We have adopted 12 initiatives to be implemented in each region of the prefecture, and in addition to financial support, we are working to continue activities and expand spillover effects by providing consultation and advice from specialized staff.This time, from among the efforts adopted for this support project, the group "Oyako no Body" (Matsumoto), which utilizes the concept of contemporary dance and holds workshops on physical expression and play for parents and children. Introducing "Let's play with your body and create a dance" by City).
* Reiwa 3rd year Nagano Prefecture Cultural Arts Activity Promotion Support Project Subsidy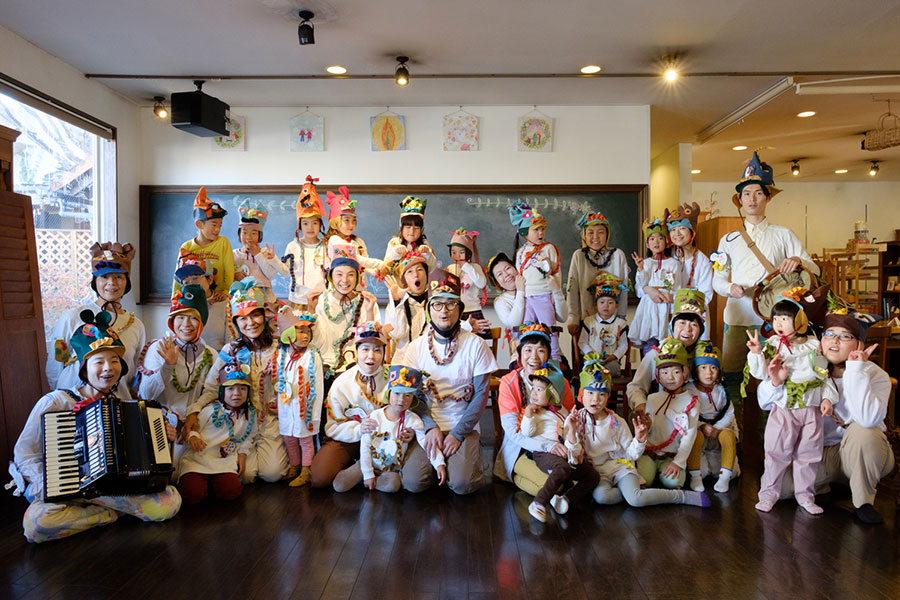 Participants of "Beyond Beyond Together with Parents"
The beginning is the experience that childcare becomes fun if you combine childcare and dance
"Oyako's body" by Kaori Bundo and Misato Yahagi, who live in Matsumoto City, is held once a month at a public hall in the city, and parents and children get together on Sunday morning. We regularly hold "Nichiyo Body Workshop" (hereinafter referred to as "Nichikara") to enjoy expression.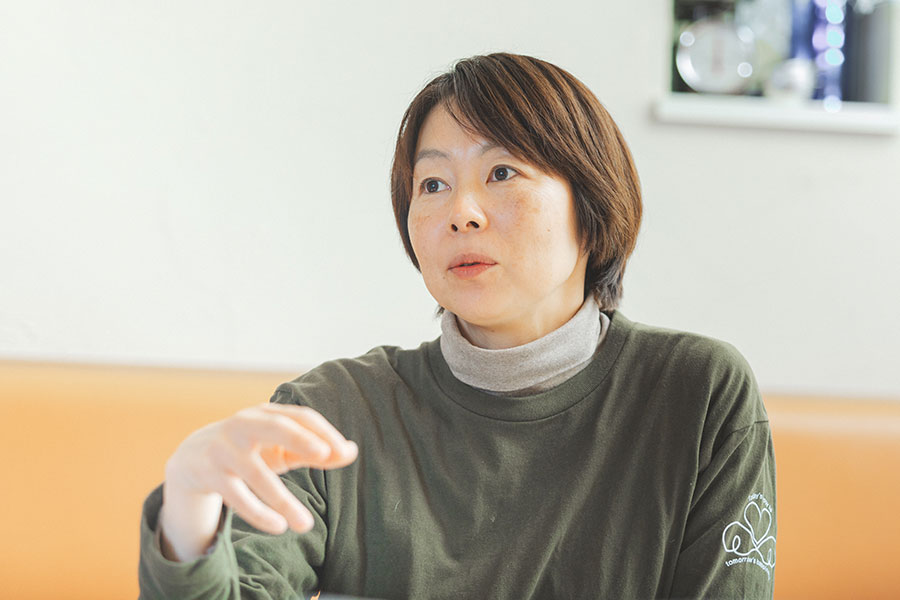 Kaori Budo
It was from Mr. Budo's awareness that "Oyako's body" began.Mr. Budo, who has been familiar with dance since he was a student, makes contact with the other person while working as a nursery teacher, and "contact improvisation" that moves improvised and continuously while depositing weight and feeling the movement of the other person. I thought that the dance method would help childcare and childcare.
Mr. Budo
"It's the child-rearing itself that the body touches and improvises. If I know how to take it softly even if the child suddenly jumps, I thought that child-rearing would be fun and easy. It 's good for moms and children to be ready. "
Then, 11 years ago, I started a workshop entitled "Oyako no Body".The number of participants increased over time, but at the same time, I felt that I needed more dance skills, and I wanted an experienced dancer to help me.As a participant, Mr. Yahagi, who has experience working at an American dance company, came there.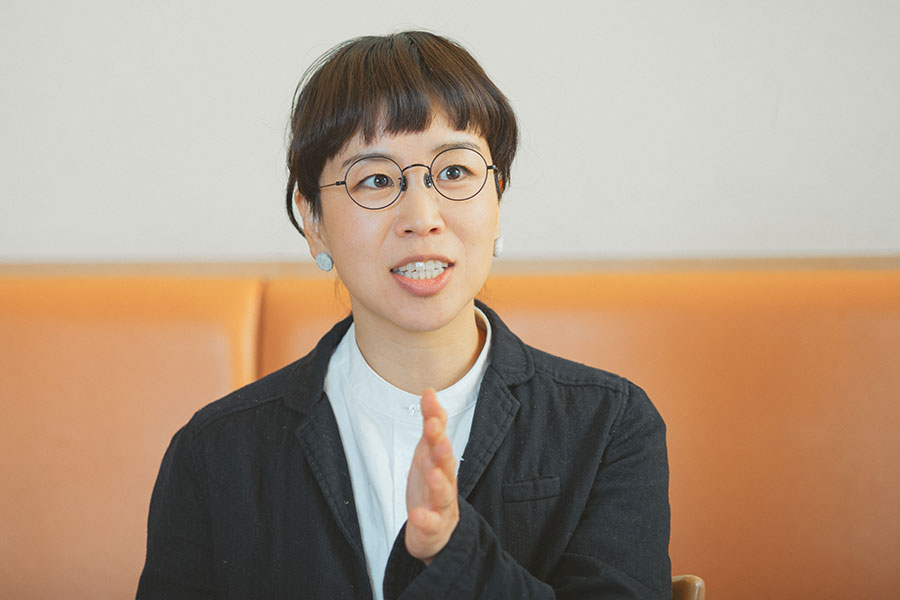 Misato Yahagi
Mr. Yahagi
"I was fascinated by the fact that I was able to share part of my child-rearing with other mothers through physical play at Mr. Budo's workshop. I felt reassured and sympathized with that, and I felt the potential for that and wanted to work together. "
The two participated in the "Japanese version of the community dance facilitator training school" of the NPO Japan Contemporary Dance Network.Community dance is based on the idea that anyone can create and dance regardless of their experience, age, nationality, gender, or disability. It is an effort to utilize communication skills in the local community.
《Combining child-rearing and contemporary dance, children and parents will deepen communication and create dance together》
《Creating dance with the free ideas of dancers (parents and children), nurturing children's sensibilities and improving the way parents and children face each other by having fun together》
In "Oyako no Body", we have continued the monthly "Nichikara" for four years while emphasizing these points.
While working as a dancer in Tokyo, Noe Nihei has been teaching dance and physical expression to students who will be involved in early childhood education and childcare in the future at universities and vocational schools. I was involved in "Nichikara" as a participant and a guest artist, and in this "Let's play with my body and make a dance" (hereinafter, "Biyon"), I will take a minute. We will collaborate with Mr. Fuji and Mr. Yahagi.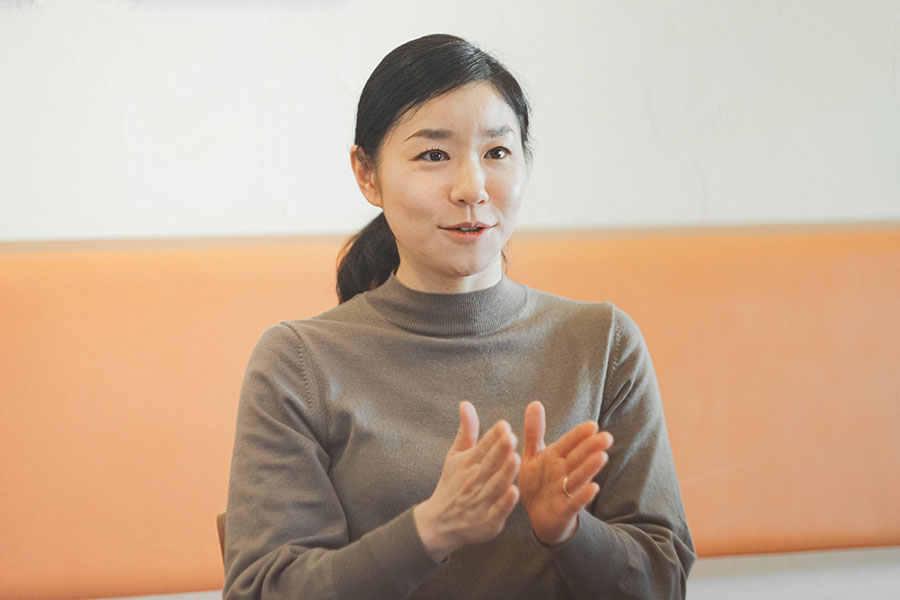 Mr. Noeda Nihei
Mr. Nihei
"'Nichikara' not only allows children to grow and grow, but also gives parents the message,'Please stay on your own.' It's not easy to achieve both, so why is it so comfortable? I wanted to know the secret, wondering if there would be a space. "
Mr. Budo, Mr. Yahagi, and Mr. Nihei have in common that they have decided to raise their children in the town of Matsumoto, which they have no acquaintance with.Mr. Budo moved to Matsumoto City 3 years ago, Mr. Yahagi 13 years ago, and Mr. Nihei 8 years ago due to the work of his partner.In my daily life in Matsumoto, there were few places where I could come into contact with contemporary dance, so I used my experience to open workshops and performances, and as a companion or co-star who cooperated with each other, dance and physical expression. I shared my ambitions and feelings about child-rearing.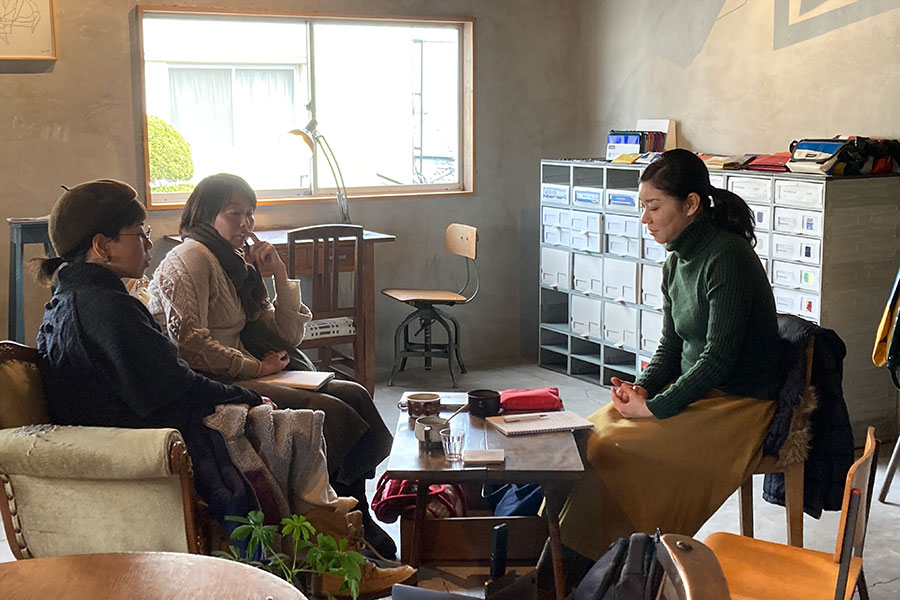 The three had frequent meetings
I wanted you to experience satisfaction by completing everything from creation to presentation.
"Nichikara" was done with the content to be completed once, but for some time, I had the idea of ​​holding a series of workshops to create works and perform presentations.
Mr. Yahagi
"I had been thinking about creating something after continuing for a long time. The style that can be completed once has the advantage of being easy to participate, but I can't feel that I've completed the stage expression and dance. That satisfaction. I wanted the participants to experience the feeling. "
Mr. Budo
"I was also interested in the changes in relationships and growth that can be seen through repeated workshops with the same members. Also, there are various parents and children, and there are children with various behaviors. I don't think I have much contact with parents and children. I think that it is one of the significance of our efforts to see a sample that there is such a way of getting involved. "
Last summer, I learned that Nagano Prefecture will carry out a support project for local cultural and artistic activities, and with this as an opportunity to convey the joy of dancing, and with the participation of parents and children more widely, lead to sustainable activities. Formulate a business plan for "Biyoyon" with the goal of going.I participated in a consultation meeting for support projects.Creating the application documents was an unfamiliar task, but I managed to finish it with the support of professional staff and the cooperation of those around me, and as a result of the examination, I was able to be accepted.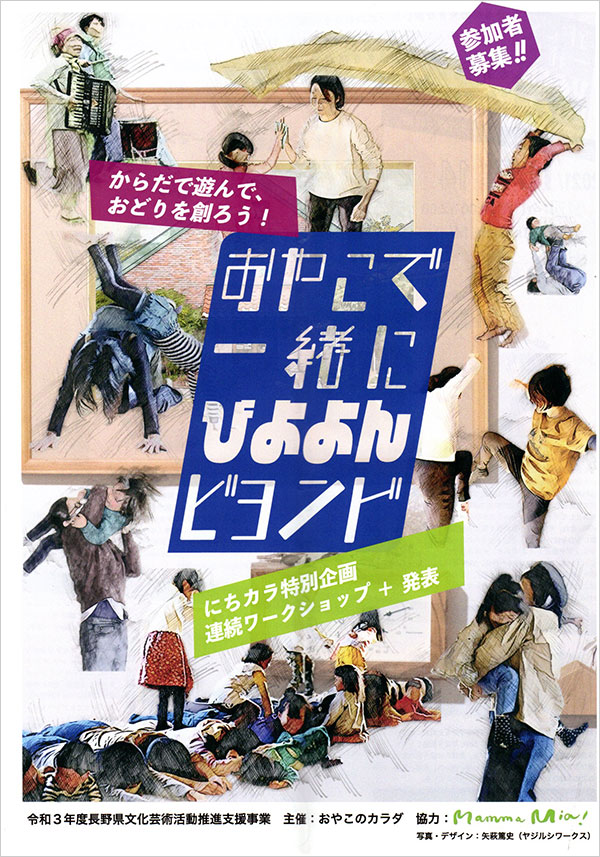 "Biyoyon" was held at the restaurant "Mamma Mia!" In Matsumoto City last weekend in November. 11 families, 11 adults, and 11 children aged 3 to 7 years gathered.
Introducing the main contents of the 5 workshops.
Day 1 / Sunday, November 11th
・ Introduction of participants, facilitators, and artists
・ Demonstration of the story of "Biyoyon-san" and the movement of Biyoyon
・ Rubber of different lengths, work with rubber rings (children), stretches (adults), etc.
Introduce yourself while handing a balloon with a name card in a relay format

Work using a rubber string in a large ring
"There is" Biyoyon-san "in this house, and I live quietly. But" Biyoyon-san "has fallen asleep too much and has become a kid. Even though there is a Biyoyon festival at the end of November, it remains as it is. Then it's hard. So let's all teach "Biyoyon-san" the movement of Biyoyon. "
It seems that the children listened to the story and entered the invisible world of "Biyoyon-san".Yahagi-san and Nihei-san imitated the movements of Yoyon, and guest musician Mitsuzuki-san rang an instrument called Jew's harp as "Biyoyoyo-n", and "Biyoyon-san" became a real existence immediately. I did.
Day 2 / Sunday, November 11th
・ Work that walks in various ways to the music and stops the movement when the music stops
・ Work using rubber hung from the 2nd floor like a curtain
・ Work in which parents and children are paired and manipulated or manipulated with invisible threads
・ Get words about the festival from the participants and improvise the theme song
I walked in various ways to the music

Children are excited about the work using rubber that hangs down like goodwill from the 2nd floor.
On the 3rd, the two of us will compose the theme song, and the children will tell us what they want to do at the "Biyoyon Festival" (trampoline, jump, goldfish scooping, Bon festival dance), what they want to eat (ramen, cotton candy, ice cream, rice cake), etc. When I listened to them and put together the words that came out into a fun song, both children and adults naturally shook their bodies and danced to the performance, making them happy.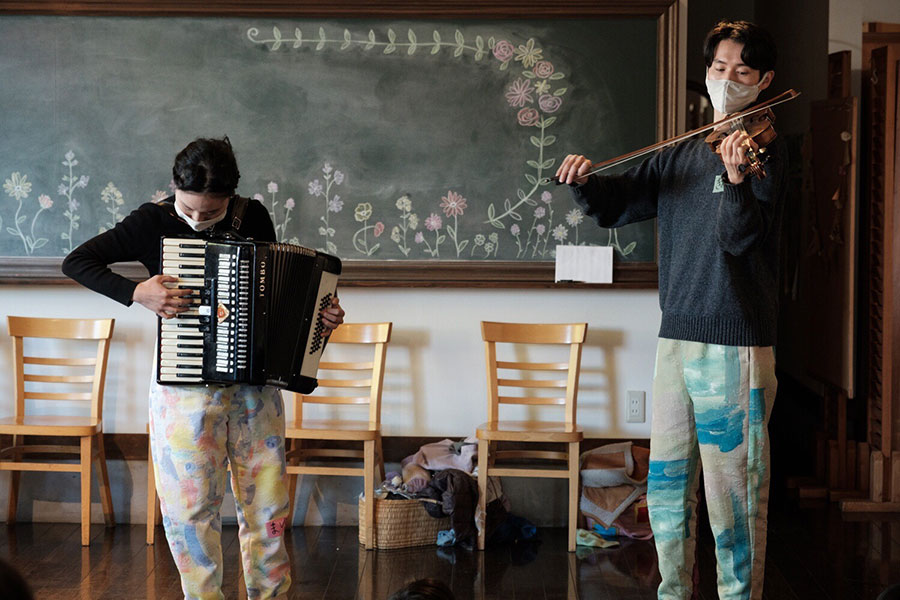 Creating a theme song with lyrics from children's words 3rd full moon
Day 3 / Sunday, November 11th
・ Work that is divided into two teams and moves by listening to the sound of musical instruments
-Work using long rubber, small ring-shaped rubber, and goodwill-shaped rubber
・ Create hats, emblems, etc. using the kit prepared by Miho Takakura, who collages cloth to create dolls with mysterious expressions.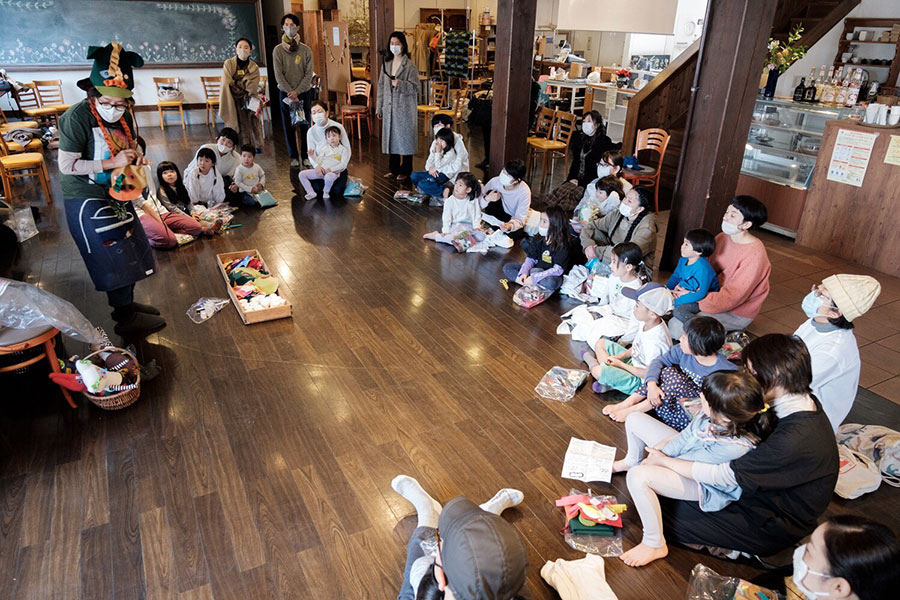 Costume production while receiving advice from Miho Takakura
After trying out the movements that I couldn't finish in the two workshops up to the previous week, in the second half I made costumes to wear in production.Parents and children will discuss how many colors to use from the many prepared cloths and how to arrange the eyes, nose and mouth.It seems that there were many people who worked until late at night because the next week was announced, but everyone seemed to be stimulated to create, and there were a lot of unique masterpieces.
Day 4 / Saturday, November 11
・ Check the movements to be performed in order
・ Costume adjustment
・ Look back after doing the flow training twice
After the work was completed, Mr. Nihei gave advice for the production, saying, "Let's move by remembering the story, not just tracing the movements of" Biyoyon-san "in order" and "Let's use the body as much as possible". ..Mr. Budo said, "Even if a child comes along in a scene where parents and children are separated, please respond flexibly and enjoy yourself."
Day 5 / Sunday, November 11th
・ Making maracas for spectators and holding mini-workshops to move the body
・ Public performance
・ Holding a marche of food, vegetables and miscellaneous goods
A state of the mini workshop by the audience

Mr. Budo preparing for Marche

Public performance

Public performance

Public performance

Public performance
You may have thought that it was really a "Biyoyon Festival"
The public performance "Biyoyon Matsuri" was performed by a wide range of spectators, from children to the elderly.A small marche opened at the eaves of the restaurant, and the joyful voices of parents and children wearing colorful costumes echoed, and some people were seen looking into the streets.
The content of the performance was composed by incorporating many movements born from the children.The appearance of the children who experienced a month of collaborative work with their parents and friends of the same age was a sensation and made the viewer feel warm.
Mr. Budo
"It was five days while we were learning, and I think the overall atmosphere was very successful. In the actual performance, we could see the smiling faces and energetic appearance of the children more than in the workshop. "
Mr. Yahagi
"The adults were crazy about it, and the children showed me what they were like to be pulled by it. I tried not to make them aware of the announcement, but I thought it was really a festival. I may have lost it. I'm glad I was able to share the fun until the end. "
Mr. Nihei
"The concentration of the children was amazing. And in the scene where only adults were there, the eyes were cheering for the children. We also felt the real thrill of making and presenting the work, and heading here. I'm glad I was able to do it. "
What impressed me when I saw the workshop was how to treat the three children who played the role of facilitator.I felt the teamwork of the girls who are raising their children on a daily basis and the experience of continuing "Nichikara".
Mr. Budo
"I felt like I was in charge of my specialty, so I decided loosely. Children who want to work together but can't get into the circle for some reason try to leave the place. At this time, instead of pulling in forcibly, If we go to the child's side, we should change the surrounding environment and the movements of adults and interact with them. I hope that all the participants can use this as a daily reference. "
Mr. Yahagi
"Parents want their children to do their best and have fun, but we try to find a sense of distance in the moment. Even children who can't leave their mother at the venue can dance at home. You're doing it. Expression is something that comes out on the foundation of a sense of security. I feel that success is not the only thing that works at the moment. "
From the parents who participated, "I was impressed by the appearance of actively participating and dancing." "I was not good at making presentations, and I was thinking that I might run away, but I was surprised that I participated enthusiastically until the end. There was an impression that I looked at the child from a new perspective.In addition, there were many impressions that by participating in the performance together, I was aware of the new relationships with children that were different from usual. It can be said that the people of "Oyako no Body" were able to clearly convey what they were aiming for in this initiative.
This opportunity is an opportunity to think about the future
We asked each of the three people what kind of prospects they have in the future through "Beyond Beyond Together with Parents".
Mr. Budo
"There is a normal life and there are extraordinary things like family trips and festivals. At such times, we can find new relationships between parents and children and new aspects of children. Workshops are one of the opportunities. Preparations can be difficult, but I would like to take advantage of my reflection and develop it. "
Mr. Yahagi
"I think" Nichikara "is a place to stop by in early childhood and watch over the growth, unlike ordinary lessons. Through this support project, I asked them to discover the value of" Nichikara "activities. Having the opportunity to verbalize was a great opportunity to think about the future of our activities. "
Mr. Nihei
"I felt the energy of not only children but also adults and parents. If I get used to moving my body, I think I can exert more power. And I want to move my body to adults as well. There is a need to do it. In the near future, I'm planning to create a work based on various inspirations I got from this activity. "
In addition to this, there is a centralized information desk where the organizer and participants can connect about contemporary dance and workshops for parent and child physical play, and a space where artists from various fields can interact and try new ideas. We talked about various ideas for creating an activity environment in the future, such as whether it would be good if there was.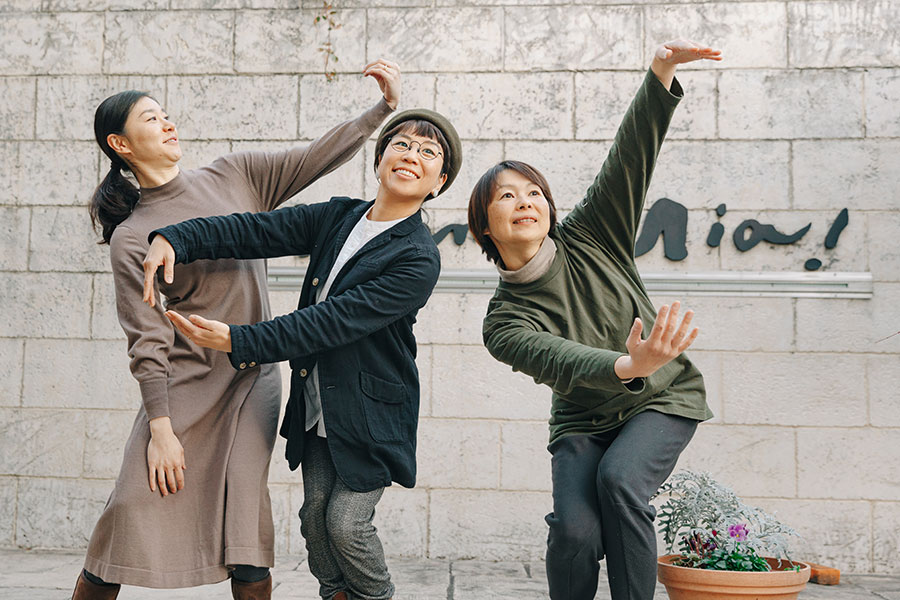 From the left, Mr. Noeda Nihei, Mr. Misato Yahagi, and Mr. Kaori Branchto
While relaxing the issues that arise in daily child-rearing with dance techniques and converting them into fun relationships, a place for parent-child interaction will be created in the community.I feel that this initiative is a cultural and artistic activity that everyone in the "Oyako no Body" has cherished both as "parents and dancers" and has taken root in their daily lives.The uniqueness of contemporary dance and the uniqueness of the workshop, which incorporates the ideas of the children themselves and the fun created by chance or improvisation, are also attractive.
Based on the "Nagano Prefecture Culture and Arts Promotion Plan," Nagano Prefecture is promoting the creation of an "Arts Council" system in which professional human resources provide support such as consultation, subsidies, and human resource development regarding local cultural and artistic activities.We hope that the cultural and artistic activities carried out by the prefectural democratic body and the local community will flourish in all prefectures and regions so that Nagano Prefecture will develop into an attractive area where everyone can live comfortably. I would like.
Interview / text: Koichi Imai, Masayuki Nomura
Interview shooting: Shiho Kobo
Recorded photography: Atsushi Yahagi
Shooting cooperation: Mamma Mia!