2021.06.29
"I want many people to like classical music" "Nagano Special Concert 2021" filled with the thoughts of director Kenichiro Kobayashi
In Nagano Prefecture, in order to promote cultural promotion efforts that started in 27 as the "first year of cultural promotion," the "Nagano Artistic Director" consisting of multiple art fields such as music, art, and performing arts was established. Did.In the music field, conductor Kenichiro Kobayashi is appointed.In Iiyama City and Suzaka City, a concert was held in which local musicians and choirs co-starred with "The Companion Orchestra" led by Director Kobayashi, who is nicknamed "Kobaken", and "Delivery class" to elementary and junior high schools. "And so on.This year, "Nagano Special Concert 2015" will be held on July 2021th (Sun) at the Hokuto Culture Hall in Nagano City.I would like to introduce this concert while looking back on the history of our business so far.
We value the time we spend interacting with the children in the on-site class.
Director Kenichiro Kobayashi, a conductor with the catchphrase "Flame Maestro".While still busy traveling between Japan and Europe and the United States, he has performed as a guest in overseas orchestras such as the Hungarian National Philharmonic Orchestra and the Czech Philharmonic Orchestra. I am in a key position at.In March 17, Director Kobayashi agreed with the purpose of "Special Olympics (SO)" to support social participation through sports for people with intellectual disabilities who had few opportunities to enjoy sports, and SO. Held a concert at Hakuba village as an official cultural project of Nagano, the winter world competition.With this as an opportunity, we have established the "Kobaken and his friends orchestra" with performers who sympathize with the purpose of the activity, regardless of whether they are professionals, amateurs, or people with disabilities, and have deepened their ties with Nagano Prefecture. At the "Tateshina Plateau Mizunara Music Festival" at the Chino City Minkan, we invited people with intellectual disabilities to the concept of "Coexistence with people with disabilities and aiming for barrier-free music!" From 2005) to 3, we held 23 concerts.
Lecture concert featuring the opera "Tosca"

The lecture concert is a fun talk by Satoshi Asaoka, an opera sommelier.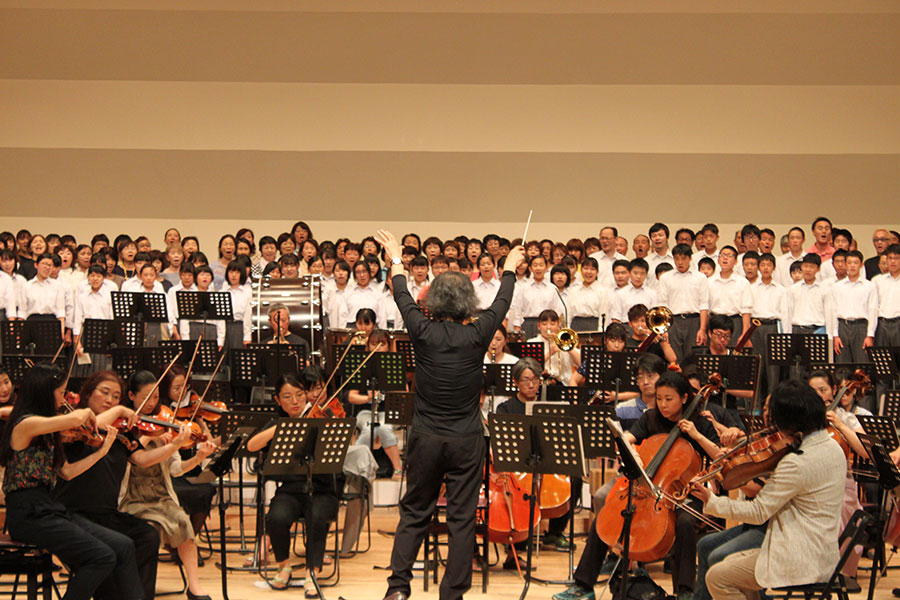 Rough dress and relaxed rehearsal
The Nagano Artistic Directors will hold three-day events at Iiyama City Cultural Exchange Center Nachura in 29 and 2017, and at Suzaka City Cultural Center Mesena Hall in 30. I was struck. On the first day, with commentary by Satoshi Asaoka, an opera sommelier who is also an announcer, the singers will perform their masterpieces while projecting photographs of the towns and temples that will be the stage of the opera story. Hold a singing concert. The second day is a public rehearsal with commentary by Director Kobayashi himself. On the third day, "the companion orchestra" gathered together, and with the addition of a local choir and a high school brass band, a wonderful performance was performed under the passionate conductor of "Flame Maestro". I did.
At the concert on the third day, Director Kobayashi and Mr. Asaoka breathed Aun.

Soprano singer Yayoi Ikuno sings with Kobayashi's accompaniment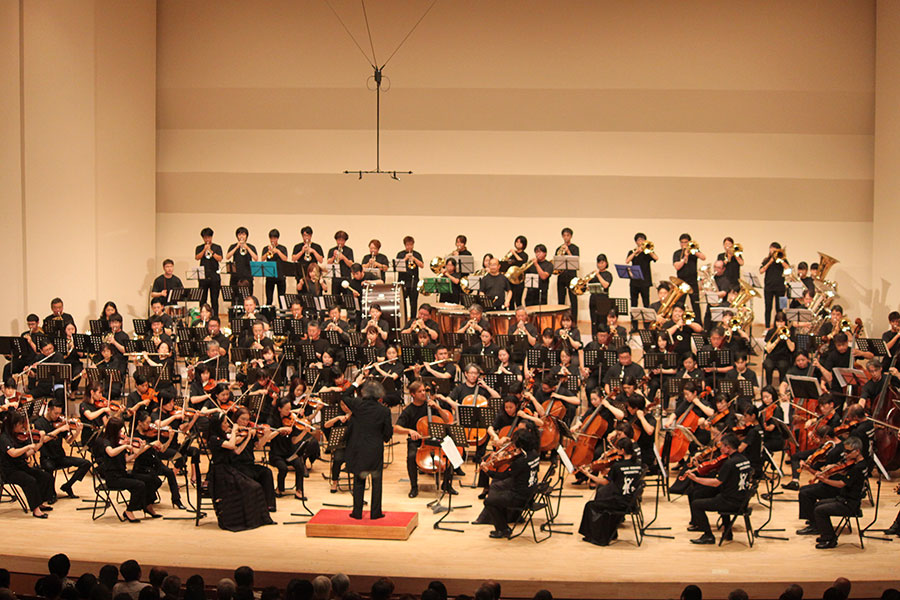 Day 3 concert with citizen banda
In addition, Director Kobayashi will take the lead in visiting elementary and junior high schools in the city and hold a "delivery class" to convey the appeal of classical music while interacting with children.In the delivery class, a moment of interaction always started from such a story.
"I re-entered the conducting department at the age of 25 after graduating from the composition department of Tokyo University of the Arts, and until the age of 34 I was experiencing the period of struggle. I had no choice but to go out into the world. In the meantime, I got caught up in the age limit of the competition, and I was the only one who could take the first competition in Budapest (Hungary). It was a competition that I faced in a short period of preparation, but the goddess of victory smiled. I got good results. "
Director Kobayashi (Suzaka) speaks to children with a gentle smile

Mr. Abe (Suzaka) explaining the violin and viola

Live performance on Kobayashi's piano and Abe's violin (Suzaka)

Director Kobayashi (Iiyama) surrounded by children after the "delivery class"
Director Kobayashi, who speaks to children with a gentle smile full of kindness, does not feel the image of a "flame maestro".However, there is a passionate feeling in the words that talk about the importance of keeping a dream and working hard.Shinya Abe, who is a member of the "Friends Orchestra" who gave a delivery class with Director Kobayashi in 2019 and is also the chief viola player in "Nagano Special Concert 2021" I will talk.
"Mr. Kenichiro is a top-notch musician and artist. I myself went to a university in San Francisco and studied in Dresden, Germany, but when I met him, I was a young man who didn't know who he was. That's right. Even if I said, "I think this way," the teacher always listened politely. "
In the on-site class held at elementary and junior high schools in Suzaka City, Mr. Abe played catch-balls for conversations with the children, explaining his viola and violin, and playing classic classics.
"At that time, Professor Kenichiro left everything to me," Do what you want. "There is pressure, but I'm very happy. They come in and play with me, but it was just like an ensemble of music. The teacher cherishes the time he spends with his children in Nagano prefecture, and every time he meets, he says, "That's right. Is important, I want to do it again with Abe-chan. "
Director Kobayashi, who was smiling from beginning to end during the "delivery class," finally performed the piano and singing voice.At the end of the class, there were many children around them asking for a handshake.
For concerts where conductors, performers, and enthusiasm can be shared with customers
Finally, on Sunday, July 7, "Nagano Special Concert 4" will be held at the Hokuto Culture Hall in Nagano City. It is also one of the "Tokyo 2021 NIPPON Festival" cultural programs co-sponsored by the Tokyo Organizing Committee for the Olympic and Paralympic Games and Nagano Prefecture.The performances are Sarasate "Zigeunerweisen", Dvorak "Symphony No. 2020" From the New World "All Movements", Sibelius "Finlandia".This masterpiece was hosted by Mr. Asaoka, and the violinist Asuka Shiozaki, who lives in Rome, was invited to a concert mistress that organizes the performances of the orchestra. A total of more than 80 performers will deliver the performance with a passionate tact.
Shigeru Kanazawa, the director of Hokuto Culture Hall, talks about his thoughts on "Nagano Special Concert 2021".
"It goes without saying that the tact of Kobayashi's ability to raise the performer to the heights of the music world and enhance the uplifting feeling of our customers is exquisite. It really burns. It just provides good music. It is wonderful that Kobayashi has many opportunities for various people to meet music. This time, which is the culmination of the Nagano Prefectural Arts Director, let's get excited with music together with the Tokyo Olympics and Paralympics, Nagano Prefecture. With the intention of forming a scrum in the entire area, we will borrow the power of Director Kobayashi. Due to the influence of COVID-19, the schedule to be held last year has been postponed to this year, and the plan has changed a lot. However, I was finally able to realize it. For example, Dvorak's "Symphony No. XNUMX" From the New World "All Music" is one of Kobayashi's eighteenth, but a new era that was difficult due to the corona wreck. Director Kobayashi's idea of ​​wanting to take over this masterpiece was newly proposed to everyone who builds it. This concert will be a time full of such director's thoughts. "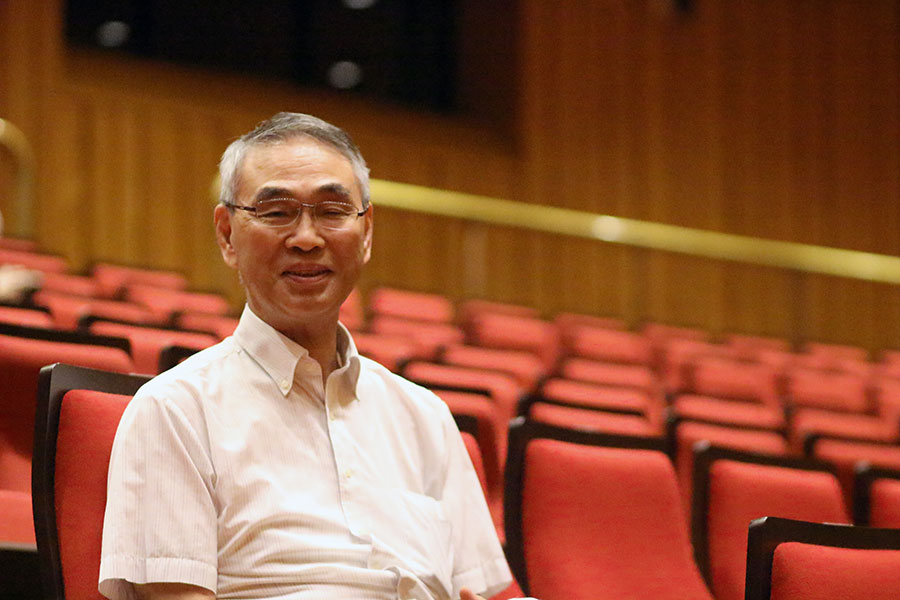 Director Shigeru Kanazawa of Hokuto Culture Hall talks about his thoughts on "Nagano Special Concert 2021"
The feelings for "Nagano Special Concert 1", which will be held about a year after the original schedule, are the same for the performers in the prefecture. Satoe Ishii, an oboe player based in Ueda City, said, "I'm really looking forward to what kind of passionate music Kobayashi's tact will express. I was surprised because all the songs were so hot. I think that the performers will be exhausted, so I will train my body firmly. I would be happy if I could share the enthusiasm of director Kobayashi and the performers with customers through music. " I will.In addition, Nagano City high school student Sanako Yaguchi said, "I can't forget the fun of playing with a lot of friends in the brass band club of junior high school." I can't help but applaud. I want to fully enjoy the conducting that inflames the performance of the orchestra. In 2021, I couldn't live in high school as I had imagined because there were no cultural festivals or school trips. I want to create more memories than I imagined at the concert, "he said with excitement.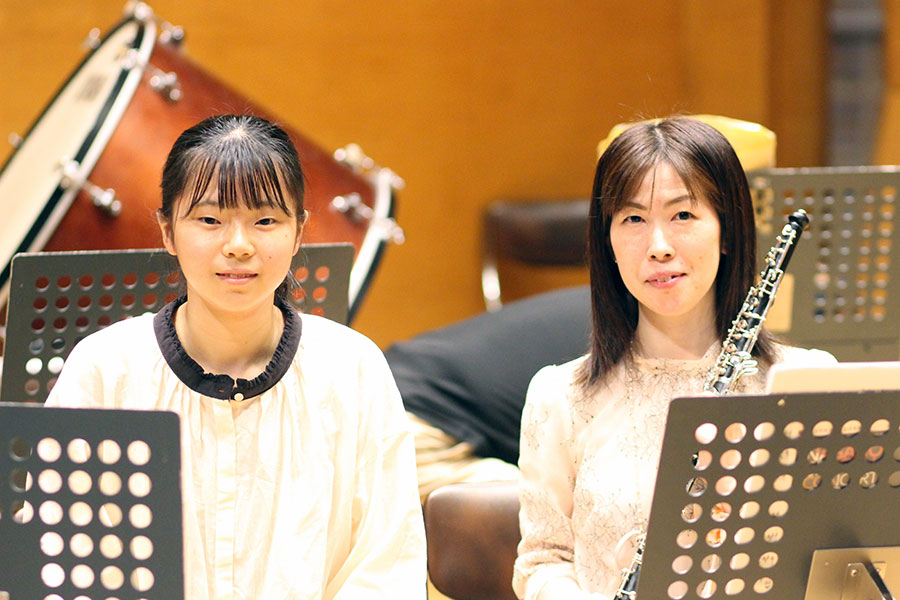 Satoshi Ishii (right) and Sanako Yaguchi (left)
Shinya Abe will be in charge of conducting the rehearsal in advance for the actual performance.
"It is my role to get together from various cities and prepare for how much sound can be produced under the tact of Professor Kenichiro. Sound is race, generation, gender, etc. You can overcome various things that human beings have. I'm looking forward to Kenichiro-sensei making the preparations that I have made with you more and more. It's a masterpiece program, but I often tried it after it was over, it worked. Let's do our best to say that. "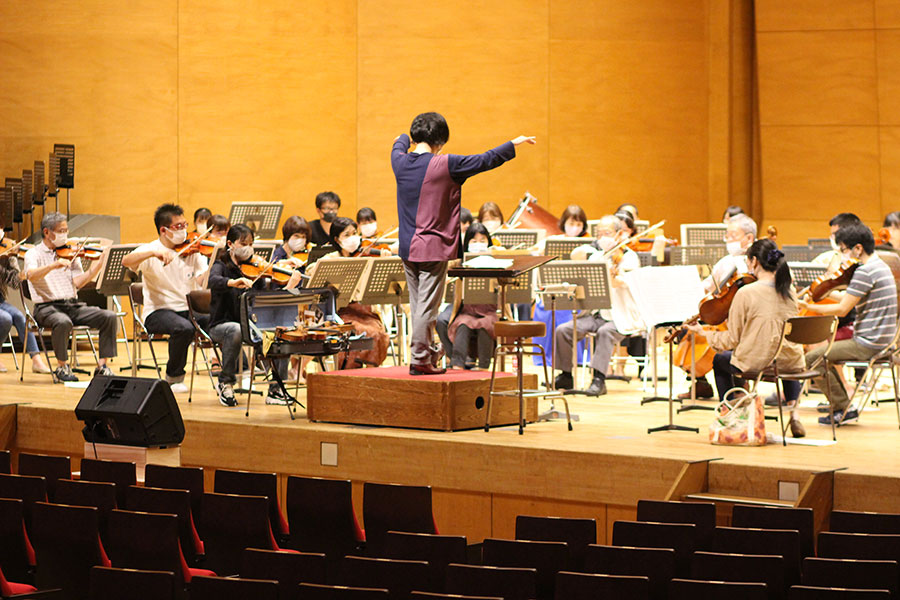 The first rehearsal on June 6th
Finally, I would like to conclude this sentence with the words of Director Kanazawa.
"Cultural arts can live even if they are not in our daily lives. However, it is important to overcome the negative thoughts and depressing situations of Corona so that we can return to our normal lives. Our role in managing cultural arts and cultural facilities. Last year, I lost the opportunity to appreciate and perform in various ways, which made me realize again. As the person in charge of the hall, I want to light the fire of cultural arts. Akira) It is a pleasure for us to be able to realize "Nagano Special Concert 2021" with the feeling that we will not give up. "
As the Nagano Artistic Director, I feel that Kobayashi's wonderful performance was the message, "I want as many people as possible to like classical music."Director Kobayashi, who was leading the way around in various exchanges, spoke eloquently.
Because it was a big project to recruit participants from all over the prefecture, there was trial and error of the people involved until it was realized, "Nagano Special Concert 2021".The programs that will be performed this time from the tip of the fiery, hot and dynamic tact are all masterpieces that are familiar to those who are not familiar with classical music.I would like to visit the venue in the hope that the thoughts of Director Kobayashi in this concert will rise freshly and strongly.
* The event will be held with measures to prevent COVID-19 infection.In addition, scheduled songs are subject to change without notice.
Interview / text: Koichi Imai
Photo courtesy of Nagano Prefectural Cultural Promotion Corporation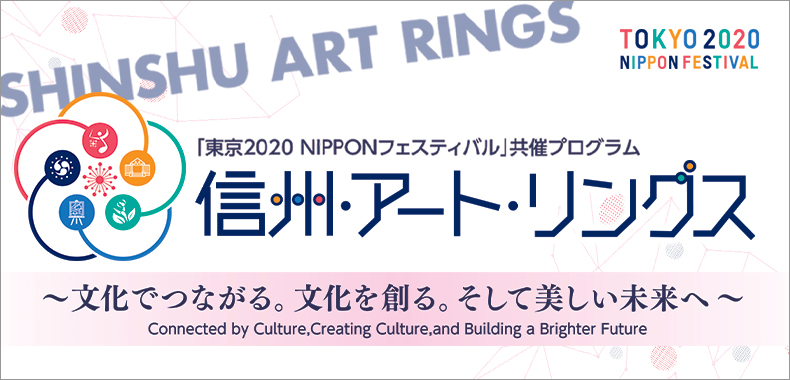 Shinshu Art Rings-Connected by culture.Create a culture.And to a beautiful future ~
Including the introduced "Nagano Special Concert 2021", Nagano Prefecture will carry out five cultural programs as a co-sponsored program of the Tokyo 2020 NIPPON Festival.Please enjoy the charm of Nagano Prefecture's diverse cultural arts.