2020.11.05
Artists look to the future "Artist support project to do their best" Part2
Due to the recent epidemic of COVID-19, many cultural events such as music and theater performances and art exhibitions have been canceled or postponed in the prefecture to prevent the spread of infection.In response to this, Nagano Prefecture is working to support artists and groups who have lost the opportunity to make presentations through the "Doing their best artist support project".We are looking for works that can be viewed online through creative activities that take infection prevention measures, avoiding closed, dense, and close "three dense". On the special site "ARTS CHANNEL" in "CULTURE.NAGANO", video works that are the results of their activities are released one after another.I'm sure everyone has received various thoughts from the variety of works created by artists related to Nagano Prefecture during this period.
By the way, in the special feature Part2, from the artists selected for the "Working hard artist support project", the painter Chikuma City and the Japanese drum player Kensaku Sato (Nagano City) will be told about the influence and changes caused by this corona disaster. We asked him about his thoughts on the creation of the "Working hard artist support project" and the outlook for future activities.
For more information on the "Do your best artist support project"Click here for more information.
Chihiro Koshi
"Koshihiro LivePainting" Hikari Noiro "" theme type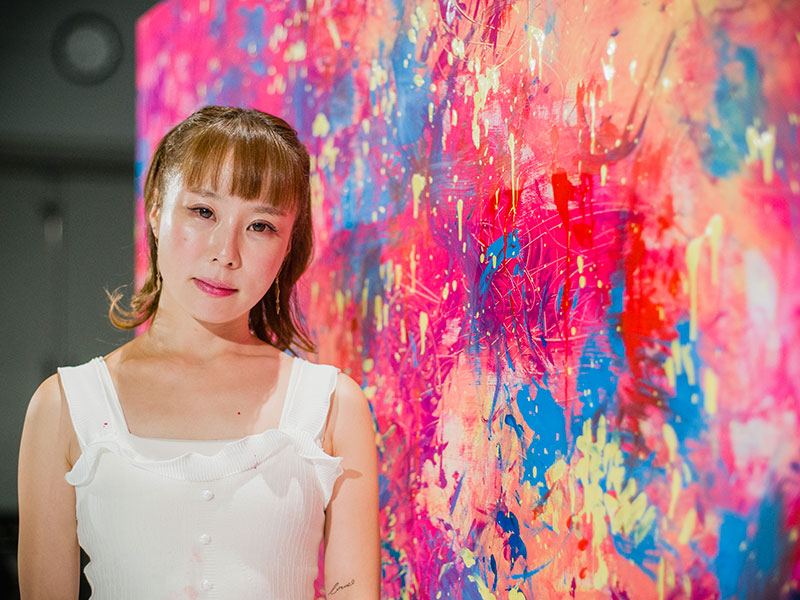 Chihiro Koshi
The support I received from the prefecture is to bring my expression to as many people as possible.
"I've always wanted to deliver a work that illuminates someone's heart with a positive feeling, and I've always drawn on the theme of light, but as the infection by corona spreads, I'm more likely to draw such a picture. I have a stronger desire to do so, "says Chihiro Koshi.
Live performances covered with paint and confronting a large canvas, workshops to convey the joy of drawing to children, murals that add color to the individuality of restaurants, sake labels, collaboration goods with Shinshu Brave Warriors of professional basketball, Mr. Koshi's work, which uses colorful colors around "Chihiro Pink," which can be said to be synonymous, gives us a happy mood through various activities.
In addition, after solo exhibitions at museums in Nagano City and Ueda City, the impact of the project was also at the "Koshihiro Exhibition Miraino Color Miraino Hikari-Machijuga Museum-" held in Chikuma City from August to October 2019. Not to mention, it was impressive that many works lit up the city from more than 8 venues.
Wanda with a bear motif ("Koshihiro Exhibition Miraino Color Miraino Hikari")

Collaboration with dresses ("Koshihiro Exhibition Miraino Color Miraino Hikari")
Delivering energy to someone
Elements that are taken for granted in drawing a picture
COVID-19 began to cast a shadow over Mr. Koshi's activities in mid-April.Outdoor installation exhibitions, mural paintings, and local events have been postponed.As with many artists, Mr. Koshi's activities and expressions will only shine if there is a lively daily life.For example, Mr. Koshi is working on mural paintings at several restaurants in the Tohokushin region, centering on Nagano City, but not only the shops that he had a connection with, but also all the shops, the city, as soon as before. He said that he was hoping that his liveliness and smile would return.
Mr. Koshi
"For restaurants, it is the best support to have many customers come to visit us. Like artists, it is the hardest thing for restaurants to have no chance to entertain with their cooking skills. Since the world is in a difficult situation, my heart may get sick. That is why I want to do what I can do, that is, to enrich the hearts of as many people as possible and make my life happy. I want to support you so that you can regain the energy to work hard and the energy to work. Of course, that is one of the elements of drawing, which is a matter of course. "
Mural painting at Nagano Station Building "MIDORI" (2015)

At Japanese restaurant "MATSURI" in India (2014)
Aiming for the best in the corona
Challenge with all your might
While I have a desire to regain my daily life, there are also discoveries that arise from change.The local event that Mr. Koshi was planning to participate in was canceled or postponed, but in fact, it seems that the number of creative requests from individual customers increased during this period.
Mr. Koshi
"I feel that the people who request the works feel the need for art and want to get my new work, and I want to be close to something that brightens my feelings." Machijuga Museum At that time, I drew about 60 points in half a year. I cut down my sleep time and finished two pieces in three days. I've been busy finishing the work so far, including the work of the event. However, I think that Corona is able to create good works one by one without being overwhelmed by time. I can clearly understand what I want to draw. Many works in a fixed period I learned the experience of making art, but I am very grateful that I have been able to spend a lot of time drawing carefully. "
Then, the workshop, in which the children and Mr. Koshi co-produced a picture to decorate the wrapping bus scheduled to run in Chikuma City from February 3rd year of Reiwa, was held in a form that reflected a new lifestyle. It seems to be a very new experience.
Mr. Koshi
"The workshop was scheduled for September, but it was difficult to meet face-to-face, so I hurriedly went online. I was worried about what I could tell, without my children and I being able to touch the pictures directly. Of course, there is a premise that it is important to actually meet and feel each other and see the actual picture, but if you try hard to convey it, you will receive your thoughts properly. That's right. By doing my best because it's online, the children desperately listened to me and looked at the hand I was drawing. It wasn't the best, but I knew that it would be as close to the best as possible. "
In the middle of live painting
I thought about making the picture stand out for its warmth
On the evening of September 9th, when I heard the story, Mr. Koshi performed live painting in the information program of Nagano Broadcasting Systems.The plan is that the video that edits and composes the state of drawing a picture will be the result of the "Working hard artist support project".
Mr. Koshi
"I knew about the prefecture's business, but if I was reluctant to draw a picture by myself, Nagano Broadcasting Systems, who had worked with me before," Symbism "(to an artist in the prefecture) Mr. Kazushi Suzuki, a curator of the Shigakogen Roman Museum, who has an exchange with us at the Nagano Prefectural Artistic Director's exhibition project), gave us the same story separately. Let's do it together, as usual. I decided to participate because I could do something good if I put them out. "
The venue is the studio of Nagano Broadcasting Systems.The time limit is 20 minutes, which is half of the usual live painting.Going to the big canvas, Mr. Koshi stretched out his small body with his toes, put colors on every corner of the canvas, and in the second half he used his palm to draw.
I started drawing with a brush at the beginning of live painting

Paints prepared for live painting
Mr. Koshi
"It was a canvas that was too big for me to live for 20 minutes. Since it's a TV, I can't help drawing small things, and I wanted to deliver energy to the viewers. But I did it. I was afraid that I might not be in time when I started (laughs). At first, I thought that it would start from yellow, become pink, and then move to a bluish color, which would become a star and become a cosmic color. After drawing for about a minute, I switched to wanting to finish with a bright color and to make the picture stand out for its warmth. "
From the completed picture, it seems that blue butterflies rhythmically fly around the world where yellow light spreads and pink flowers bloom, or Mr. Koshi's energy is decomposed into the three primary colors of light and shines brilliantly. I embraced.
See the whole situation just before the end of live painting

The finish of live painting is to fly the paint with your finger
Mr. Koshi
"I may be in a position to support the prefecture's business, but as an artist, it is important that my expression reaches someone and that I can communicate with someone through what I create, so I just ask for support. I don't think that. The support I received is to do my best to reach as many people as possible. Even in today's live painting, various people through TV, YouTube, and this interview. I would be happy if you could feel cheerful. "
Through my painting
I want to make everyone in the world smile
When he returned to Chikuma City after graduating from an art university in Tokyo, Mr. Koshi was swayed by the voices of his colleagues who are active in Tokyo, but he took root in his hometown and drew without shaking his eyes. Probably because of the confidence that I have continued, the current words convey a firm belief.
Mr. Koshi
"I chose painting not because I wanted to be famous or because I wanted to make money, but because I could continue forever. Painting for someone is my power as an artist, and I want to live. I've always had that feeling in mind. However, even if I had the opportunity to draw a picture, sometimes I was able to give it back, and sometimes I just drew it on my own. Now, I feel like I'm able to give back a lot with the feeling that "Koshihiro, you did it again."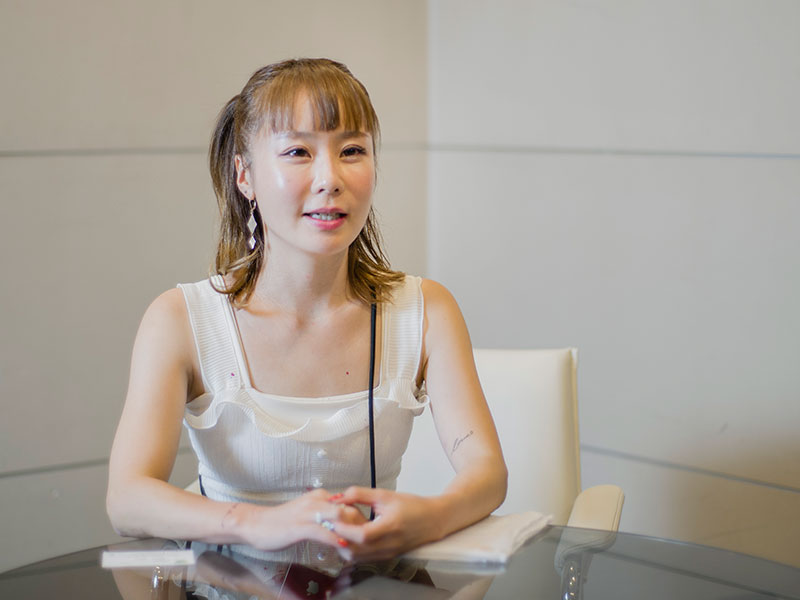 Chihiro Koshi
In his hometown of Nagano Prefecture, Mr. Koshi has become a presence that delivers light to many people through his paintings.Actually, from this year, we are trying to expand the field of activities overseas as the next challenge.One is to give art supplies to poor local children in connection with a woman who happened to meet in Sri Lanka, and to practice workshops using those art materials as life work.The other was to start creating mural paintings in Italy as the first step in overseas activities.Without the influence of Corona, I might have been abroad by this time.
Workshop in Sri Lanka
"I liked traveling abroad, but this time I want to spread my paintings overseas. Of course, Nagano Prefecture is an important place for me, but with two pillars overseas I hope to be active. If it comes true, I would like to realize it right away. "
"Chihiro Pink", which has continued to deliver bright feelings to the viewers, will fly out of Nagano Prefecture and Japan, and this time the opportunity to make everyone in the world smile may come in the not too distant time.Mr. Koshi's success also delivers energy to us.
Kensaku Sato
"Tenshin TENSHIN – The Center of the Sky" theme type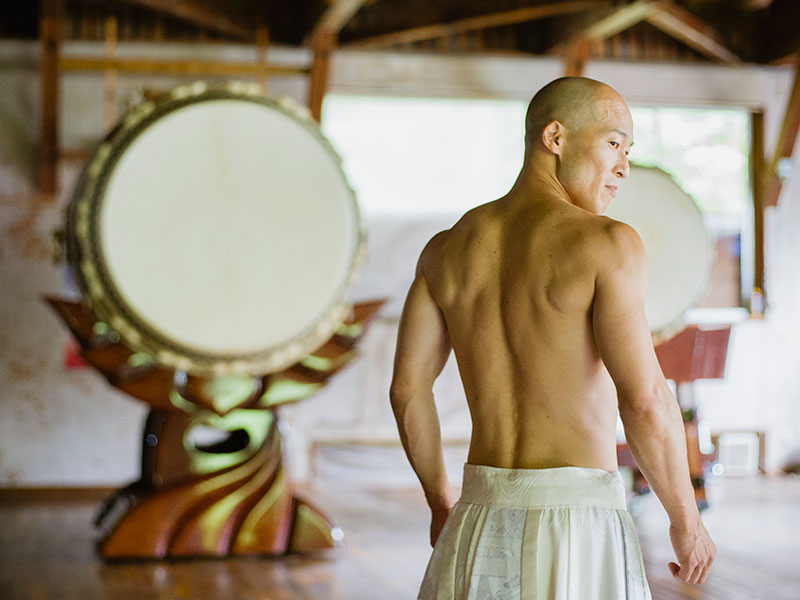 Takeru Sato
I want to create a chain in which the joy of having a place to express in the prefecture's business turns into the power of those who see the work.
If you drive through the nature of Togakushi, you will find the "Izakayakan", a rehearsal hall for Japanese drum player Takeru Sato, surrounded by tall trees.The world's largest privately owned Japanese drum "Fuji" was enshrined in the wooden building that was once the gymnasium of the inn, where the sunlight shines quietly and the wind blows freely.
Mr. Sato, who is active both in Japan and overseas, was based in Tokyo, but while searching for a space where he could face the big drum on a daily basis without worrying about the storage of drums and tools, and the sounds produced during training, he went to Togakushi. I got there.For the 15 years since then, I have moved to the Zenkoji area, and every day I come to the Izakayakan and practice alone for about 4 hours.
Mr. Sato, who welcomed us with a big smile, said, "Please listen first" and the video work "Tenshin TENSHIN – The Center of the Sky" produced for "Do your best artist support project". He played the title song that flows to the end.The dignified sound of Fuji vibrates and echoes through the air and the floor to the depths of our bodies.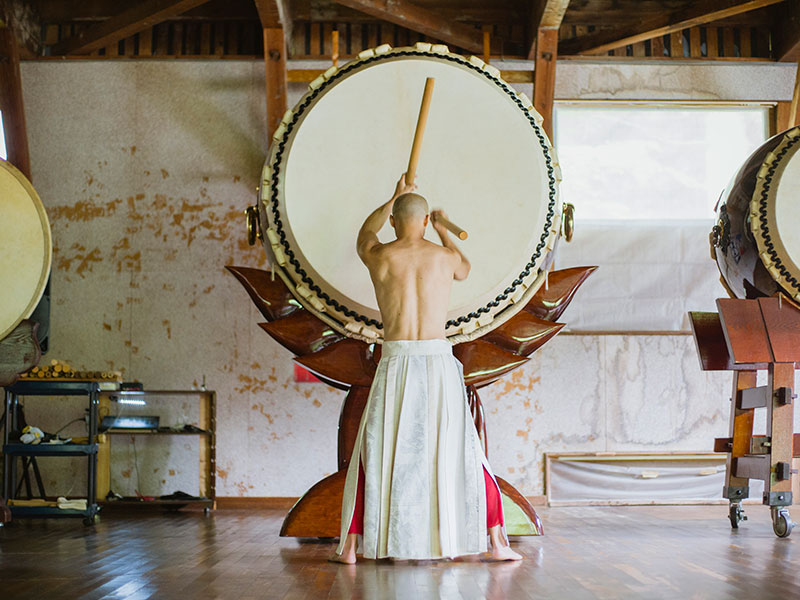 Takeru Sato
Then Mr. Sato handed me a drumstick, "Why don't you hit it?"The staff who struck Fuji's striking surface with a diameter of 4 shaku and 3 inches and 163 cm powerfully described it as "looking toward the yokozuna."I felt overwhelmed by the depth of my bosom, as well as the towering appearance.
As usual even with corona sickness
I went to the rehearsal hall to look at myself
In Edinburgh

Dedication of Takachiho Shrine
Performance at the closing ceremony of the Soccer World Cup France Tournament (1998), the first Japanese drum world art festival rookie award (2008), free performance in the area affected by the Great East Japan Earthquake "Fuji Project" (2011-2014) Solo performance at Edinburgh Festival Fringe, the world's largest art festival (2016, 17), solo as one of the seven musicians active in the world on the British national broadcast BBC radio program "GLOBAL BEATS" Mr. Sato boasts a brilliant career with a wide variety of performances (7).In domestic performances, he has performed with many artists such as dancers who emphasize physical expression rather than musicians.
In this corona sword, "Dramatic Kojiki 7 ~ The Story of the Love of the Gods ~", which co-starred with actress Miki Maya from July to August, and ballet dancer Haruo Niyama (Matsumoto), a member of the Paris Opera Ballet, in August. I toured the country with "SHIVER" which I co-starred with (from City) and others.However, it seems that the future schedule is actually more unpredictable.
"SHIVER" with internationally active dancers

After the performance of "SHIVER" with the co-stars (Mr. Niyama on the left in the front row)
Mr Sato
"Due to Corona, the Olympic-related business that was scheduled to appear was canceled, and the taiko class in Tokyo was also canceled." Dramatic Kojiki "was somehow realized, but it was decided that we could do it for one month. Everyone was in a hurry because it was before. In Tokyo, the studio was closed and it was difficult to secure a rehearsal hall. Since the second wave was coming, we took a thorough system such as inspection, but the production Until the opening of the Olympic Games, I was sick. The preparatory school in Tokyo, where my wife teaches, was closed, and I had no income at one time. However, despite financial circumstances, I am as usual. I was spending time in this rehearsal hall to look at myself. "
Mr. Sato says, "I'm grateful" for the "artist support project that works hard" that started at that time.
Our activities always start in Togakushi
Expressing the charm we feel in Togakushi
Mr Sato
"Izakaya isn't three-packed, and I don't have a problem with the environment for practicing. However, with Corona, I've lost more and more opportunities to come into contact with the outside world, so I'll do my best to support artists." I was really happy to have the opportunity to create with the staff I always work with. I shot it all at once in two days. When the shooting started, my ideas swelled. That's right. It would be great if there was a chain of fun making and the finished work helping the viewers. "
With Kagamiike in the background ("Tenshin")

At Togakushi Shrine Chusha ("Tenshin")
The concept of "Tenshin TENSHIN – The Center of the Sky" is "Let's regain the sun, let's regain the power of people" (Mr. Sato). Mr. Sato's sweat in the mirror pond where the mountains of Togakushi are reflected on the surface of the water in front of the waterfall that splashes in the precincts of Togakushi Shrine and the trees along the approach to the keywords of "earth", "water", "fire", "wind" and "sky". Sato plays Japanese drums by changing the location of each song, changing the drums, and changing the way of hitting by rubbing and rubbing vertically, horizontally, and diagonally. I continued to do it.From the completed video, Mr. Sato's appearance and spirituality, the sound of various Japanese drums, and the beauty of Togakushi being introduced create a profound atmosphere.
Mr Sato
"If you write it on the music, it will have the same rhythm, but what you see and feel will differ depending on the type of wadaiko and how you hit it. That is the fun of wadaiko. And we always practice here. And everything starts here. Togakushi is famous as a power spot, but I wanted to introduce the beauty that we feel and the power that resides in this area. Not only living and cultural arts It is important to move your heart from the perspective of tourism, so I would be very happy if "Tenshin" could be the catalyst for that. "
At the tree-lined approach to Togakushi Shrine ("Tenshin")

Prepared with the staff at the Izakayakan ("Tenshin")
Wadaiko is a mirror that accepts the urge that was born within you
Mr. Sato talks about himself as a "maverick" who seeks expressions that only he can do while facing the inside. At this point, how do you perceive the influence of COVID-19?
Mr Sato
"I think COVID-19 really goes down in history in the sense that it highlights many things in the world. There is no escape anywhere in the world. Then you have to look at yourself." What does it mean to live? " In the sense that I really think about it, I think it's okay to take this situation as a plus, because I can feel that I'm alive. "
Mr. Sato often uses the words "to prepare" and "to prepare".Rather than simply playing the drum as a rhythm, the practice of confronting the mind and body and strengthening oneself comprehensively is what Mr. Sato thinks of working on the drum.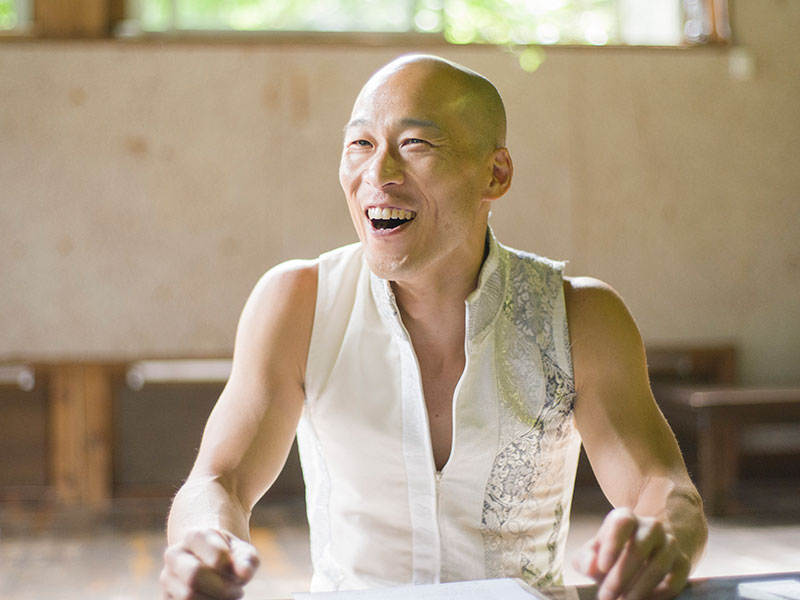 Takeru Sato
Mr Sato
"For me, wadaiko is something that strikes, pierces, and punches out the soul. And Fuji is a person who trains and is also an opponent. As you mentioned earlier, it is exactly the yokozuna. And while seeking a strong yokozuna It may have become this size. Because when you face Fuji, you can't do anything with your small hands. Wadaiko is a mirror that accepts the urge that was born in you. Exploding and controlling, With those two wheels, I open up the possibilities and make it into a single form (song). So to speak, my expression is that continuation. That is what I call "sound." It's a pulsation. On the contrary, striking to face the outside will expand the connection with the outside. I think it is worth the effort for the rest of my life, and I want to be a master. "
Mr. Sato says that he is still pursuing the mysterious feeling of playing at a festival when he was just starting to play taiko, as if the energy continued to spring infinitely and he could hit it as much as he wanted. I will.
Mr Sato
"I have been dedicating Japanese drums several times at Takachiho Shrine in Takachiho Town, Miyazaki Prefecture, and there is a place in that town where Amaterasu Omikami is enshrined as a hidden Amanoiwato. The destination where Amaterasu Otokami (Amenotajikara Onokami) threw the rock that was blocking Iwato and flew away is Togakure. That's why I was surprised to meet this place. "
Mr. Sato visited Togakushi to be guided by something and set up a rehearsal hall called "Izakayakan".Apparently, the land with the power of Togakushi plays a very important role in supporting that activity.And today, Mr. Sato is facing himself through Japanese drums such as Fuji.
Tenshin TENSHIN – The Center of the Sky
Togakushi, the sacred land of Shinshu. Kensaku Sato, a wadaiko player, dedicated the sound of wadaiko to the place where the rehearsal hall is set up. Performed at five Togakushi companies such as Okusha and Chusha. And, we will deliver the sounding universe by "Fuji", one of the world's largest taiko drums owned by the world.
As the influence of COVID-19 has been prolonged, cultural events such as art exhibitions, music and theater performances have started to take measures under the "new normal" and "new lifestyle".
In the meantime, from the words of the two artists I interviewed this time, I reconsidered my own way of life and way of life, and reiterated the importance and meaning of the relationships and connections of the people who see my own expression activities. I think you can feel that you are feeling it.I regard the "unusual" of Corona, such as self-restraint of activities and STAY HOME, as time to face myself, and as a result, I realize and feel the existence of the people around me who are usually involved with me. Start walking "everyday".This attitude of the artist may be an opportunity for us to reconsider ourselves.
Not only these two groups, but also many artists collaborated with their friends with the support of Nagano Prefecture's "Artist Support Project".Many of the powerful works created in this way are posted on the special site "ARTS CHANNEL" in "CULTURE.NAGANO".
While enjoying the work, you may find something that will give you hints for your future activities and life.I hope you can see many works.
As it is called "with corona", the situation of continuing social life under the influence of COVID-19 will continue in the future.We hope that readers will also pay close attention to what the artists will find out from this situation and how they will make further changes, as well as their future activities and expressions.
CULTURE.NAGANO will continue to focus on providing information.
Photo: Atsuna Uchiyama
Interview / text: Koichi Imai (Site Director)
*When shooting, the mask was removed for a limited time.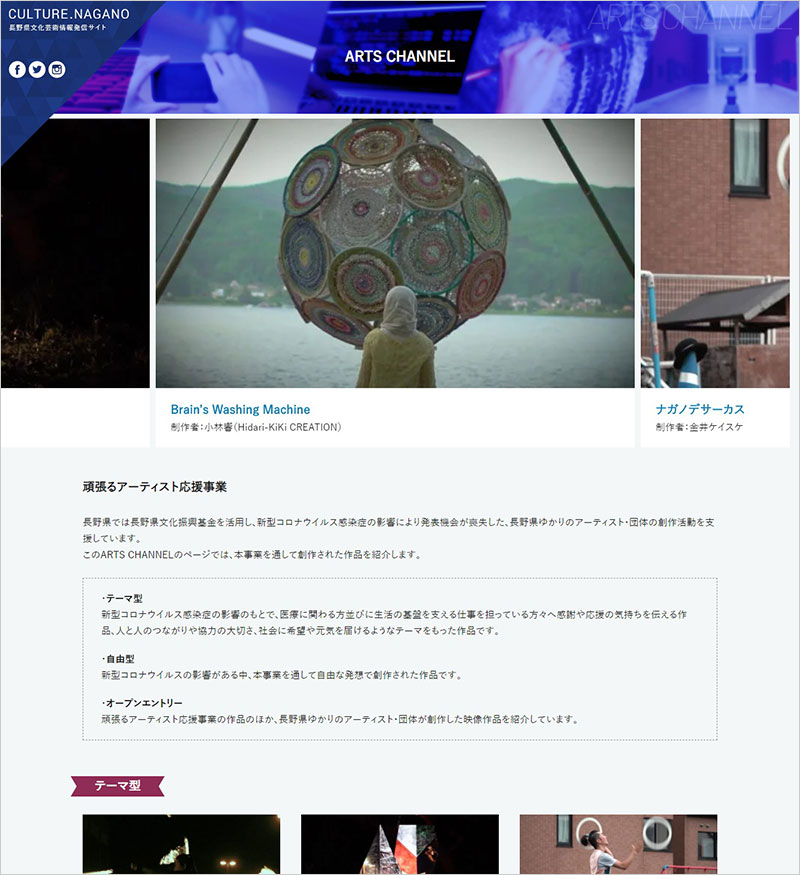 Supporting artist business
In Nagano Prefecture, we utilize the Nagano Prefecture Cultural Promotion Fund to support the creative activities of artists and organizations related to Nagano Prefecture, whose presentation opportunities have been lost due to the influence of COVID-19. "ARTS CHANNEL" introduces the works created through this project.